what is event cancellation insurance?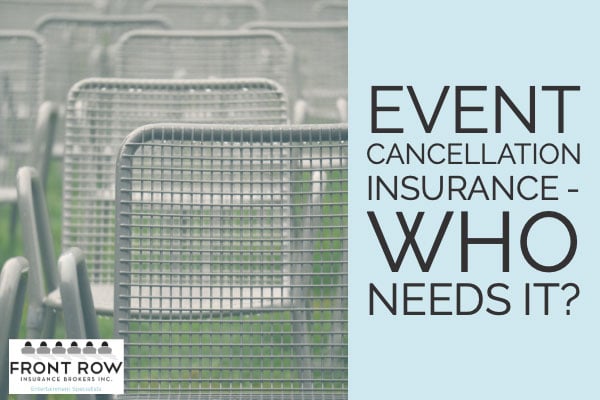 Event Cancellation Insurance is purchased for one-off events as a protection against loss of revenue OR extra expenses that result from uncontrollable circumstances such as unforeseen weather conditions, power failure, terrorism, cancellation, abandonment, postponement, interruption or relocation of an event.
This type of insurance can also cover public liability, such as a serious injury to one of your patrons, if property is damaged, there is theft of expensive equipment or if you face a claim for actual or alleged bodily injury, and it is found to be your fault.
Why event CANCELLATION insurance is needed:
Event preparation can take years of planning, and with businesses incurring multiple expenses on the lead up to the event, most can not afford the costs associated with postponement, cancellation or relocation of an event. An organization's physical assets impact the functionality of a business, therefore with risks to the bottom line being substantial, event cancellation insurance is needed to protect against the loss of costs, expenses or revenues associated with this exposure.
Obtain a no obligation Event Cancellation Insurance Quote Here:
Some examples of situations that would have benefited from having event cancellation include the following:
In July of 2011 a stage collapsed at the Ottawa Bluesfest as the likely result of a strong downdraft of air from a thunderstorm. There were multiple injuries involved with including possible spinal injuries.
During the Big Valley Jamboree in the summer of 2009, a powerful windstorm swept through the area causing the main stage to collapse. A total of 33 charges were laid against the three companies involved in this Alberta Stage Collapse. Each of the charges carries a maximum fine of $500,000 and possible jail time. There were more than a dozen injuries and one death.
Stage collapse at a Christian rock concert in April of 2008 where an auditorium floor collapsed at a church in Abbotsford, BC. Sound and Lighting scaffolds collapsed onto the front section of the stage and mosh pit with more than 40 injuries.
Who needs event CANCELLATION insurance:
Event coordinators responsible for special events such as film shoots, concerts, trade shows & exhibitions, entertainment & sporting events, corporate events such as product launches, and conventions to name just a few. Circumstances such as extreme weather conditions, civil, social and political unrest, strikes by employees at the venues to non appearance of key personnel are all coverages that can be purchased.
An example of the importance for promoters in obtaining event cancellation insurance can be seen after Michael Jackson's unexpected death and the outlays and expenses that resulted from his projected 50 concerts at London's O2 Arena.
There are two types of coverages: the costs and expenses of putting on the event, such as rental promotion and fees charged by service providers, and secondly, the anticipated profits that the event is expected to generate.
How event CANCELLATION insurance is obtained:
By contacting your broker and/or completing an online application form and providing the relevant financial worksheets.
How long event CANCELLATION insurance takes to obtain:
Generally 48 hours is needed as a minimum in order to obtain coverage.
Cost of event CANCELLATION insurance:
The cost is generally calculated according to the gross revenue or costs/expenses, premiums therefore vary widely. Premiums are also dependent on such factors as whether the event is indoor/outdoor, and if outdoor, what type of protection is in place to negate the effects of the elements. Additional factors that affect the premium include whether an event is dependent on particular cast members or performers and if so, the age and health issues of the performer will need to be known. Premiums are generally higher for this type of coverage as usually a "one time" event that doesn't occur is a total loss.
Click here to obtain a quotation:
Our service is friendly and knowledgeable: please contact us, we would love to hear from you!
If calling from Canada, please Contact Us here.
If from the United States:
RELATED LINKS:
Event Insurance 101 & How to Protect Your Events
Event Cancellation
Holiday Office Party Insurance
Kid's Birthday Party Insurance