CYBER INSURANCE CANADA
Cyber insurance protects your business from revenue loss and lawsuits sparked by a breach of cyber security and computer crimes. Every business office insurance policy should include cyber insurance.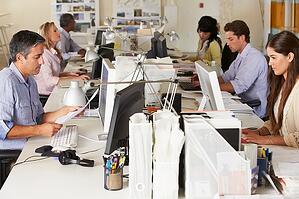 With an ever growing movement towards technology and new media, businesses need protection against online hackers. Data breach can include document spillage, client information exposure and unwelcome access to sensitive information. Cyber hacks are unpredictable and untraceable, but they are growing in occurrence and stealth. Businesses with an online presence are recommended to calculate the risk of losing revenue due to cyber attacks and whether the business can afford to lose money, clients, shareholders and even reputation.
Big corporations and small businesses alike are all vulnerable to these attacks. Citigroup, for example, faced a $2.7 million loss in revenue when sensitive information of over 200,000 of their customers was accessed in 2011. Despite this being on the larger scale of hacks in history, any business with documents online face the risk of exposing important information that may lead to lawsuits down the road.
ALSO: WORKPLACE OFFICE INSURANCE (WITH CYBER)
At Front Row Insurance our commercial office insurance package has the option to include Cyber Insurance, a coverage which lessens and protects your business from the aftermath of a cyber attack. Most of these breaches can take months to undo and thousands of dollars to compensate, but cyber insurance can reduce these setbacks. Visit our website for more information about our office contents insurance package.
For further assistance please do not hesitate to contact us directly or see more office contents information here.
Related:
EBOOK: CYBER INSURANCE 101 / CYBER LIABILITY INSURANCE / CYBERSECURITY INSURANCE CANADA / HOW TO PROTECT YOUR COMPUTER SYSTEMS
ONLINE CYBER INSURANCE FOR CANADIAN SMALL BUSINESSES
HACK INSURANCE: IT'S NOT JUST FOR BIG BUSINESSES
IS YOUR BUSINESS PREPARED FOR THE CONSEQUENCES OF A CYBER ATTACK?
4 WAYS TO PREVENT CYBER ATTACKS IN THE CREATIVE INDUSTRY
CYBER CRIME INSURANCE FOR NON-PROFITS
IF YOU ARE A GRAPHIC DESIGNER, YES, YOU NEED HACK INSURANCE
IF YOU ARE A PHOTOGRAPHER, YES, YOU NEED HACK INSURANCE
IF YOU ARE A FILMMAKER/FILM PRODUCER/HAVE A PRODUCTION COMPANY, YES, YOU NEED HACK INSURANCE
IF YOU ARE A THEATRE PRODUCER, YES, YOU NEED HACK INSURANCE
IF YOU ARE A MUSICIAN, YES, YOU NEED CYBER INSURANCE
IF YOU ARE A REAL ESTATE AGENT/WORK IN REAL ESTATE, YES, YOU NEED HACK INSURANCE
IF YOU ARE A PERSONAL TRAINER, YES, YOU NEED HACK INSURANCE
IF YOU ARE A HAIR/NAIL/BEAUTY SALON MANAGER OR EMPLOYEE, YOU NEED CYBER INSURANCE
PASSWORD PROTECTION & MANAGEMENT
OFFICE CONTENTS INSURANCE AND THE NEED FOR CYBER INSURANCE
FRONT ROW INSURANCE OFFERS SOLUTION TO SMALL BUSINESS CYBER CONUNDRUM