Front Row Launches Low-Cost Annual DICE Insurance Program IN THE US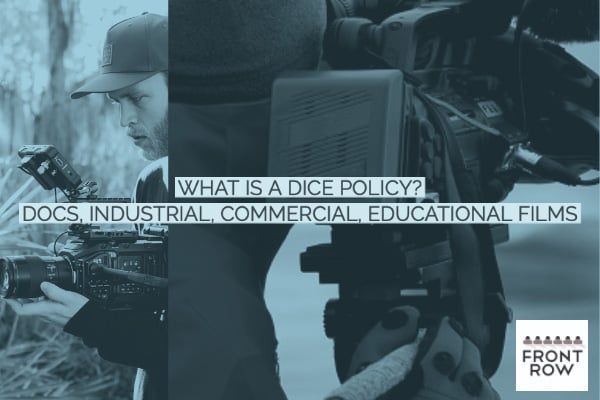 photo credit: Unsplash
Los Angeles, CA USA – December 13, 2016 – The new DICE policy launched by Front Row is less expensive than policies currently available in the film insurance market. DICE stands for Documentaries, Industrial, Commercial, and Educational Films. The new policy also covers Music Videos, Sizzle Reels, shorts and other smaller productions.
For producers that anticipate multiple projects in the next 12 months, the Front Row DICE policy will save time and money. Due to an innovative streamlined process, an indication of costs can be provided in minutes and a film policy is available in 6 hours.
The policy is underwritten by Chubb - the world's largest publicly traded property and casualty insurance company with headquarters in New Jersey.
The Front Row DICE policy also covers owned fixed and mobile filming equipment (for an additional charge). Corporate offices are insured at no additional cost.
This minimum package is $3,500 and will allow producers to shoot up to $200,000 of total project budgets in one year. Additional budget expenditures can be insured for $65 per $10,000 of production costs.
The package provides continual coverage for a year, which allows filmmakers the flexibility to take on last minute projects without having to scramble to negotiate insurance coverage. It covers your shoot anywhere in the US or Canada.
Location and equipment rental certificates are unlimited and free. Front Row provides filmmakers with electronic certificates: filmmakers can issue 24/7 without having to contact Front Row each time.
"Filmmakers that purchase a policy can sleep easy knowing their gear is covered on and off the set all year and while in transit to a job. The policy also offers general liability to protect the filmmaker against property damage and bodily injury that they cause while filming on location or in a studio." said David Hamilton, President of Front Row. "The expected savings should be 20% in addition to the fast turnaround. Commercial use of owned or rented camera, lighting and sound equipment is not covered under a typical homeowners policy: the Front Row DICE insurance policy is an inexpensive and fast solution to this problem."
All equipment is covered for: theft, damage, fire and loss of use. Rental equipment coverage is included. Learn more here: http://www.frontrowinsurance.com/annual-production-insurance
"We wanted to make the insurance process easier, faster and cheaper for DICE filmmakers," said Hamilton, "Given that the process has been streamlined, there is less overhead making the cost to process a DICE insurance policy much less and we have passed the savings on to the filmmaker."
About: Front Row Insurance Brokers Inc. is an independent insurance broker that works on behalf of the arts and entertainment industry to provide insurance for the lowest possible cost. Should a claim occur, Front Row ensures that clients receive the money they are owed per the insurance policy, as quickly as possible.
Contact:
DOUG HODGES - VICE PRESIDENT
Ph: 424-329-2480