Front Row Supports the Global Climate Strike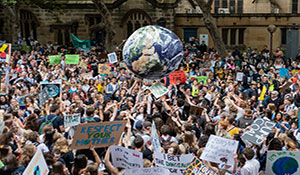 #unitedforclimate #greencircle
On Sept. 11, 2019, we posted about how we offset all carbon emissions created as a result of flights taken for our business. As an extension of that post, we would like to declare our support for the Global Climate Strike and we encourage all Front Row employees and customers to also support these strikes, as they are calling attention to one of the biggest issues of our time – climate change. Of course, we recognize that carbon offsetting is not a solution to climate change and stronger action is required from both public and private sectors.
The September 2019 Climate Strikes
The September 2019 climate strikes were likely the largest climate strikes in history. Organizers reported that over 4 million people participated in strikes worldwide.
These strikes come out of the "School strike for climate" movement, an international movement of students participating in demonstrations to demand action to prevent further global warming.
The movement began in 2015 when an independent group of students invited other students around the world to skip school on the first day of the 2015 United Nations Climate Change Conference in Paris and make the following demands:
100% clean energy
Help "climate refugees" (people forced to leave their home due to sudden or long-term changes to their environment)
It was activist Greta Thunberg who brought the movement to global attention. On 20 August 2018, she protested by sitting outside the Riksdag during school hours with a sign that read "Skolstrejk för klimatet" ("school strike for the climate"). She has inspired students across the globe to take part in similar climate strikes.
Citations:
https://en.wikipedia.org/wiki/September_2019_climate_strikes
https://globalclimatestrike.net/