Worried about a cyber attack? Here's what you need to know.
cyber attack hack insurance | cyber attack insurance canada
Hack Insurance | cyber insurance canada
There's been a lot of buzz in the news lately about cyber attacks on big banks and corporations. Cyber attacks are a topic of concern not only for big businesses, and their customers, but also for the many small and mid sized businesses that make up the fabric of our economy in Canada.
43% of all cyber attacks happen against small businesses, which means more Canadian consumers are at risk now than ever for having their security compromised by hackers. Also, because small businesses tend to allocate less budget and resources to privacy and security systems, they are the ideal target for hackers.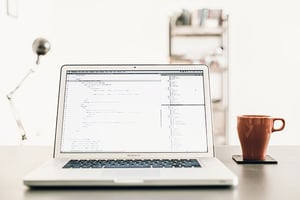 So, where does this leave your business? Well, for starters, you'll want to ensure you're protected against the costs and risks associated with a possible cyber attack. Front Row has recently launched an online Hack Insurance product to address this exact need. You can obtain coverage online starting at $300. And, like all of Front Row's online products, you'll be fully insured within a couple of minutes with no need for any meetings, paperwork, or hassle.
To help guard against the risk of a cyber attack:
Developing a password strategy: Using the same password across devices and accounts is the easiest way to compromise security. Once a hacker gets their hands on a password, they can easily use it to compromise employee

and

customer information, turning a single password breach into millions of dollars in damage.
Avoiding collecting or storing payment information: Outsource payment processing and avoid collecting customer payment information such as credit card info on your own. Dedicated security staff have the resources and tools to protect data better than you can.
Educating your employees: Develop a written policy about security and privacy and make sure employees are on board and understand their responsibility to protect any confidential data. No business is "too small" for a hacker - the better prepared you are, the less at risk you are.
And, of course, purchasing hack insurance: 90% of small businesses do not currently have cyber insurance. You need to know that your business will be protected against any security breaches. Our new product provides this protection. You can get insured online in a couple of minutes by clicking here.
If you're looking for tips or advice on Hack Insurance, or any other insurance needs, our team is always available to chat! You can connect with us on Facebook, Instagram or give us a call.

Related:
EBOOK: CYBER INSURANCE 101 / CYBER LIABILITY INSURANCE / CYBERSECURITY INSURANCE CANADA / HOW TO PROTECT YOUR COMPUTER SYSTEMS
ONLINE CYBER INSURANCE FOR CANADIAN SMALL BUSINESSES
HACK INSURANCE: IT'S NOT JUST FOR BIG BUSINESSES
IS YOUR BUSINESS PREPARED FOR THE CONSEQUENCES OF A CYBER ATTACK?
4 WAYS TO PREVENT CYBER ATTACKS IN THE CREATIVE INDUSTRY
CYBER CRIME INSURANCE FOR NON-PROFITS
IF YOU ARE A GRAPHIC DESIGNER, YES, YOU NEED HACK INSURANCE
IF YOU ARE A PHOTOGRAPHER, YES, YOU NEED HACK INSURANCE
IF YOU ARE A FILMMAKER/FILM PRODUCER/HAVE A PRODUCTION COMPANY, YES, YOU NEED HACK INSURANCE
IF YOU ARE A THEATRE PRODUCER, YES, YOU NEED HACK INSURANCE
IF YOU ARE A MUSICIAN, YES, YOU NEED CYBER INSURANCE
IF YOU ARE A REAL ESTATE AGENT/WORK IN REAL ESTATE, YES, YOU NEED HACK INSURANCE
IF YOU ARE A PERSONAL TRAINER, YES, YOU NEED HACK INSURANCE
IF YOU ARE A HAIR/NAIL/BEAUTY SALON MANAGER OR EMPLOYEE, YOU NEED CYBER INSURANCE
PASSWORD PROTECTION & MANAGEMENT
OFFICE CONTENTS INSURANCE AND THE NEED FOR CYBER INSURANCE
FRONT ROW INSURANCE OFFERS SOLUTION TO SMALL BUSINESS CYBER CONUNDRUM