How to Protect Your Wedding Cake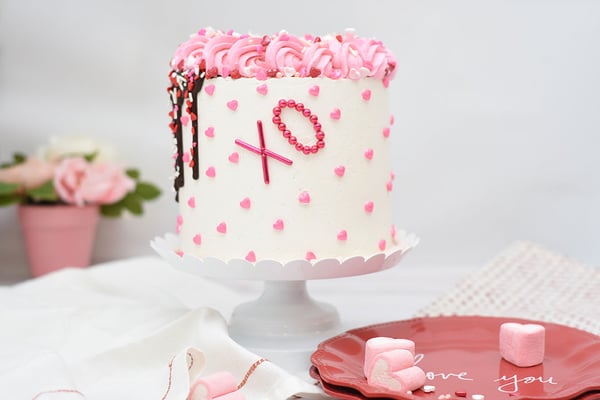 The wedding cake is a centerpiece to any wedding and should certainly be treated with just as much care as other important elements of your wedding, such as the wedding dress, the wedding gifts and the wedding ring. Wedding cakes have been present at wedding ceremonies for centuries and are rife with symbolism. In this article, we'll take a look at some of the interesting history behind the wedding cake, we'll review some examples of awesome cakes from past weddings and we'll conclude with some tips on how to best protect your wedding cake.
The History of the Wedding Cake
Why a wedding cake? Why not some other food to celebrate marriage? Well, the tradition of the wedding cake goes back to Ancient Rome, where a cake of wheat or barley was broken over the bride's head to bring good fortune to the couple.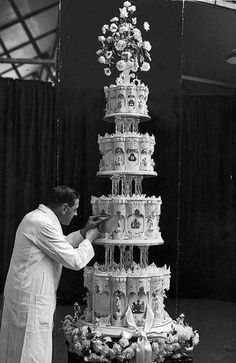 During the 16th and 17th centuries in Europe, the wedding cake was actually more of a pie, the "bride's pie", normally consisting of an assortment of oysters, lamb testicles and pine kernels. Mmm, tasty! By the 19th century, the bride's pie had transformed into the modern wedding cake that we know today.
For much of history, sugar was too expensive for most families to afford. But by the 19th century, sugar had become cheaper and it was easier for working-class families to imitate the weddings of the rich, such as the wedding of Queen Victoria & Prince Albert in 1840, which featured a prominent white wedding cake.
The first completely edible wedding cake originated at the 1882 wedding of Prince Leopold, Duke of Albany. This wedding cake was created in separate layers with stacked tiers, a groundbreaking innovation for wedding cakes at the time.
Examples of Awesome Wedding Cakes
If you haven't chosen your wedding cake design yet or if you'd just like some inspiration before your own big day, take a look at some of these impressive wedding cakes throughout history:
Princess Eugenie & Jack Brooksbank's 400-egg treat (wedding 12 October 2018).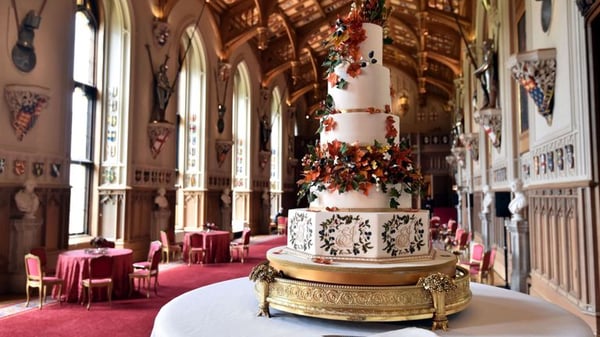 Chelsea Clinton & Marc Mezvinsky's gluten-free wedding cake (wedding 31 July 2010).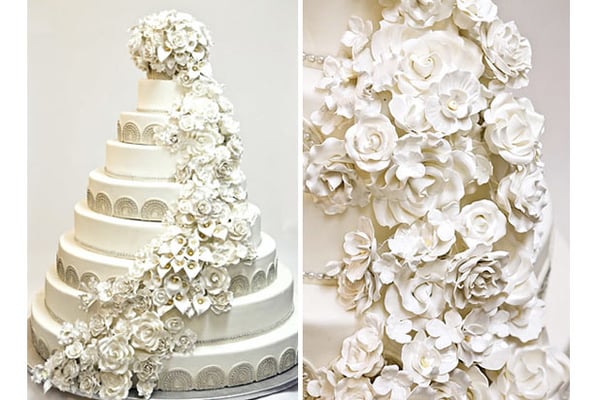 Princess Diana & Prince Charles' 5-foot+ tall wedding cake (wedding 29 July 1981).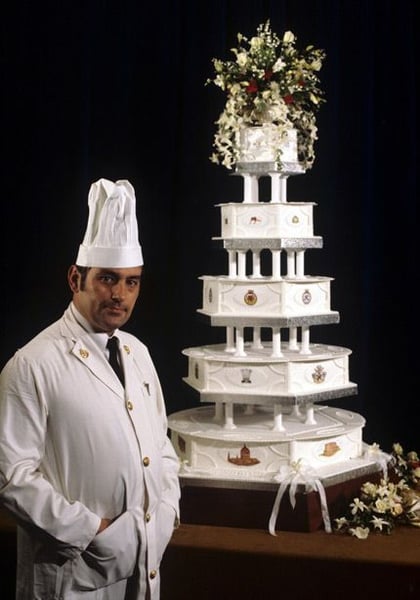 Elvis & Priscilla Presley's 6-level wedding cake (wedding 1 May 1967).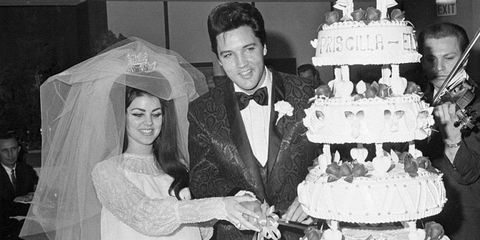 Wedding Cake Protection Tips – Before & During the Wedding
Let's look at some tips on how to protect your wedding cake from damage before & during the wedding, and also some tips on how to preserve the cake if you choose to do so:
Make sure your cake table is set and ready by the time your cake arrives. It's ideal to have your cake delivered right before the wedding starts.
Choose cake display position based on the sun, if outside. E.g., you wouldn't want to put your cake table on the sunny side of your tent, as this will cause melting.
Choose a lighter colour for your cake, especially if it will be displayed outside in hot weather. Dark-coloured frosting will melt more easily in the sun.
Use a glass cover if your cake is able to fit inside one. If outside, this will prevent bugs from landing on and sticking to your cake.
Have a canopy over the cake table so there is some type of shade, if outdoors.
Indoors, the venue should definitely have ample air conditioning.
Consider asking your cake designer about inserting some faux tiers. Faux tiers help stabilize a cake and keep it in place.
Of course, different cake types will have different storage and care needs depending on the ingredients used, so be sure to talk to your cake designer about what they recommend.
Wedding Cake Preservation Tips – After the Wedding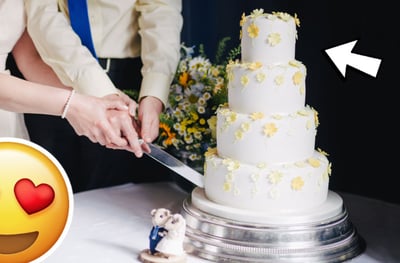 It is a tradition to save, freeze and store the cake's top tier for after the wedding. In case you'd like to do this, keep these tips in mind:
Allow the cake to harden before you begin wrapping to preserve the integrity of the icing.
Remove any ornaments and decorations from the cake before wrapping.
Cover the cake with plastic wrap and aluminum foil, making sure to wrap airtight.
Place the cake in an airtight freezer container.
If storing the cake inside a freezer with other food, include a box of baking soda in the freezer to absorb any smells.
Talk to your cake designer and/or wedding planner about potentially assisting with the post-wedding cake preservation.

How to Buy Wedding Liability Insurance
Adding a Wedding Enhancement Package onto your Front Row Wedding Liability Insurance policy will cover the Insured, following loss or damage to any wedding cake during the period of 7 days prior to the wedding date shown on the individual binder of insurance online and up to 24 hours after the reception date shown on the individual binder of insurance issued online, whilst at the Insured's home or at the reception location shown on the individual binder of insurance issued online or in transit between these locations. Policies starting at $105.
CITATIONS: