WHAT IS CYBER INSURANCE | CYBER LIABILITY INSURANCE | CYBER SECURITY INSURANCE | HACK INSURANCE?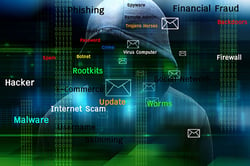 Hack insurance for graphic designers is designed to protect them from certain losses associated with data breaches and hacks. After a hack, there are costs you will likely incur in:
notifying customers that their information has been stolen
paying to restore or recover the stolen data
The case of Canva — don't let the same happen to your business!

Think your graphic design firm won't be hacked? Think again. Just look at the case of Canva, the large Australian graphic design business that was hacked in 2019; the data of roughly 139 million users was stolen! The hacker then put the data up for sale on the dark web.
If a hacker can breach the defences of a large graphic design firm such as Canva, they can certainly breach a smaller firm too. Hackers are becoming smarter, making it tougher for graphic designers to defend themselves from a data breach.
If a cyber attacker is able to gain access to your computer, network or other electronic system, they may be able to steal client information, employee information, accounting information and other valuable data from you.
So, how can cyber hack insurance help?
Hack insurance can help with expenses associated with managing a hack, such as incident response and data recovery expenses.
PROTECT your data: If you're a graphic designer, your livelihood is linked to your computer. Not only is your work stored on your computer, you may also have accounting and client information on there. If you suffer a hack, your insurance can help you manage the costs associated with the loss. Front Row's cyber hack insurance policy starts at just $300 CAD annually and includes comprehensive cyber coverage with limit options up to $1,000,000.
"If you look at a graphic designer that's billing $50,000 a year from their home office, the difference between a cyber policy that costs $800 and one that costs $300 is really significant – it's 1% of their income," said David Hamilton, CEO and president at Front Row Insurance. "We found that really small businesses, with one to three people, understand the need for cyber coverage but don't want to pay a lot for it. Our $300 starter premium is very palatable and provides what we feel is an excellent starter policy for small business proprietors in Canada."
90% of small businesses in Canada do not have Cyber Insurance: take five minutes to protect your business that has taken you so long to establish.
Related:
If you are a graphic designer, yes, you need Business Insurance
EBOOK: CYBER INSURANCE 101 / CYBER LIABILITY INSURANCE / CYBERSECURITY INSURANCE CANADA / HOW TO PROTECT YOUR COMPUTER SYSTEMS
ONLINE CYBER INSURANCE FOR CANADIAN SMALL BUSINESSES
HACK INSURANCE: IT'S NOT JUST FOR BIG BUSINESSES
IS YOUR BUSINESS PREPARED FOR THE CONSEQUENCES OF A CYBER ATTACK?
4 WAYS TO PREVENT CYBER ATTACKS IN THE CREATIVE INDUSTRY
CYBER CRIME INSURANCE FOR NON-PROFITS
IF YOU ARE A GRAPHIC DESIGNER, YES, YOU NEED HACK INSURANCE
IF YOU ARE A PHOTOGRAPHER, YES, YOU NEED HACK INSURANCE
IF YOU ARE A FILMMAKER/FILM PRODUCER/HAVE A PRODUCTION COMPANY, YES, YOU NEED HACK INSURANCE
IF YOU ARE A THEATRE PRODUCER, YES, YOU NEED HACK INSURANCE
IF YOU ARE A MUSICIAN, YES, YOU NEED CYBER INSURANCE
IF YOU ARE A REAL ESTATE AGENT/WORK IN REAL ESTATE, YES, YOU NEED HACK INSURANCE
IF YOU ARE A PERSONAL TRAINER, YES, YOU NEED HACK INSURANCE
IF YOU ARE A HAIR/NAIL/BEAUTY SALON MANAGER OR EMPLOYEE, YOU NEED CYBER INSURANCE
PASSWORD PROTECTION & MANAGEMENT
OFFICE CONTENTS INSURANCE AND THE NEED FOR CYBER INSURANCE
FRONT ROW INSURANCE OFFERS SOLUTION TO SMALL BUSINESS CYBER CONUNDRUM