REAL ESTATE AGENTS: One mistake could cost your client their life savings.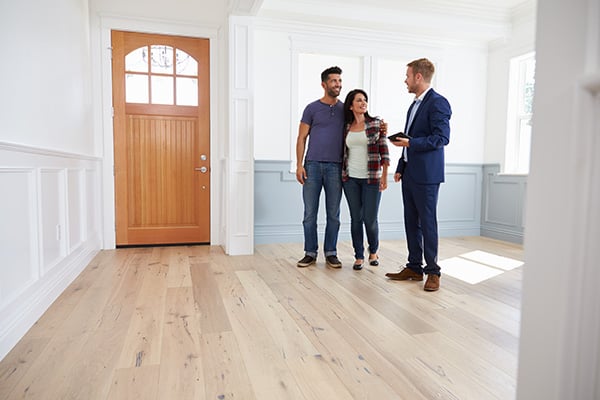 Estate agents: Keep your clients smiling by having cyber coverage | Royalty-free stock photo ID: 402629167, Shutterstock
Don't think a cyber hack could happen to your real estate agency? Well, think again!
STATISTIC: "Cyber scams targeting the real estate sector are on the rise. From 2015 to 2017, there was over a 1,100% rise in the number of cyber scam victims reporting the real estate transaction angle and an almost 2,200% rise in the reported monetary loss." (FBI report, 2018)
Just look at the below real-life examples of real estate agency hacks to see how real this threat is:
The Colorado Couple:
In 2018, a Colorado couple were ready to finalize the purchase of their dream home, and at closing time wired $272K from their bank, following instructions they had received in an email from – they thought – their real estate settlement company. However, the company's email account had been hacked, and fraudsters had altered the wiring instruction to make off with the hefty sum.
The couple eventually reached a confidential settlement in a lawsuit against their real estate agent, bank and settlement company.
A narrow escape happened in 2017 to a Russian real estate agent, based in California. Criminals hacked her Gmail account, monitored the correspondence between her and her clients, and waited for the perfect time to strike. It came time to send the remainder of a down payment to close escrow. Using the agent's email account, the hackers sent a message to one of her clients telling them to wire hundreds of thousands to a fraudulent account. Lucky for the clients, they questioned the fake email. The amount requested was off by just a bit.
If this property title company and/or real estate agent had had cyber insurance, the cost of a forensic investigation would have been included to investigate how, exactly, the hack occurred and how to prevent it from happening again. The third-party cyber liability included in the policy would cover you against lawsuits from third parties due to a cyber attack on your business.
The New York Real Estate Companies
In 2019, a well-known real estate brokerage, based in New York, experienced a cyber hack. A confidential email containing agent splits, marketing budgets and gross commission income was sent to the entire company. This email was meant to be seen by only a few executives in the company.
The email account belonging to the president of sales was hacked and emails containing sensitive information were distributed within the company in a deliberate attempt to distract employees and agents, disrupt business and cause damage to the company. Some agents speculated foul play at the hands of a rival.
In 2015, a hacker breached the systems of another New York-based real estate company, this one in Manhattan. The hacker surreptitiously downloaded 798 of the company's confidential reports worth $361,337 in total. The company charges $999 for a single report on commercial properties.
The company launched a lawsuit against the hacker, seeking to recover the money, as well as punitive damages.
With cyber liability insurance, first-party (you and your business) cyber crime expense coverage is included, as well as the cost of a forensic investigation to investigate how, exactly, a hack occurred. Digital Data Recovery Cost coverage would also be included to cover destruction or loss of digital data resulting from a criminal cyber event.
WHAT IS CYBER INSURANCE | CYBER LIABILITY INSURANCE | CYBER SECURITY INSURANCE | CYBER RISK INSURANCE | HACK INSURANCE?
Cyber hack insurance for real estate agents is designed to protect them from certain losses associated with data breaches and hacks. After a hack, there are costs you will likely incur in:
notifying customers that their information has been stolen
paying to restore or recover the stolen data
paying for crisis communications and PR services related to the hack
paying to conduct an investigation to determine what happened
losing money from business interruption
paying for legal defense in any resulting lawsuits
SO, HOW CAN CYBER HACK INSURANCE HELP REALTORS?
Hack insurance can help with expenses associated with managing a hack, such as incident response and data recovery expenses.
PROTECT your data: If you're a real estate agent, your computer is likely one of the most important objects you own. You facilitate your deals on it and you likely have sensitive data stored on it.
Not only is your work stored on your computer, you may also have accounting and client information on there. If you suffer a hack, your insurance can help you manage the costs associated with the loss. Front Row's cyber hack insurance policy starts at just $300 CAD annually and includes comprehensive cyber coverage with limit options up to $1,000,000.
90% of small businesses in Canada do not have Cyber Insurance: take five minutes to protect your real estate agency that has taken you so long to establish.
See also:
Online Office Insurance for the Modern Real Estate Agent.
Citations:
https://www.ic3.gov/media/2018/180712.aspx
https://www.marketwatch.com/
https://miami.cbslocal.com/2017/09/20/real-estate-email-hacks/
https://www.mpamag.com/news/real-estate-company-gets-hacked-24332.aspx
https://phys.org/news/2018-09-hackers-real-estate-devastating-impact.html
DISCLAIMER: Informational statements regarding insurance coverage are for general description purposes only. These statements do not amend, modify or supplement any insurance policy. Consult the actual policy or your broker for details regarding terms, conditions, coverage, exclusions, products, services and programs which may be available to you. Your eligibility for particular products and services is subject to the final determination of underwriting qualifications and acceptance by the insurance underwriting company providing such products or services. This website does not make any representations that coverage does or does not exist for any particular claim or loss, or type of claim or loss, under any policy. Whether coverage exists or does not exist for any particular claim or loss under any policy depends on the facts and circumstances involved in the claim or loss and all applicable policy wording.
Related:
EBOOK: CYBER INSURANCE 101 / CYBER LIABILITY INSURANCE / CYBERSECURITY INSURANCE CANADA / HOW TO PROTECT YOUR COMPUTER SYSTEMS
ONLINE CYBER INSURANCE FOR CANADIAN SMALL BUSINESSES
HACK INSURANCE: IT'S NOT JUST FOR BIG BUSINESSES
IS YOUR BUSINESS PREPARED FOR THE CONSEQUENCES OF A CYBER ATTACK?
4 WAYS TO PREVENT CYBER ATTACKS IN THE CREATIVE INDUSTRY
CYBER CRIME INSURANCE FOR NON-PROFITS
IF YOU ARE A GRAPHIC DESIGNER, YES, YOU NEED HACK INSURANCE
IF YOU ARE A PHOTOGRAPHER, YES, YOU NEED HACK INSURANCE
IF YOU ARE A FILMMAKER/FILM PRODUCER/HAVE A PRODUCTION COMPANY, YES, YOU NEED HACK INSURANCE
IF YOU ARE A THEATRE PRODUCER, YES, YOU NEED HACK INSURANCE
IF YOU ARE A MUSICIAN, YES, YOU NEED CYBER INSURANCE
IF YOU ARE A REAL ESTATE AGENT/WORK IN REAL ESTATE, YES, YOU NEED HACK INSURANCE
IF YOU ARE A PERSONAL TRAINER, YES, YOU NEED HACK INSURANCE
IF YOU ARE A HAIR/NAIL/BEAUTY SALON MANAGER OR EMPLOYEE, YOU NEED CYBER INSURANCE
PASSWORD PROTECTION & MANAGEMENT
OFFICE CONTENTS INSURANCE AND THE NEED FOR CYBER INSURANCE
FRONT ROW INSURANCE OFFERS SOLUTION TO SMALL BUSINESS CYBER CONUNDRUM