Legal Expense Insurance (Canada)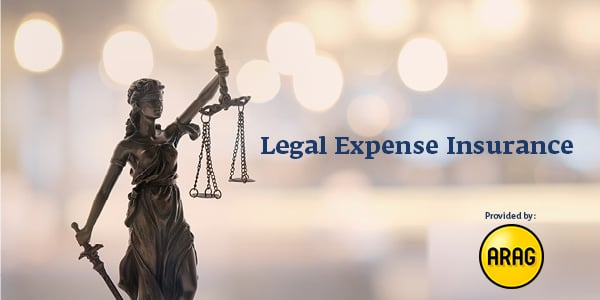 With legal expense insurance, your legal risks are well managed.
We know you're busy. You're running your business and working hard at it. But whenever you have an unforeseen legal issue, we know it means more time and work for you – and it takes you away from doing what you love.
Front Row Insurance and ARAG have partnered to save you time and effort by offering the option of legal expense insurance (LEI) as a part of your Front Row policy.
How would LEI help you and your business?
A legal expense insurance policy:
provides you with financial coverage for a variety of potential legal events,
empowers you to pursue or defend your legal rights, and
provides you with unlimited access to a general Legal Helpline
Legal expense insurance saves you time and money by helping to:
Defend or pursue your legal rights, such as:
Employment Disputes: If you face legal action from an employee or ex-employee
Legal Defence: If your business faces criminal charges, a police investigation or an occupational health and safety investigation
Contract Disputes and Debt Recovery: If you face a dispute with a client or supplier in regards to a breach of contract or failure to pay an amount owed
Statutory Licence Protection: If your business faces a suspension, alteration or cancellation of its business licence
Property Protection: If there is trespass or legal nuisance to your business property
Bodily Injury: If you or one of your employees is injured on the job as a result of someone else's negligence
Tax Protection: If you face an audit or wish to appeal a decision from the CRA
With policy limits of $100,000 per claim and $500,000 in total per policy year, ARAG provides you the financial security to continue your legal action over time and against well-funded foes.
You also receive unlimited access to the ARAG Legal Helpline
You will not need to search the internet or pay out of pocket for answers and assistance to your legal questions or issues. Legal information is provided, even if the issue or question is not covered by the policy. We make it easy for you as our Helpline lawyers are available:
8:00 a.m. to midnight local time
24/7 in an emergency situation
To learn more, please contact us.
Note: this program is currently only available in Canada, excluding Quebec.
Related Posts:

About: ARAG Legal Solutions Inc. is the Canadian market leader and Managing General Agent specializing exclusively in Legal Expense Insurance (LEI). All our policies are underwritten by HDI Global Specialty SE.