Film Production Insurance: Why it is needed.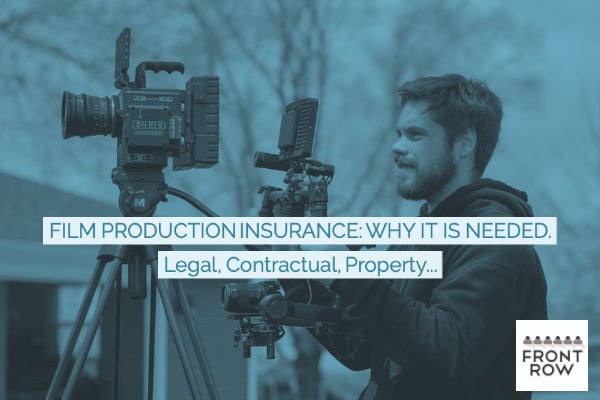 photo credit: Unsplash
Production insurance is vital to financing your project. Why is insurance needed for your production? Three basic reasons are: legal, contractual and property protection.
LEGAL REASON
As for legal reasons, nearly every location and financier requires that a production company/filmmaker carry some form of insurance. A good example of this is the need for general liability insurance to cover property damage and and bodily injury to third parties. A building owner will want to be protected for any damage caused to the location. The building owner would also want to be protected from any lawsuits brought forth from a passerby that tripped on electrical cables or from injuries sustained by gear that falls off a roof.
CONTRACTUAL REASON
The contractual reason is simple. If you are under contract with a broadcaster or distributor, most likely the contract will require you to have insurance coverage before you can access your payment draw-downs.
PROPERTY REASON
The property protection covers you against damage and loss to assets like production equipment that you are contractually responsible for as set out in your rental agreement with the rental company.
TYPES OF FILM POLICIES
The type of policy you need depends on the type of project you plan to make. If you are making a short music video, the type of policy you want will differ from a filmmaker who aims to make a feature film. There are basically three types: short-term, annual DICE Insurance and annual.
Short-term policies are used for single production, such as a commercial.
A DICE Insurance Policy is used for several projects during a year period. DICE stands for Documentaries, Industrial Films, Commercials and Educational Films.
Try to give your broker three to five days to arrange the coverage for you: this will ensure your broker has enough time to obtain the best price and coverage available in the marketplace.
The three policies you need to consider for any film production are:
General Liability Insurance
CGL covers against damage to the filming location/space, and injury or harm to those present that are not working on the film.
Equipment Insurance
Equipment insurance covers any and all film equipment used in your filmmaking process and production. This policy will cover loss, damage, theft, etc. to your rented or owned equipment.
Errors and Omissions Insurance
This type of insurance protects against lawsuits alleging unauthorized usage of titles, copyrighted materials, ideas, formats, characters, plots, plagiarism, unfair competition, defamation and invasion of privacy. E&O insurance requires the counsel of an entertainment lawyer who will review your script, clearances and releases.
RELATED LINKS:
Film Insurance 101 & How to Protect Your Film Project
Film Production Insurance: Why it is needed
Negative Film / Videotape and Faulty Stock