Musicians, PROTECT your music studio with cyber insurance from Front Row!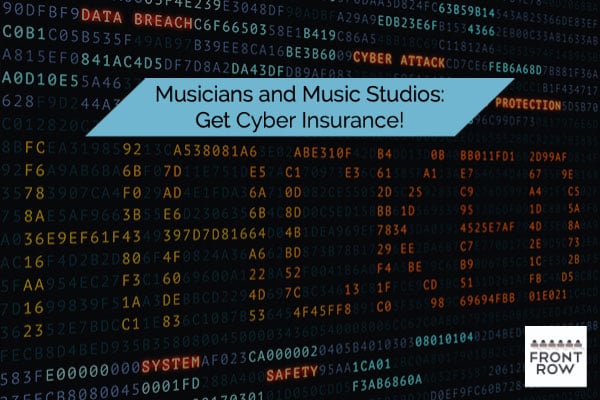 Source: Royalty-free stock photo ID: 635676176, Shutterstock
Don't think a cyber hack could happen to your music studio? Well, think again! As you gain popularity as a musician/music studio, more hackers become aware that you exist, so you can become even more of a target compared to the average business.
A policy to protect you is available online in five minutes, starting at just $300 CAD.
Just look at the below real-life examples of music studio hacks to see how real this threat is:
Teen hacked musicians' websites and servers (2019)
In 2019, a teenager was arrested for hacking into various musicians' websites and cloud-based servers, stealing unreleased music files and then peddling the recordings for cryptocurrency. This sort of cyber crime causes potentially significant financial losses to the musicians who produce, write and make music, only to have their music released without compensation.
With cyber insurance, the included Digital Data Recovery Cost coverage would cover destruction or loss of digital data resulting from a criminal cyber event.
Unreleased Radiohead material hack (2019)
Also in 2019, rock band Radiohead was hacked and unreleased tracks recorded around the time of their acclaimed OK Computer (1997) album were stolen. The hacker demanded $150,000 in ransom from Radiohead not to release the recordings. Instead of paying this ransom, Radiohead just went ahead and made the recordings available online to stream or purchase for about 20 pounds.
Although Radiohead was still able to raise some money releasing the music files earlier than expected, the band likely would have made more if the hack hadn't occurred in the first place and they had released on their own terms. Moreover, a major band such as Radiohead may be able to absorb a loss such as this, but for less established artists, a hack can be a major financial hit.
Cyber risk insurance includes coverage for business interruption (lost income). The insurance will also cover payments to those who threaten to obtain and disclose sensitive information.
Hack of unreleased Michael Jackson tracks (2013)
In 2013, two men admitted to hacking into Sony Music's servers and copying thousands of files, including previously unreleased tracks by Michael Jackson. The men also downloaded music by artists including Elvis, Beyoncé, Christina Aguilera and Britney Spears. The men were planning to sell or trade some of the music files.
If hackers can breach the defences of a large music company such as Sony Music, they can certainly breach smaller music studios, too. Front Row's cyber insurance policy includes Digital Data Recovery Cost coverage, as well as the cost of a forensic investigation to determine how, exactly, a cyber hack occurred.
WHAT IS CYBER INSURANCE | CYBER LIABILITY INSURANCE | CYBER SECURITY INSURANCE | HACK INSURANCE?
Cyber hack insurance for music studios is designed to protect against certain losses associated with data breaches and hacks. After a hack, there are costs studios will incur, including (but not limited to):
paying for PR/crisis communications to explain what happened
paying to restore or recover any stolen music files/hacked accounts
paying to conduct an investigation to determine what happened
losing money from business interruption
SO, HOW CAN CYBER INSURANCE HELP MUSIC STUDIOS?
Hack insurance can help with expenses associated with managing a hack, such as incident response, crisis communications and data recovery expenses.
PROTECT your data. If you are a musician or music studio owner/employee, chances are you do a lot of music composition work on your studio computer(s). If these computers (or servers) are hacked, you could lose access to your music files, resulting in business interruption.
If you suffer a cyber hack, your insurance can help you manage the costs associated with the loss. Front Row's cyber hack insurance policy includes comprehensive cyber coverage with limit options up to $1,000,000.
90% of small businesses in Canada do not have cyber insurance: don't be one of them. Take a few minutes to protect your music studio!
About: Front Row Insurance Brokers Inc. is an independent insurance broker that provides cyber insurance for the lowest possible cost. Should a claim occur, Front Row works diligently with clients and insurers to expedite the payment of claims. Front Row has offices in Vancouver, Toronto, Montreal and Halifax.
Citations:
https://www.msn.com/en-us/music/news/teenage-british-hacker-busted-for-hacking-famed-musicians-stealing-and-selling-unreleased-songs/
https://www.bignewsnetwork.com/news/211911027/music-hackers-in-britain-admit-stealing-unreleased-michael-jackson-tracks
https://en.wikipedia.org/wiki/MiniDiscs_(Hacked)
DISCLAIMER: Informational statements regarding insurance coverage are for general description purposes only. These statements do not amend, modify or supplement any insurance policy. Consult the actual policy or your broker for details regarding terms, conditions, coverage, exclusions, products, services and programs which may be available to you. Your eligibility for particular products and services is subject to the final determination of underwriting qualifications and acceptance by the insurance underwriting company providing such products or services. This website does not make any representations that coverage does or does not exist for any particular claim or loss, or type of claim or loss, under any policy. Whether coverage exists or does not exist for any particular claim or loss under any policy depends on the facts and circumstances involved in the claim or loss and all applicable policy wording.
Related:
OFFICE INSURANCE & CYBER INSURANCE FOR MUSIC STUDIOS, CANADA
EBOOK: CYBER INSURANCE 101 / CYBER LIABILITY INSURANCE / CYBERSECURITY INSURANCE CANADA / HOW TO PROTECT YOUR COMPUTER SYSTEMS
ONLINE CYBER INSURANCE FOR CANADIAN SMALL BUSINESSES
HACK INSURANCE: IT'S NOT JUST FOR BIG BUSINESSES
IS YOUR BUSINESS PREPARED FOR THE CONSEQUENCES OF A CYBER ATTACK?
4 WAYS TO PREVENT CYBER ATTACKS IN THE CREATIVE INDUSTRY
CYBER CRIME INSURANCE FOR NON-PROFITS
IF YOU ARE A GRAPHIC DESIGNER, YES, YOU NEED HACK INSURANCE
IF YOU ARE A PHOTOGRAPHER, YES, YOU NEED HACK INSURANCE
IF YOU ARE A FILMMAKER/FILM PRODUCER/HAVE A PRODUCTION COMPANY, YES, YOU NEED HACK INSURANCE
IF YOU ARE A THEATRE PRODUCER, YES, YOU NEED HACK INSURANCE
IF YOU ARE A MUSICIAN, YES, YOU NEED CYBER INSURANCE
IF YOU ARE A REAL ESTATE AGENT/WORK IN REAL ESTATE, YES, YOU NEED HACK INSURANCE
IF YOU ARE A PERSONAL TRAINER, YES, YOU NEED HACK INSURANCE
IF YOU ARE A HAIR/NAIL/BEAUTY SALON MANAGER OR EMPLOYEE, YOU NEED CYBER INSURANCE
PASSWORD PROTECTION & MANAGEMENT
OFFICE CONTENTS INSURANCE AND THE NEED FOR CYBER INSURANCE
FRONT ROW INSURANCE OFFERS SOLUTION TO SMALL BUSINESS CYBER CONUNDRUM