20 EFFECTIVE WAYS TO PROTECT YOUR ELECTRONIC KEYBOARD/DIGITAL PIANO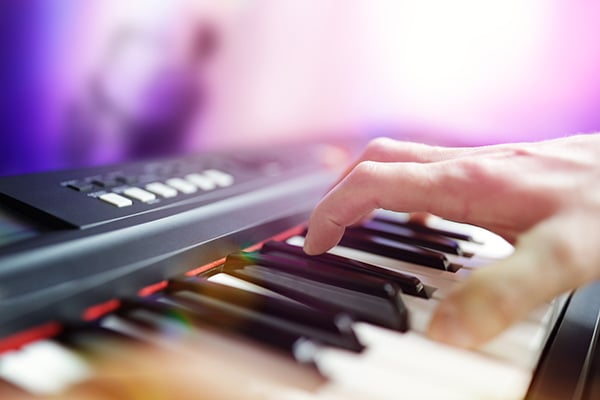 As an entertainment insurance brokerage with a specialty in creating custom insurance packages for musicians, we have seen enough music gear-related insurance claims to be able to speak with some authority on what musicians can do to protect their gear. As it's one of the most popular instruments, let's focus on the electronic keyboard/digital piano in this article:
Protecting your ELECTRONIC Keyboard/DIGITAL Piano | KEYBOARD MAINTENANCE
Where to keep your keyboard? According to Yamaha, a room with relative humidity between 40 and 45% is ideal for keyboards.
Do not

place the keyboard outside or near an open window. Dust will coat the keyboard, which could create issues with electronic parts inside.

Do not

place the keyboard under a shelf with a lot of objects on it. Heavy falling objects from shelves such as trophies can severely damage a keyboard.

Do not

place the keyboard near a fireplace, where ash and dust would inevitably get into it and likely damage the electronic components.

Do not

allow pets to get on the keyboard. Cats, in particular, would likely enjoy climbing on top of your keyboard, but their fur could get into the sensors and potentially damage the electronic components.

Do not

use a vacuum cleaner to pull out dust from your keyboard. Tiny parts and screws may get loosened, compromising your keyboard over time.

Get a keyboard cover

, ideally waterproof, to put over your keyboard when not in use to protect it from dust and water.

Get a solid, sturdy keyboard stand

.

Keep the electrical cords out of the way where they won't be tripped over.
Use a multimeter

to check if the electrical outlet you're plugging the keyboard into is supplying the proper voltage recommended by your keyboard's manufacturer. If it isn't, try a different outlet. Multimeters can generally be purchased at Home Depot for about $30. Always turn the keyboard off before you unplug it, and unplug it when you're not playing it.

Don't plug your keyboard into an outlet that is shared by a microwave, AC, fridge or any other major electrical appliance. Interference from such devices can negatively impact the sound of your keyboard.
Check the keyboard's instruction manual/manufacturer's notes for specific and acceptable cleaning methods.
Use a regular cotton cloth to clean the keyboard. Do not

use a thinner, as that can remove the printing and even damage the (usually plastic) body.

Any cleaning solution that you use on the keyboard should have an alcohol content of around 90%.
A cotton swab can be used to clean corners of the keyboard that a cloth cannot reach.
If you're touring, always use a high-quality carrying case such as a hard-bodied, foam-lined, locking Pelican case that protects against impact & moisture.
A seemingly innocuous action, like placing one's drink atop a keyboard panel, can result in said drink eventually spilling and short-circuiting the keyboard. Insurance claims often occur after absent-minded actions such as this. So, put any nearby drinks on a side table, not on top of the keyboard panel.
Hiding a

Tile

or similar tracker in your cases results in a good recovery rate for stolen keyboards and other music gear.

At least once a year, take your keyboard to your local music instrument technician for a once-over. This annual investment in expert service will no doubt pay for itself over the long run by keeping your keyboard in good shape.
Try to get into the habit of washing your hands before playing the keyboard. You may not realize it, but your fingers and palms contain moisture and oils that can damage your keys. Finally: play your keyboard with care and don't pound those keys too hard!
Downloadable Checklist – Effective Ways to Protect Your Keyboard
Take the tips in this article with you by filling out this form. We'll email you a PDF copy of Effective Ways to Protect Your Keyboard.
Consider Front Row for Keyboard Insurance | DIGITAL PIANO INSURANCE
Front Row Insurance is a brokerage specializing in entertainment-related risks. We have a simple online instrument insurance program available 24/7. Custom packages for musicians include tour liability and coverage for recording studios. We have offices in Toronto, Montreal, Vancouver, Halifax, LA, NYC & Nashville and our staff of 50+ have a combined 510 years insurance experience.
Front Row provides fast, affordable musical instrument insurance for Canada's music professionals who are Canadian resident members of SOCAN (and other music associations). Get a quote and buy online here: https://musicians.frontrowinsurance.com/
Related:
Citations:
https://www.furtadosonline.com/blog/protecting-your-electronic-keyboard/
https://www.onlinepianist.com/op-blog/how-to-maintain-a-digital-piano/
https://ca.yamaha.com/en/support/caring_for_your_piano/index.html
https://blog.bestbuy.ca/musical-instruments/digital-piano-maintenance
https://bestdigitalpianoguides.com/five-tips-on-maintaining-your-digital-piano/
https://www.digitalpianoplanet.com/how-to-clean-a-digital-piano/
https://piano-reviews.com/digital-piano/
Images: Shutterstock purchases