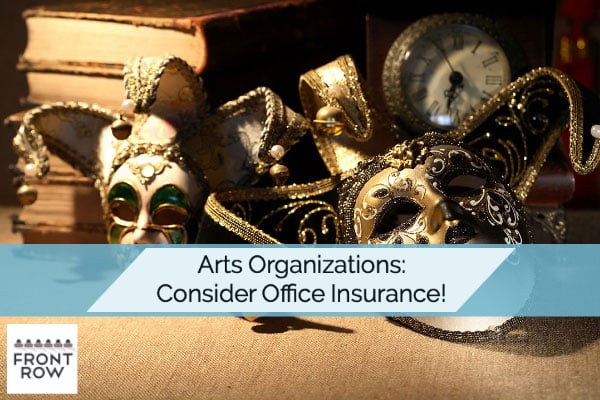 Source: Royalty-free stock photo ID: 250313509, Shutterstock
What is business insurance?
Business insurance (or office insurance / workplace insurance) allows you to know that your business is protected if you ever suffer a covered loss. As an arts organization or theatre company with an office, there is risk involved in operating your business. The cost to transfer this risk to insurance is low compared to the expense of an actual theft, fire, client slip & fall at your office or other unfortunate incident.
Let's look at some interesting examples of arts organization accidents/incidents...
Edmonton, AB theatre fire 🔥 (2015)
An historic Edmonton, AB theatre built in 1938 was completely destroyed by a fire in 2015. As of 2020, the cause of the fire remains unknown.
Under Front Row's workplace insurance policy, all office equipment would have full replacement cost coverage for theft, damage, fire and loss of use.
Tenants Legal Liability (TLL) covers you (the insured) for legal liability in cases where the tenant causes damage to the rented property. If you rent a portion of an office in a building and you have a fire, then your TLL will cover the damages to the area you occupy.
Canadian arts organization employee theft
A Canadian non-profit arts organization embarked on an exciting capital campaign to renovate their property. The project was funded by various levels of government, corporate and private donors. Working with minimal staff, this non-profit was unable to completely segregate project management duties and funds.
By chance, a staff member questioned an invoice paid to a company. It turned out to be a 'dummy' company set up by another employee (managing funds) to siphon money away from the non-profit. Forensic accounting disclosed that multiple payments had been made.
Crime coverage can be added onto any office insurance policy. This coverage extends to crime losses that are typically not insured under a basic office policy. Briefly described, commercial crime insurance covers money, securities and other property against a variety of criminal acts, such as employee theft, robbery, forgery, and computer fraud.
Canadian arts organization cyber hack
A large Canadian theatre serving several arts organizations experienced an unauthorized computer security breach, forcing a shutdown of their system. This prevented the purchase of tickets and the breach presented the risk of unauthorized access to the personally-identifiable information of buyers, employees and contracted performers & artists.
There were losses of revenue and costs associated with protecting their IT systems as well as managing the potential risk of the data being used to exploit the accessed information.
If you suffer a hack, your insurance can help you manage the costs associated with the loss. Front Row's office insurance policy includes $10K to cover a hack, at no additional cost.
How can workplace insurance/office insurance help arts organizations?
PROTECT your arts organization in the case of a lawsuit: Commercial General Liability coverage is designed to protect against those sums that you may become obligated to pay for bodily injury, property damage or personal injury to third parties arising out of your business operations. It includes the cost of legal defense. Note: for more comprehensive legal coverage, consider Legal Expense Insurance.
PROTECT your data: If you're an arts organization administrator or theatre company artistic director, your livelihood is linked to your computer; you likely have accounting and patron personal information on it.
PROTECT your equipment: What if your laptop was stolen or damaged in some way? Under Front Row's office insurance policy, your equipment has full replacement cost coverage for theft, damage, fire and loss of use.
PROTECT your arts organization by purchasing Business Insurance online! Obtain a fast online quote and buy a policy online in just ~5 minutes, 24/7:

Related:
Dance Studio Insurance (Canada)
Office Insurance for Theatre Companies (Canada)
Citations:
Management Liability Webinar, Feb. 2020, presented by Steve Beatty to Theatre AB
https://www.cbc.ca/news/canada/edmonton/roxy-theatre-gutted-by-tough-old-fire-1.2898924
DISCLAIMER: Informational statements regarding insurance coverage are for general description purposes only. These statements do not amend, modify or supplement any insurance policy. Consult the actual policy or your broker for details regarding terms, conditions, coverage, exclusions, products, services and programs which may be available to you. Your eligibility for particular products and services is subject to the final determination of underwriting qualifications and acceptance by the insurance underwriting company providing such products or services. This website does not make any representations that coverage does or does not exist for any particular claim or loss, or type of claim or loss, under any policy. Whether coverage exists or does not exist for any particular claim or loss under any policy depends on the facts and circumstances involved in the claim or loss and all applicable policy wording.