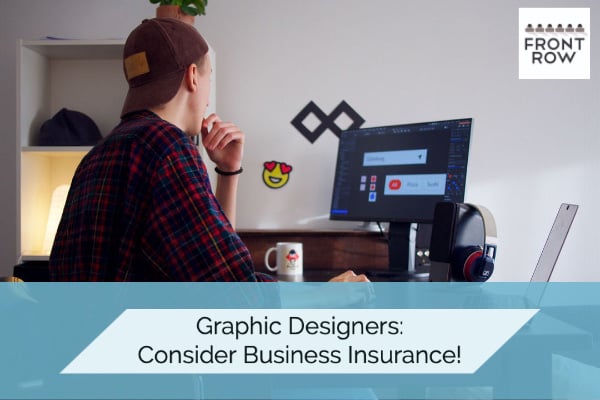 What is business insurance?
Business insurance (or office insurance / workplace insurance) allows you to know that your business is protected if you ever suffer a covered loss. As a graphic designer with a studio or other office, you are at risk. The cost to transfer the risk to insurance is low compared to the expense of an actual theft, fire or other unfortunate incident.
Do you freelance/work out of a home office? Like many graphic designers, you probably do, but did you know that most homeowners/tenants insurance policies exclude coverage for commercial activities? Another reason to get business insurance.
How can business insurance/office insurance help graphic designers?
PROTECT your graphic design business in the case of a lawsuit: Commercial General Liability coverage is designed to protect against all sums that you may become obligated to pay for bodily injury, property damage or personal injury to third parties arising out of your business operations. It includes the cost of a lawyer to defend you.
PROTECT your data: If you're a graphic designer, your livelihood is linked to your computer. Not only is your work stored on your computer, you may also have accounting and client information on there. If you suffer a hack, your insurance can help you manage the costs associated with the loss. Front Row's office insurance policy includes $10K to cover a hack, at no additional cost.
PROTECT your equipment: Any good graphic design business is built around great ideas, but it's your tools and equipment that bring them to life. What if your laptop was stolen or damaged in some way? Unlike our competitors, under Front Row's office insurance policy, all your equipment has full replacement cost coverage for theft, damage, fire and loss of use.
PROTECT your graphic design business by purchasing Business Insurance online! Obtain a fast online quote and buy a policy online in just ~5 minutes, 24/7:
Related:
Studio Insurance for GDC Members — discount code!
INSURANCE FOR CAD GRAPHIC DESIGNERS IN CANADA
GRAPHIC & UX DESIGNERS OFFICE INSURANCE
DISCLAIMER: Informational statements regarding insurance coverage are for general description purposes only. These statements do not amend, modify or supplement any insurance policy. Consult the actual policy or your broker for details regarding terms, conditions, coverage, exclusions, products, services and programs which may be available to you. Your eligibility for particular products and services is subject to the final determination of underwriting qualifications and acceptance by the insurance underwriting company providing such products or services. This website does not make any representations that coverage does or does not exist for any particular claim or loss, or type of claim or loss, under any policy. Whether coverage exists or does not exist for any particular claim or loss under any policy depends on the facts and circumstances involved in the claim or loss and all applicable policy wording.