...But isn't the circus supposed to be dangerous?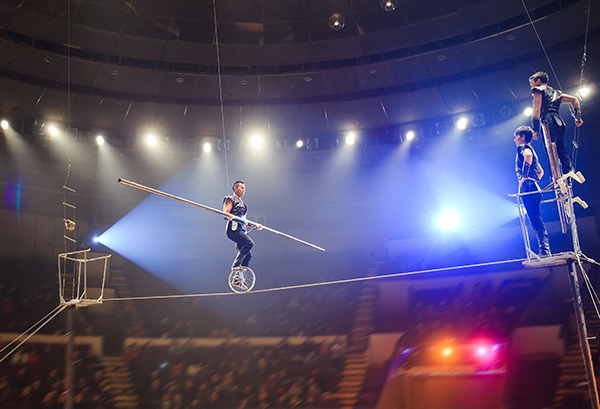 Source: Royalty-free stock photo ID: 1051987001 | Shutterstock
Circus Insurance (Canada and US)
Current member of the American Circus Educators Association (ACE)? Check out Front Row's Circus Educators Insurance Program.
One of the delights of the circus is seeing the most skilled acrobats dazzle an audience with risky stunts. At Front Row, our experience with production liability insurance and special event liability insurance has shown that there are always unfortunate exceptions where even the most skilled acrobat doesn't escape danger as planned.
One such incident occurred recently at a Ringling Bros. Circus in Rhode Island where an aerial accident sent eight performers plummeting to the ground. The stunt, known as "the human chandelier" involved performers hanging from their hair on a suspended apparatus. A clip at the top of the apparatus snapped and three performers are at the hospital in serious condition. Thus far, there is no conclusive information as to why the clip failed.
When quoting theatrical insurance where aerial stunts are being performed, one of the questions we always ask is how much experience the aerial rigging technician has. We also ask if he/she is licensed. This protects the risk and encourages producers to employ the best people.
Furthermore, we offer key person insurance. This is reserved for parties whose inability to perform would result in the event being cancelled. In an event like the circus, the specialized skill on display makes purchasing the above coverages a must, and our years of experience will make sure there are no gaps that might hinder a major performance.
Even with the correct due diligence, accidents can always happen and they illustrate how important it is to carry good production insurance.
Related:
THEATRE INSURANCE 101 / THEATRICAL INSURANCE / PERFORMING ARTS INSURANCE
MAKE A POTENTIAL DISASTER A MINOR INCONVENIENCE / THEATRE INSURANCE
BRITISH PANTOMIME AND THEATRE INSURANCE
FAMOUS STAGE DISASTERS / THEATRE INSURANCE
THEATRE INSURANCE - VENUES AND GROUPS / THEATRE COMPANY INSURANCE
4 EASY STEPS TO READING A THEATRE INSURANCE POLICY
CIRCUS INSURANCE
AERIAL INSURANCE / AERIAL ARTS INSURANCE
ACTONE INSURANCE / PERFORMERS INSURANCE
DIRECTORS AND OFFICERS (D&O) INSURANCE
CAST INSURANCE FOR LIVE PERFORMERS
INSURANCE FOR BODY PARTS / BODY PART INSURANCE
PROTÉGÉ: CUSTOM INSURANCE FOR ART SCHOOLS AND ARTS EDUCATORS
SAFEGUARDING YOUR STUDENTS WITH ART SCHOOL INSURANCE PART 1
SAFEGUARDING YOUR STUDENTS WITH ART SCHOOL INSURANCE PART 2
INTIMACY COACHES IN THE THEATRE WORLD / INTIMACY DIRECTORS
SHORT-TERM THEATRE INSURANCE / PUBLIC LIABILITY INSURANCE FOR PERFORMERS