20 Best Podcasts on Filmmaking / Filmmaker Podcasts in 2023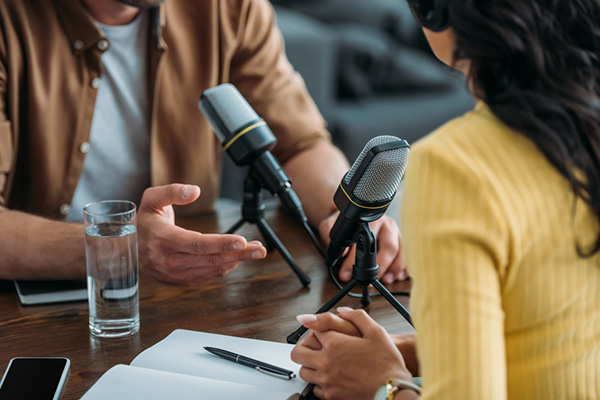 Source: Royalty-free stock photo ID: 1433456582 | Shutterstock
Let's review Front Row's top 20 podcasts on filmmaking. We'll discuss:
(in no particular order)
1.
Just Shoot It

Link: https://justshootitpodcast.com/

Just Shoot It is a podcast on filmmaking, screenwriting and directing. Each week on the podcast, you can find interviews with directors, screenwriters, editors, cinematographers and actors, and learn how they became successful, working content creators.

The podcast shares tips and stories of how people in the entertainment industry forced their ways into sustainable careers. The podcast is all about "getting off your butt and making your own videos."
2.
New York Production Alliance / NYPA


Link: https://podcasts.apple.com/us/podcast/beyond-the-set-new-york/id1495901632

The NYPA podcast, Beyond the Set New York, connects listeners with the people, companies and organizations involved with unifying the film and television industry in New York.

The NYPA represents the unified voice of the film, television & commercial production, and post-production industry in NYC.
3.
The Art of Film Funding

Link: https://fromtheheartproductions.com/the-art-of-film-funding-podcast/

Carole Dean hosts The Art of Film Funding Podcast, featuring interviews with experts on film funding, film finance, film marketing, and film distribution.

Carole Dean is President and Founder of From the Heart Productions, a 501(c) non-profit which helps indie filmmakers get film funding.
4.
Business of Film

Link: http://www.crafttruck.com/business-of-film/

As its title suggests, this podcast is dedicated to the business of film, interviewing top industry professionals (producers, distributors, sales companies, agents, managers, financiers and more).

Business of Film is an invaluable podcast for both emerging and established filmmakers. Each episode presents an absolute wealth of insider knowledge.
5.
Craft Truck Uncut

Link: http://www.crafttruck.com/podcasts/

Craft Truck Uncut features uncut audio from Craft Truck's interviews with top cinematographers & editors.

Craft Truck is an educational resource hub for entertainment industry professionals, created by film producer Jesse Ikeman.
6.
Filmspotting

Link: https://www.filmspotting.net/

Proclaiming itself "the flagship film podcast", Filmspotting (formerly Cinecast) is a weekly film podcast out of Chicago hosted by film critics Adam Kempenaar and Josh Larsen.

The podcast focuses on film analysis and features interviews with film industry players, including directors, writers, actors and producers.
7.
The No Film School Podcast

Link: https://nofilmschool.com/tags/podcast

The No Film School Podcast features an eclectic array of interviews with film industry players, including cinematographers, directors, writers, producers and actors.

The No Film School website is the leading worldwide community of filmmakers, video producers, and independent creatives.
8.
Happier in Hollywood

Link: https://happierinhollywood.com/podcast/

Happier in Hollywood is a more writing- and producing-focused podcast, as two Hollywood writer/producers, Liz Craft & Sarah Fain, host it.

This podcast is about "how to be happier, healthier, saner, more creative, more successful, and more productive" in Hollywood.
9.
The Director's Cut - A DGA Podcast

Link: https://www.dga.org/Craft/Podcast.aspx

The Director's Cut - A DGA (Directors Guild of America) Podcast brings you behind-the-scenes stories of the most discussed contemporary movies. Each episode features a new director, interviewed by one of their peers.

Notable episodes include "The Craft of the Director with Ron Howard", "Once Upon a Time... in Hollywood with Quentin Tarantino and Paul Thomas Anderson" and "The Irishman with Martin Scorsese and Spike Lee".
10.

Location Sound Podcast

Link: https://locationsoundpodcast.libsyn.com/

The Location Sound Podcast features location sound mixers, boom ops and other industry pros involved in recording sound on-location for feature and independent films, TV commercials, interviews, etc.

Whether you are a seasoned vet or just starting out and interested in sound recording, this podcast is full of great stories and lessons about recording on-location.
11.
Directing Magic

Link: http://www.directingmagic.com/

Directing Magic – a podcast about women filmmakers was created to encourage and inspire filmmakers by sharing the wisdom and experience of successful women in film and TV.

This podcast features conversations with established women in the entertainment industry who generously share their insights about succeeding in the business.
12.
Film Riot Podcast

Link: https://www.filmriot.com/podcast/

The podcast from Film Riot features plenty of interesting interviews with film industry talent, including writers, directors and cinematographers.

Notable episodes include: "Writing & Directing Story Driven Horror", "Directing a Blockbuster with an Indie Budget" and "How a Hollywood Legend Directs Actors".
13.
Cinematalk

Link: https://cinema.wisc.edu/podcasts

The Cinematalk podcast from the University of Wisconsin-Madison's Department of Communication Arts is entertaining and informative, featuring interviews with directors and others in the film industry.

Notable episodes include: "The Great Silence with Special Guest, Alexander Payne", "Peter Sellers: Lost and Found" and "Hong Sang-soo's Woman on the Beach".
14.
Legends of Film Podcast

Link: https://library.nashville.org/podcasts/legends-film-podcast

Nashville Public Library's Legends of Film Podcast features interviews with directors, screenwriters, and actors who share their experiences on notable films. This behind-the-scenes series features "the greats as you have never heard before."

Notable interviews include: cinematographer Anthony B. Richmond, screenwriter Stephen Geller, composer Charles Bernstein and Sara Karloff, daughter of late actor Boris Karloff.
15.
Blank Check with Griffin & David

Link: https://audioboom.com/channel/Blank-Check

Blank Check with Griffin & David is a film podcast following the career output of directors who have had some success and are then offered a figurative "blank check" to pursue their passion projects. Most episodes focus on a single movie from the director's filmography.

Movies discussed include: various Star Wars films, Terminator 2: Judgment Day, Starship Troopers, Edward Scissorhands, Mad Max, and others.
16.
Film Formally

Link: http://sadhillmedia.com/filmformally

Film Formally is a podcast that "dives into the deep end of film." In each episode, Canadian filmmakers Will Ross & Devan Scott (Sad Hill Media) get specific and analyze one filmmaking technique.

Past episodes include: discussions of concert films, sound design, independent movie post-production and videography.
17.
Film Insights

Link: https://www.instagram.com/film_insights/

The Film Insights Podcast interviews passionate filmmakers, delivering great stories, exploring the ins and outs of the creative process, and provides fresh insight and memorable anecdotes from the world of filmmaking.
–Hosted by filmmaker Eden Ocean.
18.
Film Design

Link: https://filmdesignpodcast.podbean.com

The Film Design Podcast takes the unique angle of focusing on production design, set decoration and art direction. The podcast is hosted by Max Lincoln, a UK-based production designer.

Past episodes include interviews with notable production designers and art directors, including Nicholas Foley, Dalia Gellert, Noam Piper, and many others.
19.
The Filmmakers Podcast

Link: https://thefilmmakerspodcast.com/

The Filmmakers Podcast is another UK-based podcast about how to make films, from studio movies to micro budget productions.

Past episodes have included interviews with famous talent in the film industry, including Julie Delpy, Agnieszka Holland, John Badham, and Timothy Spall.
20.
Filmmakers Guide Podcast

Link: https://www.fgipodcast.com/

The Filmmaker's Guide to the Industry (FGI) is a podcast from the US featuring in-depth interviews and insider knowledge about the business of the entertainment industry.

Past episodes include interviews with American film producers Randy Greenberg, Cat Sullivan, Tony Armer, and Tyler Martinolich, among others.
Get Film Insurance | Film Production Insurance | Filmmaking Insurance
If you're listening to podcasts about filmmaking, chances are that you're a filmmaker or planning to be one. And if you're a filmmaker, you'll want to consider insuring your valuable filmmaking gear and film productions. Front Row Insurance Brokers offer:
Online

Short-Term Film Insurance

(Canada): provides coverage for up to 15 consecutive days of shooting, with no minimum premium. The coverage is available online 24/7. Covers rented gear, rented locations, rented props, sets, wardrobes, and more. Quotes are free and take 2 minutes.
Online

DigiGear Insurance

(Canada): custom equipment insurance for owners of: cameras, sound and lighting gear working in the film/TV industry. Also available online. Quotes in 2 minutes. Policy available in 5 minutes. Shop from your phone.
US-based filmmakers can view Front Row's US policies here.
Contact Front Row to get a quote for your feature, TV series, documentary, commercial, and more.
About: Front Row Insurance Brokers Inc. is an independent insurance broker that specializes in the entertainment industry – specifically, the film industry. Front Row has 51 staff in 8 offices that have a combined 530+ years of experience serving the film industry. Front Row works hard to provide insurance protection for the lowest possible cost. Should a claim occur, Front Row ensures that clients receive the money they are owed per the insurance policy, as quickly as possible. Offices in: NY, Nashville, LA, Vancouver, Toronto, Montreal and Halifax.
Related posts: