Film Production Companies and Lighting Safety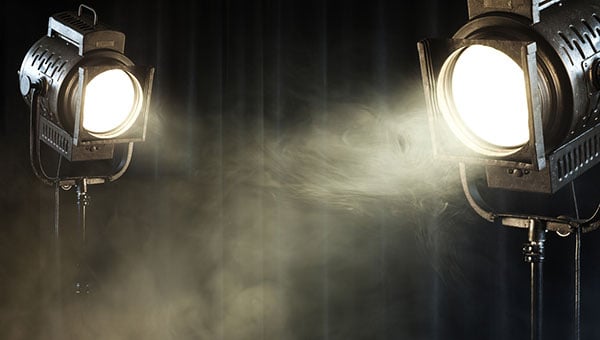 Setup Film Set Lighting Safely
Use appropriate fall protection equipment [Amazon Affiliate Link] whenever setting up lighting at elevated heights
Ensure that all lighting fixtures are supported so that they will not fall, i.e., use a safety wire [Amazon Affiliate Link] or chain to suspend fixtures
Ensure that all lighting stands [Amazon Affiliate Link] are property weighted with sandbags [Amazon Affiliate Link]
Cover arc-type lamps such as HMIs in wet weather to prevent rain from entering the unit and ballast
When using open-faced lighting units, provide protection from shrapnel in case the bulb explodes
Ensure that scaffolds or other metal grids that are used to support the lighting are grounded; a multimeter [Amazon Affiliate Link] can assist with this
Before using any grounded equipment, test for continuity between the ground pin on the plug and the metal parts of the lighting equipment; a multimeter [Amazon Affiliate Link] can assist with this
Before relamping or repairing a light, turn it off and disconnect it from power source
A specialized film insurance broker is best able to present the risks associated with your film production to the film insurance underwriter to ensure you receive the best coverage and premium for your production.
Front Row Insurance Brokers are specialized Film Insurance Brokers. Please call us if you have any questions.
SEE ALSO:
SUSTAINABLE SETS & GREEN FILMMAKING – THE FUTURE OF POWER IN FILM
The above information is based on WorkSafe – Focus on Safety – Safe Work Practices for Film and Television Production in B.C. (2001 edition) | Amazon Associates Disclosure: Front Row Insurance is a participant in the Amazon Services LLC Associates Program, an affiliate advertising program designed to provide a means for sites to earn advertising fees by advertising and linking to Amazon.com. This post may contain affiliate links. There is no additional cost to you.