How can Ingress & Egress Coverage protect your Film Production?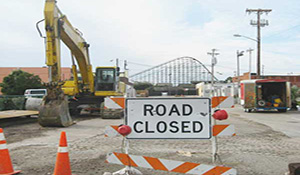 Ingress & Egress Insurance
At first read, Ingress & Egress may sound like a type of leakage. In the case of this Extra Expense (EE) sub-coverage though, it actually refers to circumstances which may arise where persons or property are unable to either gain access (ingress) or leave (egress) a building/location in order to continue work as required. This coverage is similar in nature to the Civil & Military Authority EE sub-coverage, with the exception that the inability to access or leave the building/location in question is not decided by the authorities.
As with other Extra Expense coverages, the sub-limit (sum insured) attributed to the sub-coverages is the maximum amount given for that sub-coverage, and all Extra Expense claims cannot exceed the policy Extra Expense maximum limit.
Fireman's Fund Insurance Company (Allianz) defines Ingress/Egress in their insuring agreement as:
"We will pay for loss due to your inability to access or leave a facility within your care, custody and control due to the closure, by other than a civil authority, of that facility's access road, meaning a road that affords access into and out of that area within your care, custody and control, which is necessary to be used in connection with an Insured Production to which this Coverage applies."
some losses/delays covered by Ingress & Egress:
Road access to the studio the Insured company is renting is blocked because a sinkhole has collapsed in the road.
Your film director is unable to leave his hotel on time because the street in front of the hotel has large fallen trees on it due to a windstorm the previous night.
NB: As with most other coverages, there are some standard exclusions that apply to Extra Expense coverages. Please see the policy wording for a full description of the coverage, or call a specialized film insurance broker such as Front Row Insurance.
Need help? Contact Front Row.