Benefits of Hiring a Wedding Planner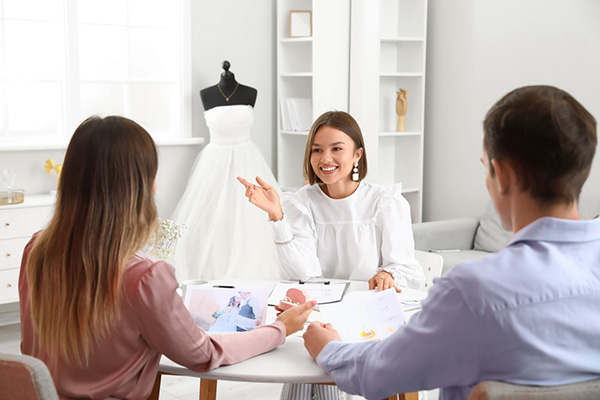 Image: Shutterstock
31% of engaged couples seek the help of a wedding planner to assist with their wedding. (Wedding Wire survey, 2017) We at Front Row Insurance anticipate that percentage to continue to increase over the coming decade, as more and more couples will come to realize that reducing their stress by hiring a good wedding planner is well worth the investment.
In this post, we'll look at some of the brief history of the wedding planning profession, look at the main benefits of hiring a wedding planner and conclude with some helpful tips on what to look for when hiring a wedding planner.
The History of the Wedding Planner
The concept of a wedding planner perhaps first came to widespread public attention with the release of the 2001 romcom The Wedding Planner starring Jennifer Lopez and Matthew McConaughey. Although the movie received generally negative reviews, it was a box office hit and no doubt helped the wedding planning profession as a whole.
Wedding planning is a relatively young profession, as through most of time weddings were simply planned by the families themselves. But today, with the average wedding costing ~$28,000 USD, if you're already making such a substantial investment, it makes sense to hire a dedicated consultant to manage the complexity of it all.
Benefits of Hiring a Wedding Planner
Let's look at some of the primary benefits of hiring a wedding planner:
Time savings: the average wedding takes 200+ hours to plan. As the bride or groom, you'd likely prefer being able to hand off those administrative & coordination duties to an experienced professional, so you can enjoy the anticipation of your wedding.
Relieves stress: along with purchasing a Wedding Insurance policy, one of the most effective ways to have a less stressful wedding is to hire an experienced wedding planner. You simply won't have to worry about as much and if something does go wrong on the wedding day, a good planner will be there to put out any fires.
Fresh ideas: wedding planners will usually strive to provide you with a more special & unique wedding than you would have had without hiring one. Planners generally know both the latest trends and classic ideas for wedding inspiration, so they'll attempt to deliver something more than just a "cookie-cutter wedding".
Valuable advice: an experienced wedding planner will know the "ins and outs" of the wedding industry, including great venues to consider and the best caterers, bands, DJs and florists in the area (or at least acceptable ones to fit your budget).
Foreign country knowledge

: if you're planning a destination wedding where the documentation and paperwork can be complicated, a wedding planner becomes almost essential. Any country where a wedding is held requires different procedures depending on the nationalities of the bride and groom.

E.g.,

US citizens marrying in Italy require an affidavit sworn in front of the US consulate in Italy. A wedding planner can take care of these oft-complicated procedures.
Wedding Planner Selection Tips
What should you look for when trying to decide on a wedding planner, then? Here are some tips to help you find a good one:
A free consultation: pro wedding planners will offer a free consultation so they can get to know you and your wedding vision and determine if they're a good fit for you.
Gauge the "chemistry": at the consultation, instead of an "all-business meeting", also try some informal small talk with the planner and get to know them. If conversation flows easily between you, then that is a good sign that there is some chemistry and you'll be comfortable working with your planner.
Consider the services: what services will you really need for your wedding, and what does the planner cover? Some planners offer all-encompassing packages, whereas others are more à la carte. Maybe you only need a day-of coordinator instead of someone to pre-plan the entire wedding, for example.
Review their portfolio: most experienced planners will have some kind of portfolio that you can look at to view their work on past weddings. Ensure that the overall style of at least some of their past weddings matches what you're going for.
Check their references: ask the planner to provide you with contact information for a few of the couples they had as prior clients. Take the time to call these references and ask some helpful questions, such as:

What was the planner like to work with?
How quickly did the planner respond to texts, emails, ?
How closely did the planner stick to your budget?
Was the wedding's style exactly what you wanted?
Any constructive criticism of the planner?
Buy Wedding Liability Insurance
Consider adding on your wedding planner as an additional insured to your wedding insurance policy. A certificate can be issued to the wedding planner. This maintains the professional aspect of everything and protects everyone involved.
Under Front Row's Wedding Liability Insurance policy (Canada), the wedding planner can be added as an additional insured using a blank certificate of insurance.
Are you in the US? Wedding insurance in the US can be arranged quickly through our online program.
Wedding planners should also consider purchasing their own Annual General Liability policy to protect them year-round when working for their wedding clients. If you're a planner interested in such a policy, contact Front Row Insurance and let's discuss.
CITATIONS: