Best Wedding Venues in Chicago | Best Places to Get Married in Chicago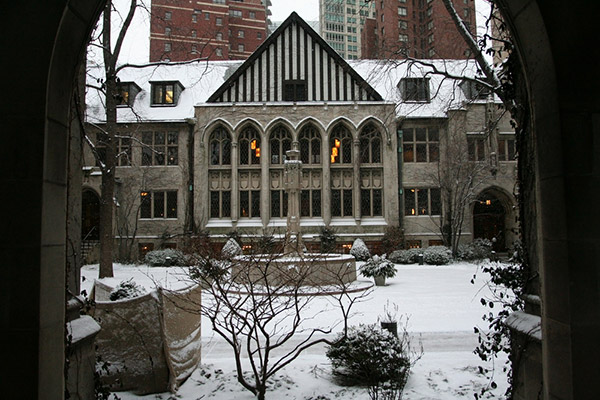 Chicago, IL has no shortage of impressive venues that are appropriate for hosting weddings. We'll list some of them in this article. Note: this list is not comprehensive and if you feel we are missing a venue that should be added, feel free to contact us with the suggestion.
We'll discuss, in no particular order:
Best church/synagogue/mosque wedding venues in Chicago
Fourth Presbyterian Church | Church for weddings Chicago
URL: https://www.fourthchurch.org/weddings/index.html
The Fourth Presbyterian Church of Chicago is one of the largest congregations of the Presbyterian Church. Built in 1912 and located at 126 E Chestnut St in Chicago.
This church is available to be booked for weddings. Weddings are held on Saturdays at 12:00 noon, 2:30, and 5:00 p.m.
Church of the Ascension
URL: https://www.ascensionchicago.org/weddings.html
Church of the Ascension is located at 1133 N La Salle Dr. in Chicago and is available to be booked for weddings.
Premarital counseling is required; a minimum of three 75-minute sessions, arranged with and facilitated by the priest who will preside at the wedding.
St. Joseph the Betrothed Ukrainian Catholic Church
The wedding services in the Ukrainian Catholic Church consist of two separate parts: The Betrothal and The Order of Crowing.
Located at 5000 North Cumberland Ave in Chicago.
ICC of Greater Chicago | Mosque for nikah Chicago
URL: https://www.iccgreaterchicago.com/index.php/services/wedding-nikah/
The Islamic Cultural Center of Greater Chicago is able to host a nikah (Muslim wedding). The ICC is located at 1810 Pfingston Road in Northbrook, IL.
Arrange for your marriage license to be delivered to the imam at least seven days prior to the ceremony.
Temple Sholom | Synagogue for wedding Chicago
URL: https://www.sholomchicago.org/weddings.html
Temple Sholom is located at 3480 North Lake Shore Drive in Chicago and is available to be booked for weddings. The process includes counseling on rituals and other topics tailored to your goals as a couple. This synagogue will craft your wedding with you to make it personal and meaningful.
Best outdoor wedding venues in Chicago
Garfield Park Conservatory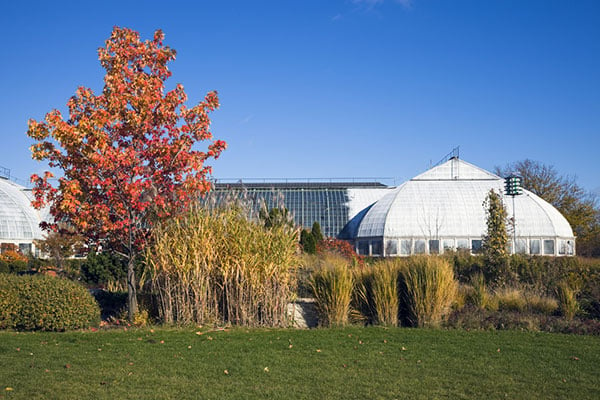 Image: Shutterstock
URL: https://garfieldconservatory.org/
Chicago's Garfield Park Conservatory is one of the largest and most stunning botanical conservatories in the nation. The conservatory is available to be booked for weddings.
In 2012, the conservatory won the National Medal for Museum and Library Services.
Chicago Botanic Garden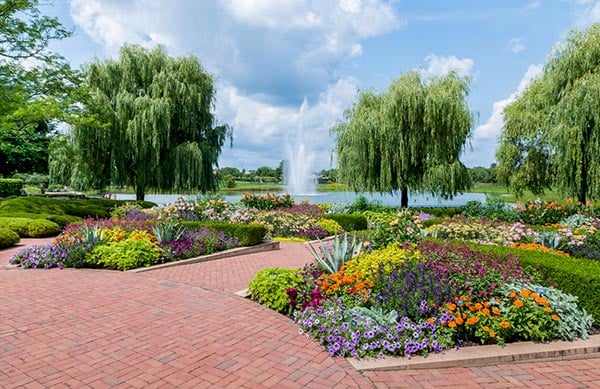 Image: Shutterstock
URL: https://www.chicagobotanic.org/
The Chicago Botanic Garden, with event sites nestled amid enchanting gardens, peaceful lakes and native woodlands, is a spectacular site for a wedding.
Note: No ceremonies are allowed at the Chicago Botanic Garden unless hosted in conjunction with a catered reception and arranged in advance with private events.
Lincoln Park Zoo
URL: https://en.wikipedia.org/wiki/Lincoln_Park_Zoo
Lincoln Park Zoo aka Lincoln Park Zoological Gardens is a 35-acre zoo in Lincoln Park, Chicago. Founded in 1868, the zoo is available to be booked for weddings.
Also located in Lincoln Park Zoo is a burr oak tree which dates to 1830.
Bridge 410
URL: https://www.bridge410.com/
Bridge 410 is located at 410 N. Paulina St. in Chicago and is available to be booked for weddings.
The event area totals over 10,000 square feet and includes convenient touches like gated parking, enterprise-strength WiFi, and furniture.
Chicago Women's Park & Garden
URL: https://www.chicagoparkdistrict.com/parks-facilities/chicago-womens-park-and-gardens
This pretty park is located at 1801 S. Indiana Ave. in Chicago and is available to be booked for weddings. Opened in 2000, Chicago Women's Park and Gardens honors the contributions women have made to the city throughout its history.
Best restaurant wedding venues in Chicago
Osteria Via Stato
URL: https://www.osteriaviastato.com/
Osteria Via Stato, located in downtown Chicago's vibrant River North neighborhood, offers couples a unique and romantic wedding venue reminiscent of a Tuscan wine cellar.
For couples who choose to share their wedding day with only their closest family and friends, this restaurant offers a wedding package for 50 or fewer guests.
Pazzo's 311
URL: http://www.pazzoschicago.com/
Pazzo's is an Italian restaurant located at 311 S Wacker Dr in Chicago. This restaurant offers various wedding packages, including a rehearsal dinner package.
Pazzo's accommodating wedding planners and luxury facilities can help make any wedding a resounding success.
Fulton Market Kitchen
URL: https://www.fultonmarketkitchen.com/
This restaurant is located at 311 N. Sangamon St. in Chicago. From bridal showers and rehearsal dinners to bachelorette parties and the wedding itself, FMK is a great choice for any wedding.
FMK is able to accommodate up to 500 guests for receptions and 260 for seated dinners.
Revolution Brewing
URL: https://revbrew.com/private-events
From wedding receptions and rehearsal dinners to corporate happy hours and holiday parties, an event at Revolution is a uniquely Chicago experience.
Located at 2323 N. Milwaukee Ave, Chicago, Brewers' Lounge can accommodate up to 104 guests for a seated dinner or 130 guests for a cocktail reception.
River Roast
URL: https://www.riverroastchicago.com/private-events/
Located at 315 N. LaSalle Street in Chicago, River Roast is a New American restaurant that is available to be booked for weddings.
Whether you're planning a grand gala for 300 people or an exclusive affair for eight, River Roast's customized menus and exceptional views will impress.
Best other wedding venues in Chicago
Loft on Lake
Loft on Lake is one of the most intimate, classic loft-style venues in Chicago. Their interior can be transformed into the look and style that you always envisioned for your wedding.
This venue is complete with finished wood trim, classic chandeliers in the cocktail lounge, perimeter up-lighting, and cafe-bistro lights.
City Hall
Located at 838 W. Kinzie, Chicago, City Hall is divided into a 5,400 sq. ft. event space, a 3,700 sq. ft. restaurant/bar and a 10,000 sq. ft. outdoor patio, and can accommodate up to 1,800 guests.
Equipped with a green room, adjustable lighting, and full bar, this space is ideal for weddings.
Moonlight Studios
URL: https://moonlightstudioschicago.com/
Moonlight is an "industrial chic" event space, located in a 15,000 sq. ft. repurposed factory, consisting of a main open studio, two gallery spaces, and a production office or green room.
A dedicated venue manager will be onsite during setup, event and breakdown and can direct vendors.
DANK Haus German American Cultural Center
URL: https://dankhaus.com/Weddings
Whether you select the stunning Marunde Ballroom or intimate Skyline Lounge, every niche of the DANK Haus is full of history. The cultural center was built in 1927.
Unlike many other venues, DANK Haus doesn't control the catering of a wedding; you can supply your own vendors of choice. They have no mandate on suppliers.
Ovation Chicago
URL: https://www.ovationchicago.com/
Ovation is a private event venue in Chicago, located at 2324 W Fulton St. Opened in 2014, this is one of the most sought-after wedding venues in the city.
A warm and inviting collaborative workspace Monday-Friday, at week's end Ovation transitions into a carefully thought-out haven for sophisticated fetes, including weddings.
Get Wedding Event Insurance: Buy Online in the US from Front Row
If you're researching wedding venues in Chicago, chances are good that you're getting married or know somebody who is. Consider wedding insurance. Get a quote:
Wedding Insurance (USA): if you're holding a private event at one of the above venues, you can buy insurance for the day of your event from Front Row.



Short Shoot Insurance (USA)

: if you're doing any filming at the venue, it would make sense to get short-term production insurance, which covers up to 15 consecutive days.
About: Front Row Insurance Brokers Inc. is an independent insurance broker that specializes in the entertainment industry. Front Row works hard to provide insurance protection for a very low cost. Should a claim occur, Front Row works diligently with clients and insurers to expedite the payment.
Related posts: