Best Wedding Venues in Seattle | Best Washington State Wedding Venues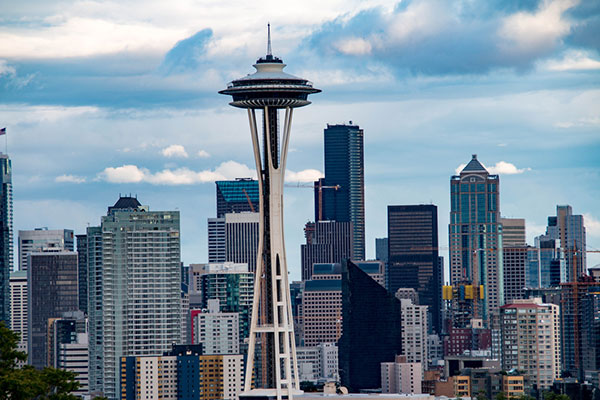 Seattle, WA has no shortage of impressive venues that are appropriate for hosting weddings. We'll list some of them in this article.
We'll discuss, in no particular order:
Best church/synagogue/mosque wedding venues in Seattle
St. James Cathedral | Church for weddings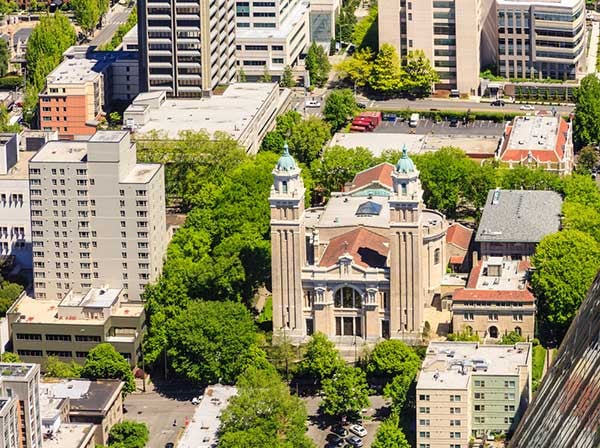 Image: Shutterstock
URL: https://en.wikipedia.org/wiki/St._James_Cathedral_(Seattle)
St. James Cathedral is a Roman Catholic cathedral located at 804 Ninth Avenue in the First Hill neighborhood of Seattle. This church can be booked for weddings.
The cathedral was completed in 1907. Saturday is the usual day for weddings to be celebrated; they are never celebrated on Sundays.
Plymouth Church
URL: https://plymouthchurchseattle.org/
Located at 1217 Sixth Avenue in Seattle, Plymouth Church is a multigenerational congregation that is associated with the United Church of Christ denomination.
With the 2014-15 renovation, the church opted to replace carpeting and traditional pews, with Italian tile flooring and chairs. The freedom to choose configurations allows a center aisle for weddings.
Saint Demetrios Greek Orthodox Church
URL: https://www.saintdemetrios.com/
Saint Demetrios Greek Orthodox Church is located in Seattle's Montlake neighborhood and serves a community of over 600 families.
This church is available to be booked for weddings. St. Demetrios has a large hall that is available for catered wedding receptions.
Idris Mosque | Mosque for nikah Seattle
URL: https://www.idrismosque.com
Located at 1420 NE Northgate Way, Seattle, Idris Mosque is available to be booked for nikah (Muslim weddings). A marriage license issued by a county in the State of Washington must be obtained and presented to the authorized performer of the marriage, prior to the ceremony.
Approval of the marriage by respective fathers or recognized Muslim guardians must be demonstrated.
Temple De Hirsch Sinai | Synagogue for Jewish weddings Seattle
URL: https://templedehirschsinai.org/
Temple De Hirsch Sinai is located at 1511 E Pike St. in Seattle and is available to be booked for weddings. Seating options can accommodate between 15 and 950 guests.
This temple's two parking lots, historical building, and central Capitol Hill location make it the perfect venue for a wedding.
Outdoor wedding venues in Seattle
Froggsong Gardens
URL: https://www.herbanfeast.com/venues/froggsong-gardens/
Froggsong Gardens are beautiful estate-style gardens of a private residence on Vashon Island. This island is connected to West Seattle via the Washington State Ferries system.
16 acres of lush greenery, outdoor and indoor fireplaces, a covered pavilion, vibrant flowers, a flowing stream, and floral-adorned structures bring the best of summer to a wedding.
Mt. Baker Rowing & Sailing Center
URL: http://bakerboathouse.com/
Located in Stan Sayres Park on the shores of Lake Washington, this sailing center is available to be booked for weddings.
The comfortable space includes everything you will need for an event including tables, chairs, and multi-media system perfect for slideshows, presentations and speeches.
TreeHouse Point
URL: https://www.treehousepoint.com/
Get married in the trees! TreeHouse Point is located ~22 miles from Seattle on the Raging River. Weddings at this venue range from the quiet intimacy of an elopement to a celebration of 80 guests.
Packages range between 20-80 guests and include exclusive access to the property with overnight accommodations and breakfast for 20 overnight guests in seven treehouses and two suites.
Ballard (Chittenden) Locks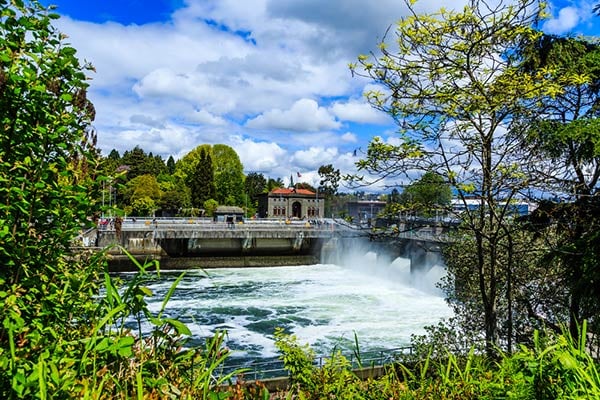 Image: Shutterstock
URL: https://www.ballardlocks.org/
The Chittenden Locks, or Ballard Locks, is a complex of locks at the west end of Salmon Bay in Seattle. Carl S. English Garden in the locks is a great wedding venue that can accommodate groups up to 50 people for weddings and special events.
Suggested donations are $10/person, not to exceed a maximum of $250.
IslandWood
URL: https://islandwood.org/weddings/
IslandWood is the quintessential rustic Pacific Northwest backdrop for a destination wedding. Located on Bainbridge Island, a 35-minute ferry ride from Seattle.
A dedicated wedding planner from IslandWood's team will work side-by-side with you to bring your vision to life.
Restaurant wedding venues in Seattle
The Corson Building
URL: https://www.thecorsonbuilding.com/
Located at 5609 Corson Ave. S. in Seattle, the Corson Building is a New American restaurant that is available to be booked for private events, including weddings.
Their dining room seats up to 25 guests (in the summer, capacity expands to 80 guests thanks to a patio seating area). The restaurant is available for private event buyouts any day of the week.
Salty's on Alki Beach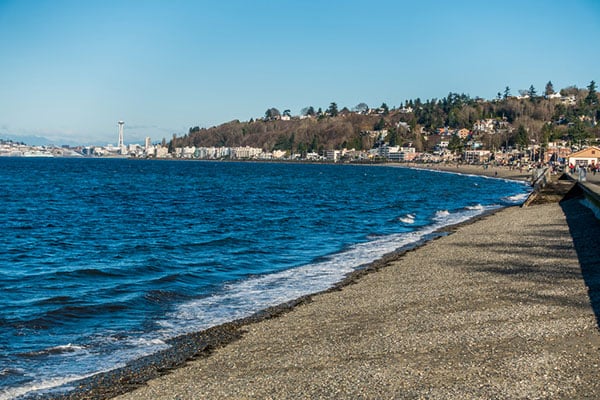 Image: Shutterstock
URL: https://www.saltys.com/seattle/
This seafood restaurant has a beautiful private event space with the water and the Seattle skyline as the background. The restaurant has three private dining rooms: the Alki Room, the Duwamish Room and the Admiral's Stateroom. These rooms can be combined to form a Grand Skyline Ballroom.
Alki Beach Park is a 135.9-acre park located in West Seattle.
Stoneburner
URL: https://www.stoneburnerseattle.com/
Stoneburner is a Mediterranean restaurant that is available to be booked for private events, including wedding receptions and dinners. Located at 5214 Ballard Ave NW in Seattle.
The venue boasts vaulted ceilings, a 20 foot skylight, south and west facing window walls that open fully, and sweeping views of the mountains and waterways.
Elliott's Oyster House
URL: https://www.elliottsoysterhouse.com/
Elliott's Oyster House, located at 1201 Alaskan Way Ste 100, Seattle, is available to be booked for private dining, including wedding receptions.
The Elliott Bay Room is able to accommodate 40 seated guests; 60 standing. Treat your wedding guests to America's number one seafood house, offering Seattle's best waterfront dining experience.
Bourbon Steak Seattle
URL: https://www.michaelmina.net/restaurants/bourbon-steak/seattle/
Bourbon Steak is a steakhouse located at 1433 4th Ave. in Seattle, founded by Egyptian-American celebrity chef Michael Mina.
Private dining is available: up to 110 seats in the dining room and 250 for a standing reception.
Best other wedding venues in Seattle
Space Needle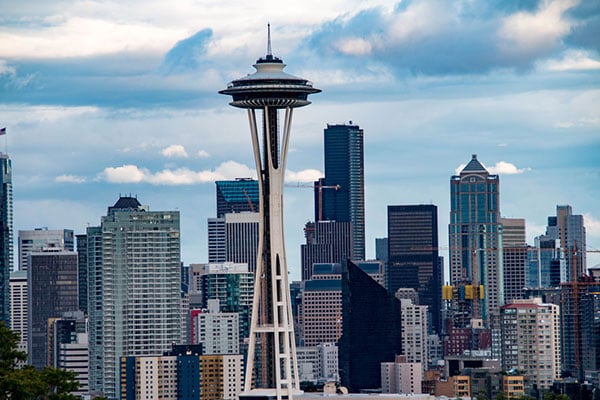 Image: Shutterstock
URL: https://www.spaceneedle.com/private-events
You can get married at Seattle's most famous landmark. The Space Needle is available to be booked for private events, including weddings.
Located at the 100-foot level, the Skyline event space offers spectacular panoramic views of Seattle, the Olympic and Cascade Mountains and the waters of Elliott Bay and Lake Union.
Sole Repair Shop
URL: https://www.solerepairshop.com/
A unique, industrial-chic event space in Seattle's Capitol Hill neighborhood, located at 1001 E Pike St. This venue can accommodate anywhere from 20-150 guests.
Catering is provided in-house through Quinn's Pub.
The Ruins
URL: https://landmarkeventco.com/ruins
From a magical courtyard entrance, to an ornate hand-painted ballroom, the Ruins' layout creates one enchanting surprise after the next. Located at 570 Roy St. in Seattle.
Seated reception capacity is 150; standing reception is 300.
Imperia Lake Union
URL: https://imperiaseattle.com/weddings/
Imperia offers both preset and custom wedding packages. This venue is located at 3119 Eastlake Ave E in Seattle. Indoor and outdoor options are available.
Imperia's restored ballroom is inspired by the 1920s era. Imperia's staff is ready to deliver the wedding ceremony and reception of your dreams.
Laurel Place
URL: http://thelaurelplace.com/
Located at 911 N 145th St #6522 in Seattle, this event space is a good option for a wedding reception or ceremony. Seating capacity of 200 for lectures and 160 for receptions.
The banquet room fee includes the use of 10 four foot tables and up to 80 chairs, kitchen use and parking. The venue has additional tables and chairs available for a fee.
Get Wedding Event Insurance: Buy Online in the US from Front Row
If you're researching wedding venues in Seattle, chances are good that you're getting married or know somebody who is. Consider wedding insurance. Get a quote from Front Row:
Wedding Insurance (USA)

: if you're holding a private event at one of the above venues, you can buy insurance for the day of your event from Front Row.



Short Shoot Insurance (USA)

: if you're doing any filming at the venue, it would make sense to get short-term production insurance, which covers up to 15 consecutive days.
About: Front Row Insurance Brokers LLC is an independent insurance broker that specializes in the entertainment industry. Front Row works hard to provide insurance protection at a low cost. Should a claim occur, Front Row works diligently with clients and insurers to expedite the payment.
Related posts: