BOOK: FILM INSURANCE 101 & HOW TO PROTECT YOUR FILM PROJECT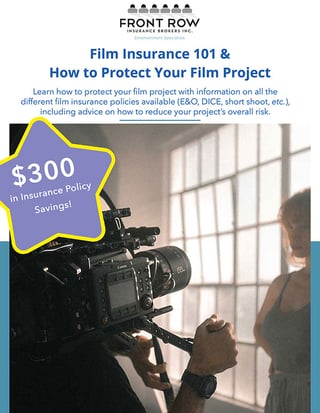 We at Front Row Insurance are pleased to announce the publication of our book on Amazon, Film Insurance 101 & How to Protect Your Film Project. Available in both eBook and Paperback formats. Learn how to protect your film project with information on all the different film insurance policies available (E&O, DICE, short shoot, etc.), including advice on how to reduce your project's overall risk.
The manual includes:
Brief descriptions of the various types of coverage available to the Entertainment Industry
Coupon codes with discounts on various insurance policies amounting to $300 IN SAVINGS, including $150 in film/photo insurance policy savings. Coupons valid in Canada only, except for QC, ON, SK
The eBook can be purchased on Amazon.ca for only CDN $0.99 or on Amazon.com for only USD $0.75 ! Paperback only a few dollars more.
Contents:
FILM PRODUCTION INSURANCE: WHY IT IS NEEDED
PRE-PRODUCTION INSURANCE
FILM PRODUCTION INSURANCE
HOW THE PREMIUM IS DETERMINED
PREMIUMS: ONE WAY TO SAVE MONEY
INSURANCE FOR YOUR SHORT FILM
DIGIGEAR EQUIPMENT INSURANCE
PROPS/SETS/WARDROBE INSURANCE
ERRORS AND OMISSIONS INSURANCE COST
E&O: WHAT FILMMAKERS NEED TO KNOW
TITLE REPORTS: WHO NEEDS THEM?
SCRIPT INSURANCE CLEARANCE REPORTS
FAIR USE AND E&O INSURANCE FOR FILMMAKERS - PART 1
FAIR USE AND E&O INSURANCE FOR FILMMAKERS - PART 2
INVASION OF PRIVACY AND FALSE LIGHT ACCUSATIONS
WHAT IS A DICE POLICY?
THIRD PARTY PROPERTY DAMAGE LIABILITY
RENTING CREW PERSONAL VEHICLES
UMBRELLA VS. EXCESS LIABILITY
WATERCRAFT USE
HELICOPTER FILM INSURANCE
COMMERCIAL GENERAL LIABILITY
NEGATIVE FILM & FAULTY STOCK INSURANCE
WORKERS COMP
CAST INSURANCE
EE CAST INSURANCE
EXTRA EXPENSE
IMMINENT PERIL COVERAGE
INGRESS & EGRESS COVERAGE
FOREIGN LOCATIONS EXPLAINED
CLAIMS: WHAT TO DO WHEN PRODUCTION STOPS
DISCOUNT/COUPON CODES