AMAZON EBOOK: FILM INSURANCE 101 & HOW TO PROTECT YOUR FILM PROJECT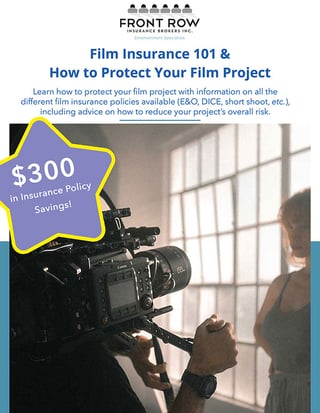 We at Front Row Insurance are pleased to announce the publication of our 52-page eBook on Amazon, Film Insurance 101 & How to Protect Your Film Project. Learn how to protect your film project with information on all the different film insurance policies available (E&O, DICE, short shoot, etc.), including advice on how to reduce your project's overall risk.
The eBook manual includes:
Brief descriptions of the various types of coverage available to the Entertainment Industry
Coupon codes with discounts on various insurance policies amounting to $300 IN SAVINGS, including $150 in film/photo insurance policy savings. Coupons valid in Canada only
The eBook can be purchased on Amazon.ca for only CDN $0.99 or on Amazon.com for only USD $0.75 ! Considering the insurance policy coupons with substantial savings included right inside the eBook, this is clearly a great deal.
eBook Contents:
FILM PRODUCTION INSURANCE: WHY IT IS NEEDED
PRE-PRODUCTION INSURANCE
FILM PRODUCTION INSURANCE
HOW THE PREMIUM IS DETERMINED
PREMIUMS: ONE WAY TO SAVE MONEY
INSURANCE FOR YOUR SHORT FILM
DIGIGEAR EQUIPMENT INSURANCE
PROPS/SETS/WARDROBE INSURANCE
ERRORS AND OMISSIONS INSURANCE COST
E&O: WHAT FILMMAKERS NEED TO KNOW
TITLE REPORTS: WHO NEEDS THEM?
SCRIPT INSURANCE CLEARANCE REPORTS
FAIR USE AND E&O INSURANCE FOR FILMMAKERS - PART 1
FAIR USE AND E&O INSURANCE FOR FILMMAKERS - PART 2
INVASION OF PRIVACY AND FALSE LIGHT ACCUSATIONS
WHAT IS A DICE POLICY?
THIRD PARTY PROPERTY DAMAGE LIABILITY
RENTING CREW PERSONAL VEHICLES
UMBRELLA VS. EXCESS LIABILITY
WATERCRAFT USE
HELICOPTER FILM INSURANCE
COMMERCIAL GENERAL LIABILITY
NEGATIVE FILM & FAULTY STOCK INSURANCE
WORKERS COMP
CAST INSURANCE
EE CAST INSURANCE
EXTRA EXPENSE
IMMINENT PERIL COVERAGE
INGRESS & EGRESS COVERAGE
FOREIGN LOCATIONS EXPLAINED
CLAIMS: WHAT TO DO WHEN PRODUCTION STOPS
DISCOUNT/COUPON CODES