Front Row's Referral Marketing Program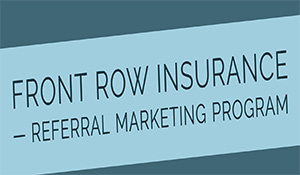 Front Row's Referral Marketing Program

You asked, we listened! In our September 2019 Customer Satisfaction Survey, we saw your requests for a referral marketing program and so we promptly set one up. A full 47% of our customers hear about us through word of mouth, and we'd like to start showing our appreciation for these referrals.
If you're a Front Row customer: just complete the form on this landing page and we'll email your friend about our insurance products. Referring a friend to Front Row gives you the potential to win a $15 Amazon eGift Card OR be entered into a random draw to win a $99 Amazon eGift Card! (depending on your province/state)
Provincial/state differences are as follows:
AB & BC: You'll get a $15 Amazon eGift Card IF the person you referred becomes a customer


ON: Simply by making a referral, you'll be entered into a random draw to win a $99 Amazon eGift Card. The draw will be quarterly (every three months)


All other provinces/territories: excluded (when/if insurance regulations change in these provinces, we'll likely expand our referral program to include them also)


US

: excluded
There is no upper limit—refer as many friends as you'd like!
Note: Front Row reserves the right to refuse to pay a referral reward.