Hosting an Adult Birthday Party: Do You need Insurance?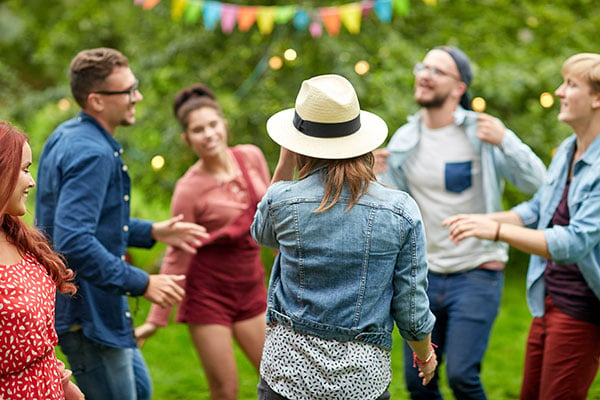 Adult birthday party insurance
It is good planning to consider adult birthday party insurance. No-one wants to think of what might go wrong; however, events do sometimes have to be cancelled or the unexpected happens. You may find yourself being served with a lawsuit from your friends or family for a wide range of different reasons and Front Row event insurance is there to help make sure that you do not lose money – or sleep - as a result.
Consider when hosting an Adult Birthday Party:
Does your venue require you to provide evidence of short-term event insurance? Read your rental contract before you sign it.
Are you hosting the party at home? Check with your home insurance broker to see if you are covered. Parties over a certain size are most likely not covered.
Your guests could trip on temporary carpeting or slip on a drink spill on the floor and injure themselves. Adult Birthday Party liability insurance will cover you if you are sued by providing a free lawyer to defend you and paying the judgement costs - up to the limit of the policy - awarded to your injured guest.
What happens if your marquee blows away and injures other people in the park? Lawsuits would be covered with Adult Birthday liability insurance.
Most birthday venues will require you to have event insurance in place. Often the venue will tell you in their contract the short term venue liability amount required.
Adult birthday party planning should include online adult's birthday party insurance.
Our cheap event insurance policies start at $105 (pricing subject to change) and certificates for your Adult Birthday venue are free. A one-day event insurance quote is also free: a fast quote is available any time of the day or night in just 3 minutes.
Adult birthday party planning should include online insurance (Canada):
Are you in the US? Event insurance in the US can be arranged quickly through our online program.
If you will be serving alcohol at your birthday party, make sure that you request venue alcohol liability – available through our online site. Remember: as a host you are responsible for the safety of any guests. You could be held legally responsible if people consume alcohol during your adult birthday party and harm themselves or someone else. Consider how your guests will be traveling home.
It's always good planning to have event insurance because you never know when something unexpected may occur. Adult birthday insurance will allow you to fully enjoy the special day.


Related Blog Post
About: Front Row Insurance Brokers Inc. is an independent insurance broker that provides adult birthday party insurance for the lowest possible cost. Should a claim occur, Front Row ensures that you receive the money you are owed per the adult's insurance policy, as quickly as possible. Front Row has offices in Vancouver, Toronto, Montreal and Halifax and are licensed and registered in all provinces in Canada.