How to choose between a DICE Insurance Policy and a DigiGear Policy?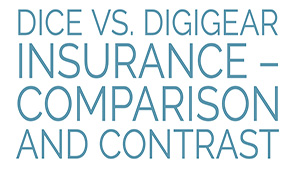 DICE (docs, corporate videos, commercials, educational films, music videos)
The DICE Package Policy is intended to provide insurance for smaller budget documentaries, corporate videos, commercials, educational films, music videos and more. DICE is best suited for producers who are planning to produce projects other than feature films or TV series.
DICE can provide coverage for a full year for rented & owned equipment as well as Props, Sets and Wardrobe, Office Contents, Vehicle Physical Damage and more. Commercial General Liability coverage can also be purchased either together with the equipment coverage or on a standalone basis. If you would like more information or to request a free non-obligation quote, visit our DICE Policy website here.
A DICE policy is available in ~4 hours by calling or emailing our office.
DigiGear (film equipment)
The DigiGear Policy is intended for owners of camera equipment, sound, lighting and other film equipment. All equipment is covered for: theft, damage, fire and loss of use. Like DICE, the DigiGear policy term is also for 12 months. A DigiGear policy is designed to cover owners/operators of production equipment whose operations or services fall within one of the below classifications:
Camera Operator
Director of Photography (DP) / Cinematographer
Videographer
Sound Recordist
Digital Imaging Technician
Grip
Unlike DICE, DigiGear is not a film production policy.
A DigiGear policy is available online in ~five minutes 24/7.
Note: coverage under DigiGear is only available to Canadian residents at this time.
For a visual overview of the two policies, view the infographic below:

RELATED POST:
HOW TO CHOOSE BETWEEN A DICE POLICY AND A SHORT SHOOT POLICY*