Intimacy Directors in the Theatre World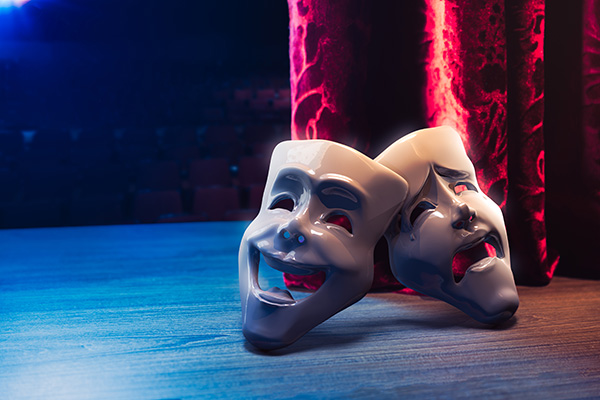 Hiring an Intimacy Coach, or Intimacy Director (ID), as part of a theatre's crew is becoming more common in Canadian theatrical circles, sparked by media attention to the vulnerability of women in the arts and entertainment sector.
What is an intimacy coach / intimacy director?
So what is the purpose of an Intimacy Director, and how can one be helpful to all members of a cast and crew, not just the female actors?
An ID's job is to make the performers and crew feel protected while staging scenes that can create anxieties around the portrayal of acts of sexual violence, nudity, or other forms of intimacy. This is done when the ID establishes clear paths of communication for the rehearsal and show, and demonstrates best practices for creating a healthy performance space, as well as actually choreographing scenes of intimacy.
What does an intimacy coach / intimacy director do?
A first step for the coordinator is to have a conversation with the individuals closely involved in developing the scene, like the director and actor, to gauge feelings of concern. Under the pressure of landing and maintaining a job, it is too easy for artists to feel they have to agree to perform acts they aren't comfortable with.
It is the ID's role to establish confidence in the process and then choreograph the scene in a way which conveys the storyline without breaking the bond of trust between the director, actor, producer, and crew. This can be particularly important in the realm of live theatre as the performances must feel authentic each time the play is performed.
If the actor has felt psychologically pressured or even coerced into a place of discomfort, the acting and the entire production can suffer. The buffer that the ID provides is another step toward the smooth performances and safe sets theatrical producers need.
Pillars of Intimacy / Intimacy Coaches in Theatre
Siobhan Richardson, one of the founders of Intimacy Directors International (now closed), and her colleagues, have created a foundational piece called the Pillars of Intimacy. This material provides a step-by step process by which actors become educated to a practice that will guide them throughout rehearsal and performance.
The goal is to choreograph safe, repeatable movements that the actors can rely upon to tell the story. (TheatreArtLife) The Pillars of Intimacy establishes a process based on the best practices of context, communication, consent, choreography, and closure.
The Pillars of Intimacy can be a great guide for stage managers as well, if the budget doesn't allow for the hiring of an ID for the production. Either way, it's clear now that there is a new awareness of the risks involved if the behaviours around intimacy aren't explored.
Consider Front Row Theatre Insurance | Performing Arts Insurance | Liability Insurance for Theatre Production
Offering a simple and quick solution, our SOLO Theatrical Insurance program can be purchased online with a credit card in six minutes and can include the following coverage for up to 4-weeks with no minimum premium:
Refer a Friend to Front Row
Based on customer demand, we've setup our referral marketing program and if you refer a friend to Front Row, you could win a $15 Amazon eGift Card OR be entered into a random draw to win a $99 Amazon eGift Card! (depending on your province)
Citations:
Related:
THEATRE INSURANCE 101 / THEATRICAL INSURANCE / PERFORMING ARTS INSURANCE
MAKE A POTENTIAL DISASTER A MINOR INCONVENIENCE / THEATRE INSURANCE
BRITISH PANTOMIME AND THEATRE INSURANCE
FAMOUS STAGE DISASTERS / THEATRE INSURANCE
THEATRE INSURANCE - VENUES AND GROUPS / THEATRE COMPANY INSURANCE
4 EASY STEPS TO READING A THEATRE INSURANCE POLICY
AERIAL INSURANCE / AERIAL ARTS INSURANCE
ACTONE INSURANCE / PERFORMERS INSURANCE
DIRECTORS AND OFFICERS (D&O) INSURANCE
CAST INSURANCE FOR LIVE PERFORMERS
INSURANCE FOR BODY PARTS / BODY PART INSURANCE
PROTÉGÉ: CUSTOM INSURANCE FOR ART SCHOOLS AND ARTS EDUCATORS
SAFEGUARDING YOUR STUDENTS WITH ART SCHOOL INSURANCE PART 1
SAFEGUARDING YOUR STUDENTS WITH ART SCHOOL INSURANCE PART 2
INTIMACY COACHES IN THE THEATRE WORLD / INTIMACY DIRECTORS
SHORT-TERM THEATRE INSURANCE / PUBLIC LIABILITY INSURANCE FOR PERFORMERS