Practice Safe Sets by Safe Sets International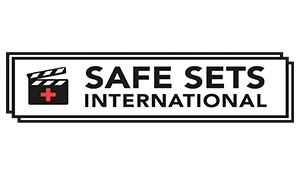 Source: https://practicesafesets.co/
Guest blog post by Set Scouter / Safe Sets International
In this crazy, ever-changing COVID-19 world, productions continue to blossom throughout the challenges of the pandemic because of the persistence and ingenuity of the creative spirit. Safe Sets International is proud to be a part of the process that enables this industry to push forward.
Founded by Alex Kolodkin, Founder & CEO of Set Scouter – North America's largest online location scouting platform – as a response to the confusion within the industry of how to move forward. "There wasn't a centralized and standardized resource for the community. I gathered medical experts, industry leaders, and teamed up with some of the biggest companies in production to advocate for safety on set." – Kolodkin
Developed as a free resource focused on the safety and survival of the film and video production industry, they have emerged as the world's most trusted COVID-19 educator for the production industry. Safe Sets provides a resource of global guidelines along with a free certificate program, verified by medical and industry partners, to increase production safety measures globally.
Practice Safe Sets by Safe Sets International
After launching in July 2020, Safe Sets International spread organically and globally through the industry – tens of thousands of certificates completed in 74 countries within the first week – demonstrating the considerable need for this resource.
Safe Sets International was established as a collaborative partnership that encourages the industry to practice safe sets by advocating for health and safety in production through education, collaboration, and action. The team consists of industry leaders and medical professionals brought together to meet the demands of the production community in this complex time.
Safe Set's purpose:
Collect resources and guidelines to promote health and safety on set.
Collaborate openly with industry leaders and members for guidance and insights.
Educate to standardize knowledge across the industry.
Explore new technologies to help creators adopt safer production practices.
The website provides a collaborative production guideline hub, sourcing and welcoming global resources, along with a free course on basic COVID-19 safety and best practices, developed with industry and medical experts. The course provides everyone a base level of knowledge which can be supplemented with any government, association, or trade specific requirements.
"As businesses and film sets face various pandemic-related production challenges, it is important to remain smart and vigilant to help protect ourselves and prevent transmission to vulnerable populations," says Dr. Jaime Hope, Attending Physician of Emergency Medicine at Beaumont Health, one of the busiest Level 1 Trauma Tertiary Care Centers in the US. "Safe Sets uses evidence-based best practices to minimize risk to everyone involved. This is an industry-leading set of guidelines that doctors and scientists are proud to support."
"It's more important than ever to ensure we create the safest production environments possible to protect everyone in our industry," says Kolodkin. "COVID-19 has shaken the industry to its core and forced us to reimagine what it means to be on set, and that will continue to evolve as we recover."
Safe Sets International Course
Safe Sets provides a FREE Level A certificate designed to communicate the most current health and safety information relevant to our community of filmmakers, producers, crew, and industry professionals. The course is currently available in English, Spanish, and French.
A Level B certificate launched in October 2020, containing supplementary education on how to stay safe on set. It's recommended for those in production leadership, on health/safety teams, and/or those assuming the role of a COVID-19 Compliance Officer.
Don't forget to practice safe sets!
DISCLAIMER: The information in this guest blog post is for general informational purposes only. We are providing such information in good faith; however, we make no representation or warranty of any kind, express or implied, regarding the accuracy, adequacy, validity, reliability, availability or completeness of any information in this guest blog post. You may be required to follow specific protocols depending on varying geographical, political, industrial and commercial requirements enacted as a result of the Novel Coronavirus (COVID-19).
Related: