PROTÉGÉ: Insurance custom-made for arts education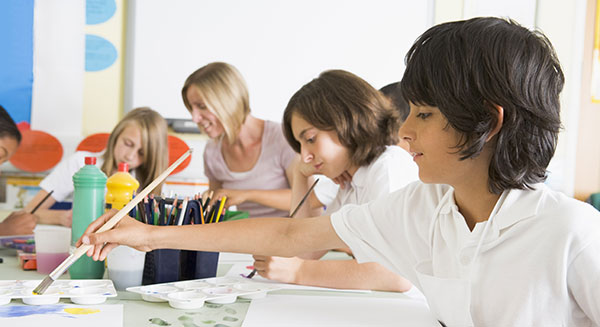 Protégé: Insurance for Art Schools
Does your art school work with an insurance brokerage that has specialized knowledge of the arts and entertainment community, and that understands the specific needs of an arts organization?
Protégé is an insurance product custom-designed for art schools by Front Row Insurance Brokers. The program grew organically out of our longstanding engagement with the arts community. We realized that creators are also educators, and that our clients needed an insurance product that could cover their workshops, summer camps, and training seminars. We wanted to create a policy that helps foster creative expression, one that protects teachers and students alike, that helps create safe spaces to learn, where students can take risks, challenge each other, and grow with confidence.
Coverages available include:
Studio Property

Business Continuity

Bodily Injury & Property Damage Liability

Educators Errors & Omissions

Property Off-premise
Abuse Liability Insurance | Abuse Insurance
Protégé is one of the few policies to offer abuse coverage. Should the unthinkable occur, we have a team of experts in crisis management that can help you navigate the difficult legal and emotional challenges of allegations of misconduct. But more importantly, we're proactive. We work with you to develop risk management strategies. For example, we can consult on background checks, or the spatial arrangement of rooms, traffic flows, or scheduling. We want to prevent potential hazards from ever happening in the first place, so that students, staff, and parents can build confidence and trust in each other.
That's why we partnered with Ecclesiastical, one of the top insurers worldwide for private schools and cultural institutions. They are an insurance company notable for their outstanding goodwill. Owned by a charitable trust, they donate all their annual profits to charities. They have over 120 years of experience, and world-class resources that are made available to you through Protégé.
Protégé is insurance made for creatives, by creatives. What? Insurance can be creative! At Front Row, we like to think of ourselves as part of the ecology of arts and entertainment. We don't just provide services to the arts community – we're an integral part of it. Give us a call and find out how Protégé can help protect your most valuable asset: the next generation of artists.
Pricing begins at $600 (subject to change) for a small school. To learn more, click here.
About Front Row Insurance Brokers
Front Row Insurance is an independent, Canadian-owned brokerage, specializing in film, television and performing arts insurance. The brokerage has offices in Vancouver, Toronto, Montreal, Halifax, New York, LA and Nashville. Their technical expertise, market leverage and commitment to fair and timely claims settlements has always set them apart from their competitors.
http://www.frontrowinsurance.com