Security Tips for Film Equipment Rental Houses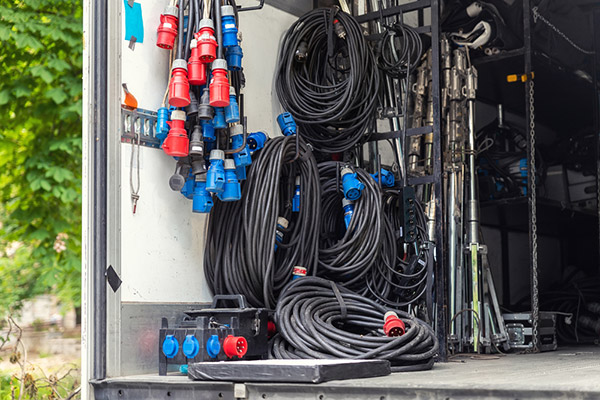 Source: Royalty-free stock photo ID: 2027107343, Shutterstock

In recent months, thieves have targeted various rental houses across the US, stealing much valuable gear. In this post, we will briefly explain how thieves broke into these rental houses and provide some ideas on what rental houses could do to help prevent such thefts.
Rental Houses: Secure Doors, Windows and Alarms!
In one state in the Western region of the US, a thief kicked in a door to gain access to the main equipment area of the rental house. In surveillance footage captured of the theft, it is clear that either the rental house had no alarm or it was disabled. The thief then grabs a bunch of gear and heads out.
In another state in the Southeastern region of the US, thieves stole more than $100K worth of equipment by breaking in through one of the windows of the rental house.
In light of these thefts, some tips to consider would be:
Invest in burglar-proof doors or reinforce doors w/ Grade 1 deadbolts [Amazon Link]

Reinforce all windows with metal bars and/or install unbreakable windows
Lock down high-value gear so that if the main equipment area is breached, it will still be difficult for thieves to quickly grab the gear and leave
Install a security alarm system with tamper-proofing so that it cannot be hacked/disabled
Consider hiring security guard personnel
Hide Tile [Amazon Link] tracker inside each gear bag so locations can be tracked
True, some of these security upgrades could be somewhat expensive but compared to the expense of a major theft, the investment would be worthwhile. However, in case a theft does occur, rental houses will want to have the right insurance in place, notably film equipment rental house insurance.
Rental houses, consider these measures when renting out gear:
Get a signed rental agreement
Get a copy of the renter's insurance, adding rental house as additional insured
Call the insurance provider on the certificate to verify that the policy described is currently valid
Only take credit card or payment other than cash
Take photo ID from the renter and a deposit (be prepared to let small rentals go if the customer cannot provide adequate ID)
Google them to make sure the company exists and/or ask for references
Consider ordering credit reports, where permissible
Get Rental House Insurance | Equipment Rental House Insurance | Film Production Insurance | Filmmaking Insurance
If you own a film/video equipment rental house, you'll want to have a rental house insurance policy in place. Get a quote from Front Row. Rates are going up in the marketplace. Front Row would be happy to provide you with a comparison quote to ensure you are receiving the best coverage and price in the marketplace. Conversion coverage can be quoted as well.
Also, consider informing your renters about the policies relevant to them, including:
Short-Term Film Insurance (Canada): provides coverage for up to 15 consecutive days of shooting. The coverage is available online 24/7. Covers rented gear, rented locations, rented props, sets, wardrobes, and more. Quotes are free. If you're in the US, get a quote here.
DigiGear Insurance (Canada): custom equipment insurance for owners of: cameras, sound and lighting gear working in the film/TV industry. Also available online. Quotes in 2 minutes. Policy available in 5 minutes. Shop from your phone. If you're in the US, get a quote here.
US-based filmmakers can view Front Row's US policies here.
About: Front Row Insurance Brokers Inc. is an independent insurance broker that specializes in the entertainment industry – specifically, the film industry. Front Row works hard to provide insurance protection for a very low cost. Should a claim occur, Front Row works diligently with clients and insurers to expedite the payment.
Related posts:
Citations:
https://www.ktvn.com/story/44740657/dollar30000-worth-of-film-equipment-stolen-from-reno-business-police-seek-suspect
Disclaimer: Informational statements regarding insurance coverage are for general description purposes only. These statements do not amend, modify or supplement any insurance policy. Consult the actual policy or your broker for details regarding terms, conditions, coverage, exclusions, products, services and programs which may be available to you. Your eligibility for particular products and services is subject to the final determination of underwriting qualifications and acceptance by the insurance underwriting company providing such products or services. This website does not make any representations that coverage does or does not exist for any particular claim or loss, or type of claim or loss, under any policy. Whether coverage exists or does not exist for any particular claim or loss under any policy depends on the facts and circumstances involved in the claim or loss and all applicable policy wording.

Amazon Associates Disclosure: Front Row Insurance is a participant in the Amazon Services LLC Associates Program, an affiliate advertising program designed to provide a means for sites to earn advertising fees by advertising and linking to Amazon.com. This post may contain affiliate links. There is no additional cost to you.