The Top 10 Casting Websites / Best Websites for Finding Actors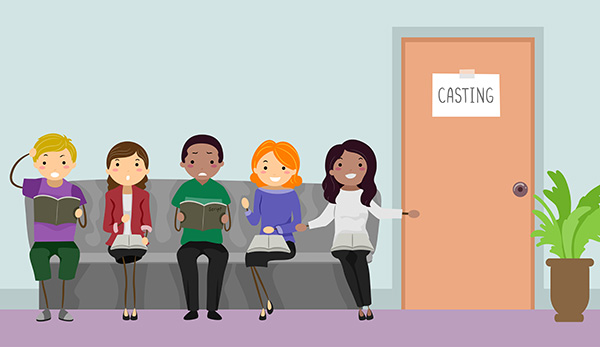 Source: Shutterstock 1122523979, royalty-free stock image
Finding the right talent is often one of the most challenging aspects of any film production. Thankfully, plenty of casting websites that can help producers fulfill these important production requirements are now available (some even for free). So, let's do a resource round-up of some of the best websites for finding actors.
We'll discuss, in no particular order:
Backstage and Mandy (acquired by Backstage)
Backstage: https://www.backstage.com/
Mandy: https://www.mandy.com/
Backstage is a leading freelancer marketplace connecting talent and content creators. In February 2021, it was announced that Backstage had acquired Mandy, which is another platform for connecting cast, crew, production services and creative pros.
Backstage allows producers to post casting calls and auditions in various popular cities, including New York, LA, Chicago, Seattle, Vancouver and Toronto.
CastCaller | free to post auditions and jobs
Website: https://castcaller.com/
Producers and casting directors can use CastCaller to find aspiring actors and models looking to build their recognition. It is free to list an audition or job.
The CastCaller website contains advanced search tools and application management to streamline the audition process.
CastCaller has thousands of people in LA, New York, Toronto, Vancouver, Miami, London and Atlanta who are ready to work.
IMDbPro / IMDb casting calls
Website: https://pro.imdb.com/
We would be remiss not to mention one of the oldest and largest databases on the Internet, IMDb. This long-standing movie database website has a professional user tier called IMDbPro.
Actors, producers, casting directors and other crew can post their resume and upload photos of themselves for a yearly membership fee. There is a 30-day free trial. IMDbPro also has a mobile app available on iOS and Android.
Note: You may check out Front Row Insurance's IMDb page to see some of the many film productions that we have proudly insured over the years.
Actors Access / best website for acting auditions
Website: https://www.actorsaccess.com/
Actors Access by Breakdown Services (formed in 1971) releases over 43,000 projects per year throughout North America and maintains a database of over 845,000 actors.
Casting directors and producers can find talent using this platform. They need to post details about their project and the roles/characters they are casting; this is called a "Breakdown" on the platform.
Breakdown Services has offices in LA, New York, Vancouver and Toronto.
Casting Frontier / casting call websites
Website: https://castingfrontier.com/
Casting Frontier, based out of LA, is a digital talent casting platform for the entertainment industry.
Casting Frontier maintains one of the largest talent databases and casting call listing services in the US, with a focus on LA and New York. Casting Frontier's software enables producers and casting agents to identify talent through virtual castings, live feeds and video submissions.
Casting Frontier also offers a useful solution called CF Cloud™ to automatically archive all of your audition sessions for unlimited and continual access.
LACasting / casting call website Los Angeles
Website: https://www.lacastinginc.com/
LACasting can be used to cast both principals and extras for feature and independent films, television, commercials, music videos, industrial videos and more.
They make the casting process easy for casting directors and producers by offering an online portal to view talent directly from photos and videos.
Casting Networks / sites similar to backstage
Website: https://www.castingnetworks.com/
Casting Networks' FastCapture® software allows casting directors to release and organize multiple projects, manage submissions from talent and representatives, schedule auditions, share auditions with collaborators and book the right cast.
Casting calls can be posted on Casting Networks' Casting Billboard®.
NYCastings / casting call website New York
Website: https://www.nycastings.com/
NYCastings is a casting notice listing service used by castings directors and producers to cast SAG-AFTRA, actors' equity and non-union actors. Casting in NY, LA, Atlanta, Chicago, Miami, Chicago, Seattle, Las Vegas and more.
Auditions, castings and open calls can be posted in various categories: film/TV/video, theatre, kids/teens, models, voice-overs, student films, dance and more.
AllCasting / the best casting call websites
Website: https://allcasting.com/
AllCasting allows casting professionals to find the right talent for their projects. AllCasting connects talent and casting professionals in minutes using unique technologies and features.
In the Lessons section, the AllCasting website also curates educational and news content, guiding both performers and professionals through the entertainment industry.
StarNow / casting call website Canada
Website: https://www.starnow.ca/
Casting professionals can list an audition or job for free on StarNow, manage applications, contact members and view member profiles in the Talent Directory.
Auditions, jobs and casting calls can be posted in various countries, including Canada, England, New Zealand and the US. Job categories include acting jobs, extras jobs, presenter jobs, dance jobs and more. Created in London, UK in 2004.
Get Film Insurance | Film Production Insurance | Filmmaking Insurance | FILM/VIDEO GEAR INSURANCE
If you're researching casting websites, chances are good that you're a filmmaker or film producer; if that is the case, you'll want to consider insuring your valuable filmmaking gear and film productions.
Consider Front Row Insurance:
Short-Term Film Insurance (Canada): provides coverage for up to 15 consecutive days of shooting. The coverage is available online 24/7. Covers rented gear, rented locations, rented props, sets, wardrobes, and more. Quotes are free. If you're in the US, get a quote here.
DigiGear Insurance (Canada): custom equipment insurance for owners of: cameras, sound and lighting gear working in the film/TV industry. Also available online. Quotes in 2 minutes. Policy available in 5 minutes. Shop from your phone. If you're in the US, get a quote here.
US-based filmmakers can view Front Row's US policies here.
Refer a Friend to Front Row Insurance
Based on customer demand, we've setup our referral marketing program and if you refer a friend to Front Row, you could win a $15 Amazon eGift Card OR be entered into a random draw to win a $99 Amazon eGift Card! (depending on your province)
About: Front Row Insurance Brokers Inc. is an independent insurance broker that specializes in the entertainment industry – specifically, the film industry. Front Row works hard to provide insurance protection for a very low cost. Should a claim occur, Front Row works diligently with clients and insurers to expedite the payment. Offices in: Vancouver, Toronto, Montreal, Halifax, NY, Nashville and LA.
Related posts:
DISCLAIMER: Informational statements regarding insurance coverage are for general description purposes only. These statements do not amend, modify or supplement any insurance policy. Consult the actual policy or your broker for details regarding terms, conditions, coverage, exclusions, products, services and programs which may be available to you. Your eligibility for particular products and services is subject to the final determination of underwriting qualifications and acceptance by the insurance underwriting company providing such products or services. This website does not make any representations that coverage does or does not exist for any particular claim or loss, or type of claim or loss, under any policy. Whether coverage exists or does not exist for any particular claim or loss under any policy depends on the facts and circumstances involved in the claim or loss and all applicable policy wording.