The Top 11 FREE Music Platforms for Filmmakers | FREE Music for Videos!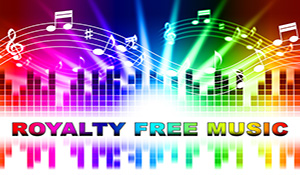 Source: Royalty-free stock illustration ID: 579124129, Shutterstock
If you're working on a low-to-no budget film/video project, you'll probably have to use free music and the good news is, there are some very helpful platforms out there that provide a large variety of free music for download (many just ask for credit). So, let's do a "resource round-up" of some of the best websites and online platforms where filmmakers can download and use music for FREE.
ccMixter Music | best free music for videos | free film music
Website: http://dig.ccmixter.org/

Logo Source: The original uploader was Fourstones at English Wikipedia., Public domain, via Wikimedia Commons (no changes made)
ccMixter is a community music site, launched in 2004, that promotes remix culture and makes samples, remixes and tracks that are automatically licensed under Creative Commons (available for download and reuse in creative works).
The music on ccMixter.org is generally licensed to be used in any arena, not just the ccMixter site or a specific contest. The ccMixter site contains over 10,000 samples from a wide range of recording artists.
"You already have permission" is the site's slogan and filmmakers can choose from a vast library of instrumental music, music for video games and music for commercial projects (all you have to do is give credit to the musicians).
Bensound's Royalty-Free Music | free background music
Website: https://www.bensound.com/
Bensound is a little more restrictive than the aforementioned ccMixter in the sense that filmmakers cannot remix using any of the Bensound audio tracks; however, the tracks can be used independently as long as Bensound.com is credited. Filmmakers can adapt the music for their films/videos by editing the length or adding voice over.
If you cannot or do not want to credit Bensound or need high quality files, there are license subscriptions available (Standard, Extended). French composer Benjamin Tissot created the site.
Mixkit | royalty-free music for filmmakers
Website: https://mixkit.co/
Mixkit is a website for royalty-free music from Australian company Envato. Limited tracks can be downloaded free and a subscription is required for unlimited downloads.
All tracks come with commercial licenses and are ready for any project. Unlike some other platforms, the tracks on Mixkit can be used with no attribution required.
These tracks are great for background music in YouTube videos, podcasts, online advertising and more. Music is categorized by genre, such as hip-hop, lo-fi, cinematic, jazz, acoustic and more.
Free Music Archive | free music for filmmakers and videographers
Website: https://freemusicarchive.org/
The Free Music Archive (FMA) is an online repository of royalty-free music, established in 2009 by community radio stations based in New Jersey. The music tracks are provided under Creative Commons licenses and can be freely downloaded and used in other works.
FMA launched with an emphasis on curating high-quality works in a manner "designed for the age of the Internet." Users can tip musicians via donations and there is also a premium content tier available, called Tribe of Noise PRO.
Audionautix | free background music | no copyright music
Website: https://audionautix.com/
On Audionautix, all music is composed and produced by the same musician – Jason Shaw, who is based in Pennsylvania. He plays multiple instruments and also uses sound samples, loops, drum machines and software synths where appropriate.
This music is royalty-free for filmmakers and videographers to download and use (even for commercial purposes), as long as they provide credit. Specifically, the site's music is licensed under a Creative Commons Attribution 4.0 International License.
Optional donations can be made via PayPal to support Shaw's work.
Incompetech | free background music | no copyright music
Website: https://incompetech.com/
On Incompetech, all music is composed and produced by the same musician – Kevin MacLeod, who is based in New York. MacLeod has composed 2,000+ tracks of royalty-free music and made them available under a Creative Commons copyright license. This license allows anyone to use his music free, as long as he receives credit, which has led to his music being used in thousands of projects.
MacLeod is the subject of a documentary film titled Royalty Free: The Music of Kevin MacLeod. See also: the official YouTube channel for Kevin MacLeod.
Jamendo | royalty-free music for commercial use
Website: https://www.jamendo.com
Jamendo Licensing, founded in Luxembourg in 2004, offers royalty-free music for commercial use via a subscription service. Their catalog offers low-priced music licenses for use in audiovisual projects (advertising, film, television, video games, mobile applications, YouTube videos, etc.) They currently offer a 2-week free trial.
Users can listen to MP3 audio files (96 kbit/s) and download in MP3 (192kbit/s) and Ogg Vorbis formats. Jamendo offers musicians the opportunity to publish their music free under Creative Commons. The name "Jamendo" is a portmanteau derived from two musical terms: "jam session" and "crescendo".
Artlist | royalty-free music subscription service
Website: https://artlist.io/
It is free to signup to Artlist, which offers limited royalty-free music downloads. To get unlimited downloads, you'll need to purchase a subscription. Filmmakers can use the music on YouTube, Facebook and any platform worldwide; there are no limitations and monetization is allowed.
Licenses do not expire. The music on Artlist is primarily from indie musicians. The website has a nicely designed filtering system that allows you to find the perfect song for your project, quickly.
IMPACT | royalty-free music in low cost kits
Website: https://www.impacttrailermusiclibrary.com/
The IMPACT Trailer Music Library is not totally free but their music bundle kits are reasonably priced; they offer multiple kits to help convey various cinematic moods. All tracks in these kits are royalty-free and fully licensed in perpetuity on any media.
Made by experienced film industry composers and sound designers, IMPACT delivers high quality soundtracks specially designed for syncing to trailers and produced with the filmmaker in mind.
Adobe Stock audio | free music for video editing
Website: https://stock.adobe.com/ca/audio
Adobe currently offers a 1-month free trial to Adobe Stock and that includes 10 free music tracks. Adobe has their music tracks categorized by various genres, including electronica, pop, epic and inspiring; there is even a film category for "bold and evocative music tracks for cinematic projects."
The music on Adobe Stock is royalty-free and can underscore a mood or add a new energy level to video productions, podcasts and other creative projects.
YouTube Studio | YouTube royalty-free music
Website: https://studio.youtube.com/
YouTube Studio's music library is constantly expanding and many of the tracks in this library can be used free (under the YouTube Terms of Service). Music from this library is intended solely for use by creators in their YouTube videos and other content that they create for YouTube. Creators may use music files from this library in videos that they monetize on YouTube.
YouTube offers music tracks categorized in various genres, including dance & electronica, hip-hop & rap, ambient, cinematic, classical, holiday and more. Audio tracks are also searchable by mood, such as angry, bright, calm, dark, dramatic, sad, etc.
There are also channels on YouTube that are dedicated to royalty-free music, such as Royalty Free Music - No Copyright Music and Audio Library.
Film Equipment Insurance | Short-Term Film Production Insurance | Musical Instrument Insurance | Post-production Studio Insurance
If you're reading about free music platforms for filmmakers, chances are that you're a filmmaker or editor yourself or somehow involved in the film/video industry. You'll likely want to insure your film/video gear, short-term productions, musical instruments and/or post-production studio.
Front Row's Short Shoot insurance policy (Canada) is a good option for insuring your short-term film projects. Coverage for up to 15 consecutive days of filming. The coverage is available online, 24/7. Covers rented gear, rented locations, rented props, sets, wardrobes, and more. You can get a quote in two minutes and purchase a policy 100% online. If you are in the US, please complete this form.
Front Row's DigiGear insurance policy (Canada) is a good option for insuring your filmmaking gear, including your film camera(s). Also available online. Quotes in 2 minutes; policies available in 5 minutes. Shop from your phone. If you are in the US, please complete this form.
Front Row's insurance for musical instruments (Canada) is a good option for insuring your musical instruments, including guitars, violins, drums, etc. You can get a quote and purchase a policy online in just a few minutes, or read more about the coverages available on the instrument insurance site.
Post-production studio insurance is also available in Canada and the US.
Refer a Friend to Front Row
Based on customer demand, we've setup our referral marketing program and if you refer a friend to Front Row, you could win a $15 Amazon eGift Card OR be entered into a random draw to win a $99 Amazon eGift Card! (depending on your province)


About: Front Row Insurance Brokers Inc. is an independent insurance broker that specializes in the entertainment industry – specifically, the film industry. Front Row works hard to provide insurance protection for a very low cost. Should a claim occur, Front Row works diligently with clients and insurers to expedite the payment of claims. Offices in: Vancouver, Toronto, Montreal, Halifax, New York, LA and Nashville.
Disclaimer: Informational statements regarding insurance coverage are for general description purposes only. These statements do not amend, modify or supplement any insurance policy. Consult the actual policy or your broker for details regarding terms, conditions, coverage, exclusions, products, services and programs which may be available to you. Your eligibility for particular products and services is subject to the final determination of underwriting qualifications and acceptance by the insurance underwriting company providing such products or services. This website does not make any representations that coverage does or does not exist for any particular claim or loss, or type of claim or loss, under any policy. Whether coverage exists or does not exist for any particular claim or loss under any policy depends on the facts and circumstances involved in the claim or loss and all applicable policy wording.
Related posts: