10 Best Budget Filmmaking Microphones in 2023 / Best Mics for Filmmaking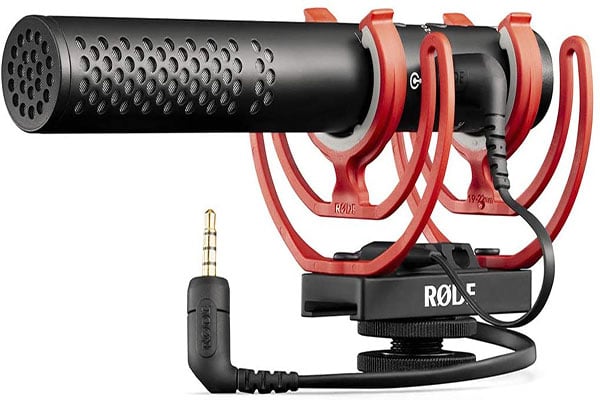 In addition to our blog post about the best budget cameras for filmmaking, we thought it would be useful to provide a list on the top 10 affordable filmmaking microphones. We'll discuss (in no particular order):
1.
Sennheiser XSW-D Portable Lavalier Set / Best lav mic for filmmaking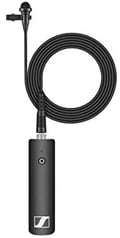 Especially if you're filming interviews, a lavalier (lav) mic will always sound better than any on-board camera microphone. The lav kit that Front Row uses for all its interview videos is the Sennheiser XSW-D Portable Lavalier Set [Amazon Link].
This Sennheiser lav mic records high-quality audio with more or less perfect levels straight out of the box, so there should be little need for any audio work in post as long as you recorded cleanly (i.e., minimal background noise).
For proof of the clear, crisp audio from this lav mic, listen to one of Front Row's video interviews:

Note: You can buy some medical tape [Amazon Link] and tape it to the talent's chest if you need the mic to be concealed.
2.
RØDE VideoMic NTG / Best shotgun mic for filmmaking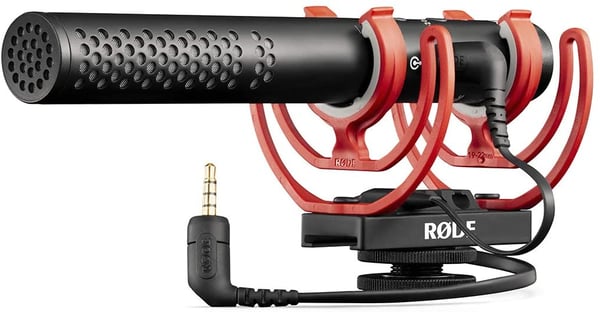 Even if you're using a lav mic or series of lavs on talent, you should also record with an on-camera mic to have as a backup. A good on-camera shotgun mic is the RØDE VideoMic NTG [Amazon Link].
This mic has a digital switcher, providing access to a high-pass filter, -20dB pad, high frequency boost, and safety channel. The mic pairs well with DSLRs, compact cameras, and even smartphones – either on-camera, as a boom mic, or on a pistol grip.
3.
Sennheiser MKE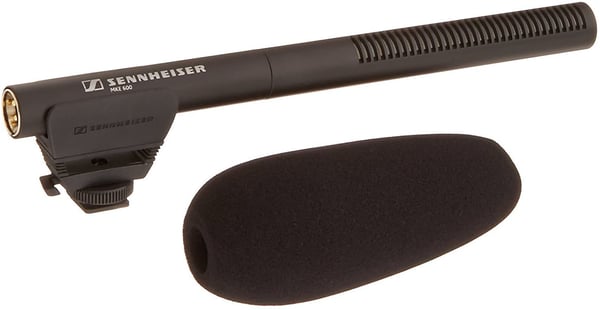 An excellent shotgun mic in the Sennheiser line is the MKE [Amazon Link], which features a low-cut filter for minimizing wind noise and P48 phantom power.
This mic is great at isolating background noise; you will only hear the sound of your subject(s). Comes with a hot shoe mount.
4.
TAKSTAR SGC-598 Interview Microphone

For interviews, a more affordable option than the above-mentioned mics would be the TAKSTAR SGC-598 Interview Microphone [Amazon Link]. Although quite inexpensive, it is still a solid mic with above average reviews on Amazon.

This mic has a mini-jack that you can plug into your camera and the sound quality is not bad at all.
5.
Shure VP83F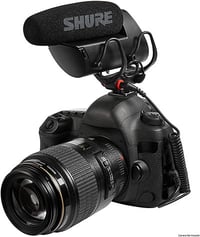 Another mic with solid reviews on Amazon is the Shure VP83F [Amazon Link].
This directional super cardioid mic rejects unwanted off-axis audio while clearly capturing the intended sound source.
The VP83F is portable and durable, as it comes in a compact, metallic shotgun design. This makes it easier to carry between shoots.
6.
Zoom H6 Pro

The Zoom H6 Pro Handy Recorder [Amazon Link] provides four-track audio recording that is perfect for filmmaking. This recorder includes high performance, low-noise mic preamps and has XLR/TRS locking connectors.

The rubberized form factor of this recorder makes it durable and ideal for fieldwork and potentially harsh environments. The recorder has a large, bright display backlit by LCD.
7.
TASCAM DR-05V2 Portable Digital Recorder

Another solid portable digital recorder is the TASCAM DR-05V2 [Amazon Link]. This recorder has built-in omni-directional microphones and up to 96kHz/24-bit Broadcast WAV film recording (provides better than CD quality).

Other notable features of this recorder include variable speed playback, a built-in speaker, a microSD card slot, and 1/8" headphone/line output.
8.
AZDEN SMX-30 Stereo/Mono Switchable Video Microphone

The Azden SMX-30 [Amazon Link] is a mic that offers stereo and mono recording modes with -10db, 0db, +20db level adjustments.

The stereo mic is positioned at the top and consists of two cardioid polar patterns spaced apart at a 120° angle. The mono mic uses a super cardioid pattern to focus on sound in front of the camera.

A furry windshield cover is included with the mic.
9.
Audio-Technica AT875R Line + Gradient Condenser Microphone

The Audio-Technica AT875R [Amazon Link] is designed for video production and broadcast (ENG/EFP) audio acquisition. It has a 3-pin XLR connector for input.

This is a short shotgun mic (under 7"), so it can easily mount on most digital cameras.

Note: this mic requires a phantom power source.
10.
VidPro XM-55 Professional Video and Broadcast Microphone Kit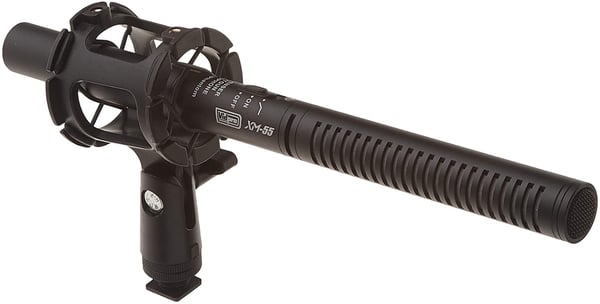 This lesser-known but underrated brand, VidPro, manufactures a number of solid mics for a very low cost. Their XM-55 Professional Video and Broadcast Microphone Kit [Amazon Link] has decent reviews on Amazon.
This mic kit includes a wind muff, windshield, cushioned handgrip, and long & short on-camera audio cables with multiple connectors, including XLR.
Get Film Insurance | Film Production Insurance | Microphone Insurance | Sound Recordist Insurance
If you're looking at microphones for filmmaking/videography, chances are that you're a filmmaker or sound recordist, or planning to be one. And if you're a sound recordist, you'll want to consider insuring your valuable sound/audio gear and film productions. Consider Front Row Insurance:
DigiGear Insurance (Canada): custom equipment insurance for owners of sound, camera and/or lighting gear working in the film/TV industry. Also available online. Quotes in 2 minutes. Policy available in 5 minutes. Shop from your phone.
Short-Term Film Insurance (Canada): provides coverage for up to 15 consecutive days of shooting, with no minimum premium. The coverage is available online 24/7. Covers rented gear, rented locations, rented props, sets, wardrobes and more. Quotes are free.
US-based filmmakers can view Front Row's US policies here.
About: Front Row Insurance Brokers Inc. is an independent insurance broker that specializes in the entertainment industry – specifically, the film industry. Front Row has 51 staff in 8 offices that have a combined 530+ years of experience serving the film industry. Front Row is the largest film insurance broker in Canada. Front Row works hard to provide insurance protection for the lowest possible cost. Should a claim occur, Front Row ensures that clients receive the money they are owed per the insurance policy, as quickly as possible.
Related posts:
Amazon Associates Disclosure: Front Row Insurance is a participant in the Amazon Services LLC Associates Program, an affiliate advertising program designed to provide a means for sites to earn advertising fees by advertising and linking to Amazon. This post may contain affiliate links. There is no additional cost to you.