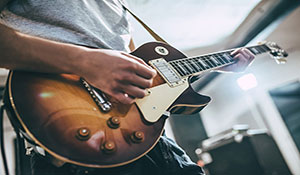 Get the guitar checklist:
Front Row for Guitar Insurance
Front Row Insurance is a brokerage specializing in entertainment-related risks. We have a simple online instrument insurance program available 24/7. Insurance protection can be purchased in 5 minutes. Custom packages for musicians include tour liability and coverage for recording studios. We have offices in Toronto, Montreal, Vancouver, Halifax, LA, NYC & Nashville and our staff of 50+ have a combined 510 years insurance experience.
Front Row provides fast, affordable musical instrument insurance for Canada's music professionals who are Canadian resident members of SOCAN (and other music associations). Get a quote and buy online here: https://musicians.frontrowinsurance.com/

Refer a Friend to Front Row
Based on customer demand, we've setup our referral marketing program and if you refer a friend to Front Row, you could win a $15 Amazon eGift Card OR be entered into a random draw to win a $99 Amazon eGift Card! (depending on your province)
DISCLAIMER: Informational statements regarding insurance coverage are for general description purposes only. These statements do not amend, modify or supplement any insurance policy. Consult the actual policy or your broker for details regarding terms, conditions, coverage, exclusions, products, services and programs which may be available to you. Your eligibility for particular products and services is subject to the final determination of underwriting qualifications and acceptance by the insurance underwriting company providing such products or services. This website does not make any representations that coverage does or does not exist for any particular claim or loss, or type of claim or loss, under any policy. Whether coverage exists or does not exist for any particular claim or loss under any policy depends on the facts and circumstances involved in the claim or loss and all applicable policy wording.
Amazon Associates Disclosure: Front Row Insurance is a participant in the Amazon Services LLC Associates Program, an affiliate advertising program designed to provide a means for sites to earn advertising fees by advertising and linking to Amazon. This post may contain affiliate links. As an Amazon Associate, Front Row Insurance earns from qualifying purchases. There is no additional cost to you.
Related:
Musical Instrument Insurance 101: How to Protect Your Instruments
Tips & tricks to guard your gear
Protecting instruments at home
Protecting instruments at airports
Protecting instruments on tour
Musical tour insurance
Band on the run
Tribute bands and liability
Protecting your guitar
Protecting your drums
Protecting your keyboard
Protecting your violin
Protecting your saxophone
How to make a claim
What is my gear worth in event of claim?
You may not be covered under homeowners
Front Row's musical instrument policy
Insurance for SOCAN members
How to compare musical instrument insurance cos.
Blurring the lines of music infringement law

Citations:
http://www.guitaradventures.com/5-simple-tips-protect-new-guitar
https://www.fender.com/articles/tech-talk/case-closed-storage-tips-to-save-your-guitars
https://blog.taylorguitars.com/using-a-guitar-humidifier-and-other-guitar-humidity-tips
https://www.guitarnick.com/how-to-protect-your-guitar-strings-from-rusting.html
https://www.guitarworld.com/blogs/four-steps-keep-your-guitar-looking-amazing
https://www.guitaranswerguy.com/flying-with-a-guitar-as-checked-baggage/
https://mainstreetmusicboston.com/protect-your-guitar-from-summer-heat-damage-pt-1/
Guitar hangar image: barnimages.com, Some rights reserved, Attribution 2.0 Generic (CC BY 2.0), https://www.flickr.com/photos/barnimages/27343823144
https://creativecommons.org/licenses/by/2.0/ Changes to the image were not made.