Why do we need to answer ALL the questions on an E&O application?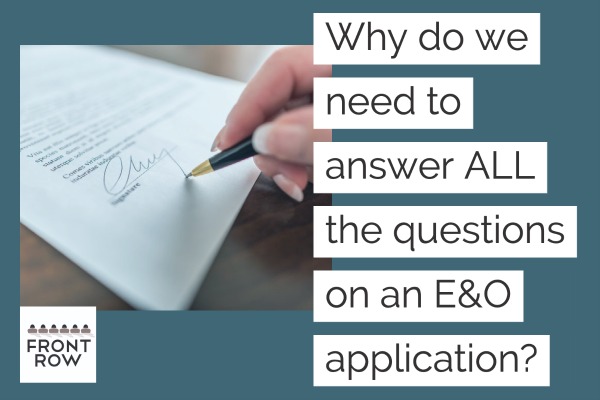 What are lawyers looking for in the responses?
E&O INSURANCE FILM | ERRORS AND OMISSIONS INSURANCE FILM:

Steve Fraser (Lawyer): ALL the questions on an E&O application should be answered because they all reflect something that the insurer needs to know, but most of all, it's an administrative thing. If you don't answer all the questions, and you're in a hurry, it'll slow down the process.
E&O can be very easy to obtain if you answer all the questions as completely as you can and that also means you can add to the application. Just because the application doesn't include a line that says "this will be obtained…", you can actually write that in. That's probably one of the biggest things that producers should pick up: do a FULL application but also – if you're concerned about how an answer looks – add information. You can either write it onto the application itself, or you can do it as an addition to the application.
When some of the projects are complicated like, for example, treaty co-productions or just co-productions in general and there's more than one person who is Named Insured, put it on a separate sheet. It is so much easier to have it all in one place than to have to go chasing after it. It's better for you and for everybody involved in the E&O insurance process.


Related:
About: Stephen "Steve" Fraser is an international entertainment business and legal affairs lawyer in the film and television industries with co-production, financing and distribution experience.