10 Tips to Prevent Water Damage to Your Post-Production Facility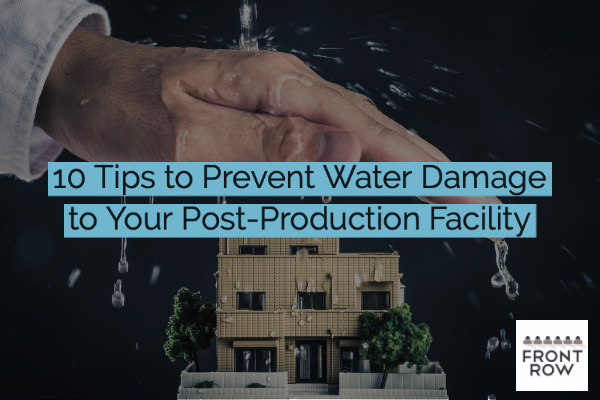 Photo credit: Shutterstock | Royalty-free stock photo ID: 491045326
POST-PRODUCTION FACILITY INSURANCE
What can be done to reduce the risk of water damage to your Post-Production Facility?
Choose your post facility wisely. If you are searching for a Post-Production Studio to purchase, check to see if it is located in a

flood zone

: do a background check to see how often flooding has occurred in the past. Look for tell-tale signs of water damage, or high water lines on the outside (or inside) of the building. Be advised that if you are in a flood zone, you may find it more difficult to get insurance for your building.


If you are living in a flood zone, one thing you can do is to construct levees around your building to direct flood waters around, and away, from your building. You can ensure that there is adequate green space around your building to absorb excess water.


If you are building on a floodplain, you can have your building raised up in order to reduce the risk of flood waters entering. You can also reinforce an existing building by adding weather stripping around the entry ways, and installing a sump pump.


Replace any leaking fittings or drains immediately, even if small.


Many commercial building roofs have HVAC equipment, vent pipes, skylights and other building system elements that make this area vulnerable to water intrusion.


Inspect windows from the inside for glass and air seal integrity.


Store important and valuable documents where they will not get damaged.


Create a systematic maintenance schedule along with a written plan of equipment.


Develop an emergency response plan so that in the event of a leak, damage is reduced and there is a faster return to normal operations.


Install backflow valves or plugs for drains, toilets and other sewer connections to prevent water from entering the property.