Call Sheets Help Reduce Film Insurance Costs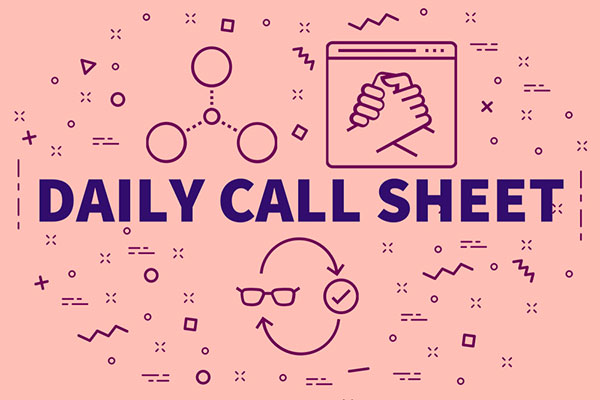 Daily Call Sheets in Film Production
Daily call sheets are a useful way to alert cast and crew to potential hazards for that day's shooting schedule, and to inform them about which safety precautions they might need to take. Film insurance underwriters appreciate the risk management component of a call sheet and take this protocol into consideration when assessing the film insurance risk of a film production.
The following should be included on call sheets:
Scheduled stunts
Any special effects that will be used
Potential hazards specific to the location
Any required personal protective clothing/PPE and how workers can get it
The name, contact number, and location of the first aid attendant
The location of the first aid kit [Amazon Affiliate Link] or facility
The location of the nearest hospital or emergency facility
Any other health and safety concerns that the cast and crew need to be aware of
Safety guidelines should be attached to call sheets; e.g., if any special effects are to be used on set, then a safety guideline should be attached specific to the type of special effects that will used.
If you are shooting near a thoroughfare with lots of traffic, it may be useful to add notes about this on the call sheet.
What are the weather conditions like?
Will the crew require special footwear or clothing for extreme temperatures?
What about sunscreen [Amazon Affiliate Link] or hydration requirements?
Along this line of thought: it is important to include information such as the nearest hospital, along with any other emergency numbers that are specific to your location.
Other film & TV set safety considerations:
Consider putting up safety posters [Amazon Affiliate Link] in common areas around the set to serve as a reminder to pay attention to hazards around the workplace and certain locations, e.g., aerial filming.
A specialized film insurance broker is best able to present the risks associated with your production to the film insurance underwriter to ensure that you receive the best coverage and premium for your production.
Front Row Insurance Brokers are specialized film insurance brokers. Please contact us if you have any questions; we want to be part of your next production.
The above information is based on WorkSafe – Focus on Safety – Safe Work Practices for Film and Television Production in B.C. (2001 edition) / Amazon Associates Disclosure: Front Row Insurance is a participant in the Amazon Services LLC Associates Program, an affiliate advertising program designed to provide a means for sites to earn advertising fees by advertising and linking to Amazon.com. This post may contain affiliate links. There is no additional cost to you.
Related: