HOW TO CHOOSE THE RIGHT BROKER FOR FILM INSURANCE
To make sure you engage the most qualified film insurance broker for your production, consider the following questions: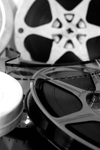 How familiar is the broker with the film industry and the unique terminology of film production? In the event of a claim, will they be able to understand the circumstances of a loss and communicate the details to the insurer to obtain the most favorable and efficient claim settlement?
Can your broker ensure that your production insurance needs are identified?
Does your broker have experience insuring films? If so, how much? Do they deal with producers on a daily basis?
Does the broker have a large enough premium volume with entertainment insurance underwriters to ensure you are offered the best premium?
Your entertainment insurance broker should:
Specialize in entertainment insurance so that they know how to craft an insurance program that best suits your unique requirements, based on thousands of productions insured.
Provide the best premium quotes each time.
Provide comprehensive and broad insurance coverage for your project:

broad coverage prevents gaps in coverage - uninsured claims are remote.

Offer knowledgeable and value-added advice:

we know the requirements of bond companies, broadcasters and distributors. This means that the insurance component of securing locations, equipment and finance is simple and fast.

Provide fast service: