The 20 Best Photography Podcasts / Top Podcasts for Photographers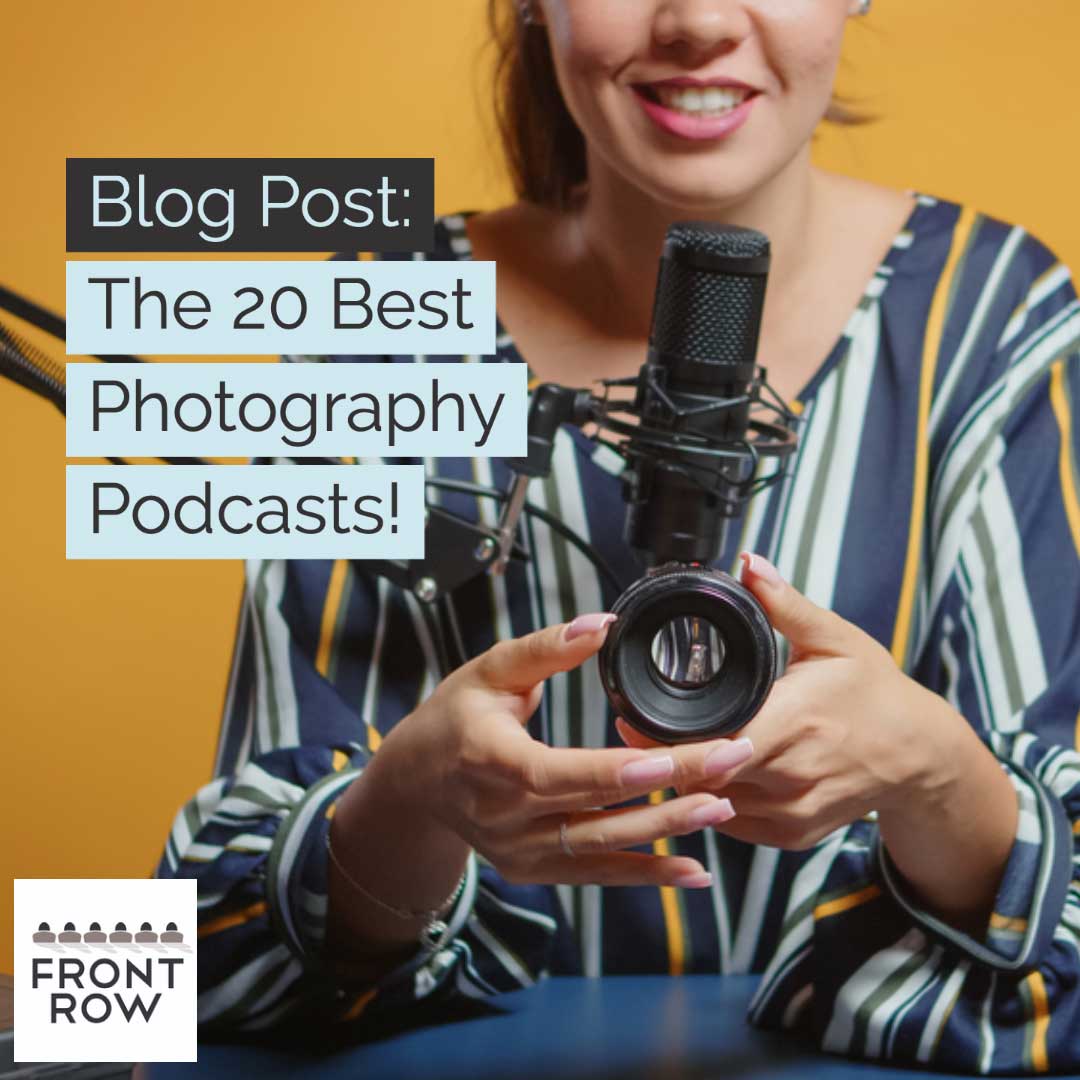 Source: Shutterstock Royalty-free stock photo ID: 1830636470
Let's review Front Row's top 20 podcasts for photographers. We'll discuss:
(in no particular order)
1.
Cameras or Whatever/The Stalman Podcast

Link: https://stalman.com/camerasorwhatever

This podcast by Canadian cinematographer and photographer Tyler Stalman is for "full stack creators who take photos, make videos and love tech". The podcast was created in 2017.

Stalman has interviewed many notable content creators on his podcast, including Jesse Driftwood, Rene Ritchie, Gerald Undone and Justin Tse. Of particular interest to photographers might be episode #86, "Through the Lens of a Black Photographer, with Simbarashe Cha".
2.
The Candid Frame | best photographer interviews

Link: https://www.ibarionex.net/thecandidframe

California-based photographer Ibarionex Perello hosts The Candid Frame, a podcast that interviews some of the world's best-established and emerging photographers.

Each week, Perello brings in-depth, intimate and thoughtful conversations with photographers on living a photographic life. This podcast provides insight and inspiration to anyone who has a passion and love for photography.
3.
The TWiP Podcast | photography industry podcast

Link: https://thisweekinphoto.com/category/twip-episodes/

The "This Week in Photo" (TWiP) Podcast, based out of California, is a weekly podcast that takes deep-dives into various facets of the photography industry. TWiP talks with photographers of all skill levels and covers topics ranging from photographic technique to business, and even some controversial topics facing today's photographers.

This podcast has many interesting interviews with notable photographers (mostly American), including Greg Benz, Evan Tanaka, Kenna Klosterman and Atiba Jefferson.
4.
Visual Revolutionary | photographer podcasts

Link: https://www.visualrevolutionary.com/podcast

This podcast features in-depth conversations with some of the world's leading photographers, filmmakers and other "visual revolutionaries", bringing you the backstory on how some of your favorite artists got to where they are today.

This podcast, based out of Denver, features many interesting interviews with notable photographers (mostly American), including Jeff Lipsky, Erin Trieb, Pete Souza and Danny Clinch.
5.
Hit the Streets | street photography podcast

Link: https://valeriejardinphotography.com/podcast

"A Photography Podcast for the Urban Photographer", Hit the Streets with Valerie Jardin (based out of Minnesota) delves into case studies, answers listener questions and gives away cool prizes.

Jardin has had many notable photographers on the show who have shared their ideas, inspiration and techniques. Notable guests have included Bill Carlson (Beatles photographer), Antoine Didienne, Barbara Peacock and Jayme Halbritter.
6.
Picture This | best photographer podcasts

Link: https://northrup.photo/podcast/

On this podcast, professional photographers Chelsea and Tony Northrup (based in the US) dig deep into the history, technology, and personalities of photography.

Episodes cover a myriad of topics, including gear comparisons (Canon vs. Sony vs. Nikon vs. Panasonic), technology predictions, street photography, photo shoot best practices, how photographers can work from home and more.
7.
Let's Talk Photography | photography interviewS

Link: https://www.lets-talk.ie/blog/?cat=4

Hosted by Irish photographer Bart Busschots, Let's Talk Photography is all about the art and craft of photography. Around the middle of each month, Busschots gets together with fellow photography enthusiasts to discuss a single photography topic in depth.

This podcast includes some discussion of the kinds of tools used to create photographs, but it doesn't involve comparisons of one brand to another or one model to another. "It's not about the tools, it's about creating images!" Busschots says.
8.
Photofocus | top photography podcasts

Link: https://podcasts.apple.com/us/podcast/photofocus-podcast/id512223214

This podcast features innovative ideas that will help you build a stronger photography business. Some of the most respected business owners and artists in photography are guests on the show.

Photographers who have been interviewed on this podcast include Joel Grimes, Roberto Valenzuela, Nicole Begley and Mike Peters. Check out Photofocus.com for help with photography questions, inspiration, how-to's along with more great podcasts.
9.
A Small Voice | good photography podcasts

Link: https://bensmithphoto.com/asmallvoice

Fortnightly in-depth interviews featuring a diverse range of talented, innovative, excellent photographers from established, award-winning and internationally exhibited stars to young and emerging talents discussing their lives, work and process with London-based photographer, Ben Smith.

Photographers interviewed on this podcast have included Christian Patterson, Tania Franco Klein, Alejandro Cartagena, David Yarrow, among others.
10.

Magic Hour | best photo podcasts

Link: https://www.magichourpodcast.org/

Magic Hour is a podcast interview series with photographers and people involved in the medium. It was founded in 2016 and is hosted and produced by Jordan Weitzman.

Weitzman sits down with emerging and established photographers, publishers and editors to discuss their work.
11.
Behind the Shot | best photography podcasts for beginners

Link: https://behindtheshot.tv/

This podcast out of California tries to get inside the mind of a great photographer by taking a closer look behind one of their shots. Hosted by live music photographer Steve Brazill.

Behind the Shot explores the photographic process, from conception to completion, and all the challenges that happen in-between.
12.
F-Stop Collaborate and Listen | best landscape photography podcast

Link: https://fstopandlisten.podbean.com/

This podcast, started in 2017, focuses on landscape photography. The podcast includes candid, in-depth, and casual conversations with some of the world's best landscape photographers and covers topics of interest in photography including social media, business, motivation, workflow and more.

Hosted by Colorado-based photographer Matt Payne.
13.
Wedding Photo Hangover | best wedding photography podcast

Link: https://weddinghangover.com/episodes

As its name suggests, this podcast focuses on wedding photography in an irreverent manner. The show's creators (based out of the US) claim that "this podcast, like aspirin, will help you recover from your wedding hangover."

Less a wedding photography education show and more a comedy show about the pains of running a small business, photographers will likely learn a few things listening to this podcast and probably have a few laughs along the way.
14.
Photo Biz Xposed | photo business podcast

Link: https://photobizx.com/

This podcast from Australian photographer Andrew Hellmich is described as "The Ultimate Portrait and Wedding Photography Business Podcast".

Hellmich interviews successful wedding and portrait photographers and industry experts to reveal their business secrets for your success. PhotoBizX is the podcast where you hear answers to the questions that you would love to ask wedding and portrait photographers yourself but perhaps never had the opportunity to ask.
15.
Photography Daily | best portrait photography podcast

Link: https://www.photographydaily.show/

This podcast hosted by UK-based wedding and portrait photographer Neale James is a Monday-to-Friday show about and for photographers of all styles and abilities. Snapshot editions during the week, with monthly longer Focus editions. Thoughts and inspirations from international photographers.

Episodes have covered a myriad of topics, including commercial photography, sports photography, funding projects using Kickstarter, photo book design and more.
16.
Photo Taco | best technical photography podcast

Link: https://phototacopodcast.com/

Jeff Harmon, a hobbyist photographer based in Utah, works as an IT professional by day and loves to break down complicated and/or technical photography topics so that the newest of photographers can understand them. No topic is too simple or too complicated for the show.

If Harmon doesn't know the answer, then he brings in an expert to help break it down. "Get photography tips in the time it takes to eat a taco, or perhaps a burrito!"
17.
Moe and O | photography gadgets podcast

Link: https://podcasts.apple.com/ca/podcast/the-moe-and-o-photography-show/id1406819986

Best friends Moe Morales and Omar Gonzalez talk tech, gadgets, photography and life. Episodes have included a discussion of buying and selling used cameras, street photography, bokeh, photography risk assessment, photography as a "side hustle" and many more topics.

Morales and Gonzalez have their own photography businesses and they're based out of New Jersey.
18.
The Business of Photography | Canadian photography podcast

Link: https://getsproutstudio.com/community/business-of-photography-podcast/

A podcast focused on the business side of photography from Ontario, Canada-based software company Sprout Studio. Hosted by photographer and Sprout Studio CEO Bryan Caporicci.

The podcast features interviews with the most successful photographers in the world and includes in-depth, actionable conversations that will help you simplify and clarify the business of photography.
19.
Making Photos Podcast | photographer podcast Canada

Link: https://www.davidsornberger.com/podcast

This podcast from Ontario, Canada-based travel and landscape photographer David Sornberger was started in 2019.

Sornberger has discussed many topics on this podcast that can help you improve your photography skills, including drone photography, photography destinations, flower photography and more.
20.
Embrace the Grain | film photography podcast

Link: https://podcasts.apple.com/ca/podcast/embrace-the-grain-photography-podcast/id1459043812

This podcast from Canadian photographers Sherry Christensen and Jake Rose covers topics related to both digital and film photography. The show mainly focuses on analog photography, with hints of digital photography included. Located in Alberta and NB.

The show has featured some interesting interviews thus far, including ones with Gary "the Lens Medic", photographer Roxanna Angles, photographer Merlin Boissonneault and many more.
Get Photography Insurance | Insurance for Photographers | Photography Gear Insurance
If you're listening to podcasts about photography, chances are that you own some photo gear; perhaps you're even a photographer yourself. And if you own valuable camera gear, you might consider protecting that gear with photography insurance.
Consider Front Row's online policies. If a location requires evidence of liability insurance before they will allow you on the property to shoot, Front Row can provide that to you in 5 minutes, 24/7 for 12 months of coverage. Online means lower cost.
Front Row's insurance for photographers (Canada) is a good option for insuring your photo gear against theft, breakage and/or fire. You can get a quote and purchase a policy online in just a few minutes. Read more about the coverages available on the photography insurance site.
About: Front Row Insurance Brokers Inc. is an independent insurance broker that specializes in the entertainment industry – specifically, the film and photography industries. Front Row works hard to provide insurance protection for a very low cost. Should a claim occur, Front Row works diligently with clients and insurers to expedite the payment of claims. Offices in: Toronto, Vancouver, Montreal, Halifax, NY, Nashville and LA.
Related posts:
Disclaimer: Informational statements regarding insurance coverage are for general description purposes only. These statements do not amend, modify or supplement any insurance policy. Consult the actual policy or your broker for details regarding terms, conditions, coverage, exclusions, products, services and programs which may be available to you. Your eligibility for particular products and services is subject to the final determination of underwriting qualifications and acceptance by the insurance underwriting company providing such products or services. This website does not make any representations that coverage does or does not exist for any particular claim or loss, or type of claim or loss, under any policy. Whether coverage exists or does not exist for any particular claim or loss under any policy depends on the facts and circumstances involved in the claim or loss and all applicable policy wording.