The Best Wedding Venues in Vancouver | Best Places to Get Married in BC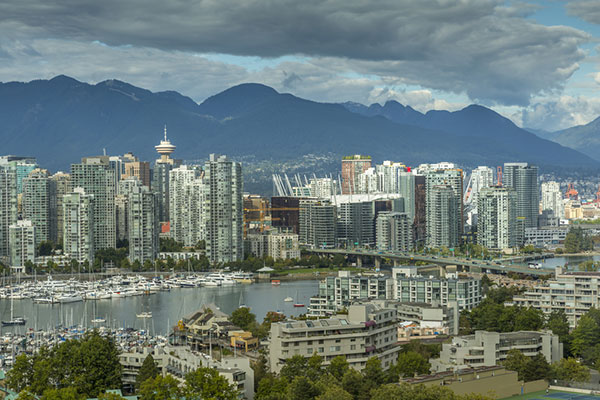 Vancouver has no shortage of impressive venues that are appropriate for hosting weddings. We'll list some of them in this article. Note: this list is not comprehensive and if you feel we are missing a venue that should be added, feel free to contact us with the suggestion.
We'll discuss, in no particular order:
Best church venues in Vancouver
Holy Rosary Cathedral
URL: https://en.wikipedia.org/wiki/Holy_Rosary_Cathedral_(Vancouver)
Holy Rosary Cathedral is a late 19th-century French Gothic revival church located in downtown Vancouver on Richards St.
The cathedral contains an impressive pipe organ and some beautiful stained glass windows. This church is listed on the Vancouver Heritage Register and is a legally protected building.
Canadian Memorial United Church
URL: https://www.canadianmemorial.org/weddings
Canadian Memorial United Church at the corner of Burrard St. &, W 15th Ave in Vancouver has 14 stained glass windows unique to Canada, a stone façade, a classic pipe organ and other memorable architectural features. The church is equipped with high-tech lighting and sound capabilities.
Built in the 1920s, this church has hosted many weddings over the years and has various "wedding packages" available to choose from.
Kerrisdale Presbyterian Church
URL: https://www.kerrisdalechurch.ca/facility-use/facility-use/pages/weddings
Kerrisdale Presbyterian Church on 2733 West 41st Ave, Vancouver, is available to rent for wedding events. Fees are outlined on their website.
Located in Kerrisdale, a residential community on the west side of Vancouver. The church is well-served by public transit.
Trinity Baptist Church
URL: https://www.tbcvancouver.ca/about/wedding
Trinity Baptist Church at 1460 West 49th Ave. in Vancouver is also available to rent for wedding events. This church has a beautiful facility and sanctuary. The sanctuary and the front exterior of the building are particularly beautiful and most suitable for weddings.
In 1955, a building was constructed at 49th and Granville, which continues to be Trinity's home to this day. Trinity Baptist has existed as a congregation since 1914.
The Chapels
URL: https://www.thechapels.ca/
The Chapels are three wedding venues in Vancouver:
Chapel at Stanley Park
Chapel at Queen Elizabeth Park
Chapel at Minoru Park (Richmond)
The Chapel offers full wedding services, including officiant services, photography and cinematography.
Outdoor wedding venues Vancouver
VanDusen Botanical Garden
URL: https://en.wikipedia.org/wiki/VanDusen_Botanical_Garden
Established in 1975, VanDusen is a beautiful botanical garden in the Shaughnessy neighborhood of Vancouver.
The garden has been used many times over the years for weddings.
Dr. Sun Yat-Sen Classical Chinese Garden
The Dr. Sun Yat-Sen Classical Chinese Garden is located at 578 Carrall Street in Vancouver and would make for a beautiful outdoor wedding location.
The mandate of the garden is to "maintain and enhance the bridge of understanding between Chinese and western cultures."
Stanley Park Pavilion
URL: https://stanleyparkpavilion.com/
The Stanley Park Pavilion has both indoor and outdoor components but is used mainly as an outdoor wedding location because it is in the middle of beautiful Stanley Park.
The pavilion can accommodate up to 300 guests. Founded in 1911, it is the oldest property still standing in Stanley Park today.
UBC Boathouse
URL: https://ubcboathouse.com/weddings/
UBC Boathouse also has indoor and outdoor options but is used primarily for outdoor weddings because of its stunning on-water setting with an expansive dock space.
Capacity for seated functions from 20-150 or standing cocktail receptions of up to 185. Within walking distance of the Canada Line Skytrain.
Vancouver Rowing Club
URL: https://en.wikipedia.org/wiki/Vancouver_Rowing_Club
Originally formed in 1886 as the Vancouver Boating Club, the first clubhouse was built a year later. This venue is primarily used for outdoor weddings because of its proximity to breathtaking waterfront views of downtown Vancouver.
This venue can accommodate up to 150 guests and includes huge outdoor patio space. It is just a quick walk across the street to take photos in Stanley Park.
Restaurants for weddings Vancouver
Chambar
Chambar, located at 568 Beatty Street in Vancouver, is a fine dining restaurant that has a casual and unpretentious vibe.
This restaurant has hosted many weddings and receptions in their private dining rooms.
Brock House Restaurant
URL: http://brockhouserestaurant.com/
Brock House Restaurant is surrounded by a beautifully maintained garden, a favourite of many professional photographers. An internationally renowned wedding venue, this restaurant hosts over 150 weddings a year.
Overlooking the Pacific Ocean and North Shore Mountains, located on Jericho Beach.
Brix and Mortar
URL: https://www.brixandmortar.ca/weddings/
Brix & Mortar is a Yaletown restaurant that has hosted various weddings over the years. A unique, glass-covered courtyard is the centerpiece of the upstairs dining area and is popular for small weddings and events. Downstairs offers a second renovated outdoor patio.
The venue has a 90 guest capacity for sit-down, multi-course dinners; up to 120 guests for interactive stand-up cocktail type receptions.
Hawksworth Restaurant
URL: https://hawksworthrestaurant.com/
Hawksworth Restaurant, located in the Rosewood Hotel Georgia (801 West Georgia St.) in Vancouver, is a fine-dining restaurant owned by chef David Hawksworth.
The restaurant can be booked for wedding events. Taking its design inspiration from the 1920s, the restaurant's elegant chandeliers and heritage features merge with modern day technology to create an ideal setting for a wedding.
Burdock & Co.
URL: https://www.burdockandco.com/
Burdock & Co offers a perfect, cozy setting for hosting a variety of events, including weddings. The restaurant is located at 2702 Main St, Vancouver.
Opened in 2013, this restaurant has the capacity to accommodate up to 34 guests for cocktail receptions and seated dinners.
Other wedding venues in Vancouver
The Permanent
URL: http://www.thepermanent.ca/venue-rental
The Permanent, located at 330 West Pender St. in downtown Vancouver, is available for weddings.
Constructed a century ago, the venue is named after the BC Permanent & Loan Company, which first opened its doors in 1907.
The original Bank of Canada vault door still stands tall at the head of our main hall.
Bloedel Floral Conservatory
URL: https://en.wikipedia.org/wiki/Bloedel_Floral_Conservatory
The Bloedel Floral Conservatory is a conservatory and aviary located at the top of Queen Elizabeth Park in Vancouver (4600 Cambie St.)
This conservatory has hosted many weddings over the years. More than 100 exotic birds and 500 exotic plants and flowers thrive within its temperature-controlled environment.
The Beaumont
URL: https://www.thebeaumontstudios.com/venue/
The Beaumont, located at 316 W 5th Ave, Vancouver, has three spaces on offer: a courtyard, a main hall and a gallery. Any of these spaces could be used for a wedding but the main hall is probably ideal.
The Beaumont was established in 2004 by artist Jude Kusnierz, as an open and supportive environment for a wide variety of creative professionals.
Vancouver Art Gallery
URL: https://www.vanartgallery.bc.ca/event-rentals
Vancouver Art Gallery at 750 Hornby Street is located in a turn-of-the-century former provincial courthouse building. The gallery is available to rent for weddings and other events.
Founded in 1931, the Vancouver Art Gallery is recognized as one of North America's most respected and innovative visual arts institutions.
Vancouver Aquarium
URL: https://en.wikipedia.org/wiki/Vancouver_Aquarium
The Vancouver Aquarium is a public aquarium located in Stanley Park (845 Avison Way).
The Vancouver Aquarium is one of the most unique wedding venues available in the city. Here you can share your first dance among thousands of tropical fishes while your guests are surrounded with stunning aquatic life.
Get Wedding Event Insurance: Buy Online in Canada from Front Row
If you're researching wedding venues in Vancouver, chances are good that you're getting married or know somebody who is. Consider wedding insurance. Get a quote from Front Row and buy online:
Wedding Insurance (Canada)

: if you're holding a private event at one of the above venues, you can buy insurance for the day of your event from Front Row.



Short Shoot Insurance (Canada)

: if you're doing any filming at the venue, it would make sense to get short-term production insurance, which covers up to 15 consecutive days.
About: Front Row Insurance Brokers Inc. is an independent insurance broker that specializes in the entertainment industry – specifically, the film industry. Front Row works hard to provide insurance protection for a very low cost. Should a claim occur, Front Row works diligently with clients and insurers to expedite the payment. Offices in: Vancouver, Toronto, Montreal, Halifax, NY, Nashville and LA.
Related Posts: