Canadian Filmmakers: Navigating Your Certificate of Insurance
If you're a US-based filmmaker, read this blog post instead.
Congratulations, you successfully purchased your production insurance! Your broker has sent you a confirmation that your coverage is bound, a summary, invoice, and certificate of insurance. You review all of your paperwork and estimates from the rental house and permit office, but how do you know what coverage is what, or if you even purchased the correct coverage?
Things that may go missed on a certificate that can 'make or break' you on the day of production:
Make sure the production company's name and address are correct. Rushed through the application? This is the time to triple check any spelling errors.
If you are working (especially) on a

Short-Term Production

, double-check the effective dates. Make sure you include any additional pickup/drop-off dates that may be needed for props or rentals.
Did a permit office request any special wording? This is the time to make sure you have the exact wording on your certificate as the insurance requirements noted.
Below is a sample certificate of insurance for Canadian film productions. We will review each section so you can properly understand what you are looking at.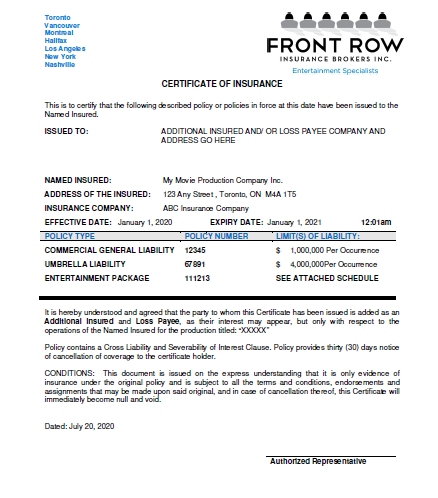 Ok, so from the top!
The highlighted section below is where your company information is located.
The non-highlighted section below is your insurance broker's information.

The next part of the first page will delegate the policy number and the start and end dates of coverage. If you need additional days for a short shoot, reach out to your broker immediately. If you request additional coverage dates after the expiration of coverage, you will be responsible for purchasing a new policy.

If a permit office, rental house, or specific entity you are working with has requested special wording on a certificate, it will go here. If you do need special wording on your certificate, please make sure you reach out to your broker in advance. Special wording or endorsements such as a "Waiver of Subrogation" may take up to 24-48 hours to process from the carrier.

The following pages of your certificate of insurance will outline the limits of insurance and retention or deductible. The deductible or retention is the amount you will have to pay the insurance company in a case of a loss that exceeds the deductible, and is located on the far right column.
Example: You rent a camera that has a replacement value of $50,000. The camera gets lost in transit. This means that for the insurance company to replace the camera, you will have to pay the deductible amount.
Example: You rent a grip accessory and the replacement value is $150. The grip accessory is damaged during the shoot. Since the accessory's replacement value is less than the deductible, the insurance company will not cover the loss.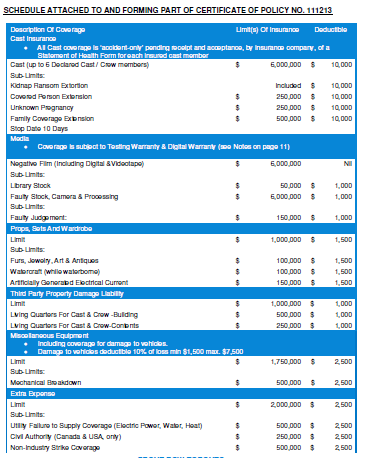 Have more questions on the coverages on the far left column? Contact us.
About: Front Row Insurance Brokers Inc. is an independent insurance broker that provides film insurance for a very low cost. Should a claim occur, Front Row works diligently with insurers and clients to expedite the payment of claims.
Related:
DISCLAIMER: Informational statements regarding insurance coverage are for general description purposes only. These statements do not amend, modify or supplement any insurance policy. Consult the actual policy or your broker for details regarding terms, conditions, coverage, exclusions, products, services and programs which may be available to you. Your eligibility for particular products and services is subject to the final determination of underwriting qualifications and acceptance by the insurance underwriting company providing such products or services. This website does not make any representations that coverage does or does not exist for any particular claim or loss, or type of claim or loss, under any policy. Whether coverage exists or does not exist for any particular claim or loss under any policy depends on the facts and circumstances involved in the claim or loss and all applicable policy wording.