Music Festival and Concert Insurance (US & Canada)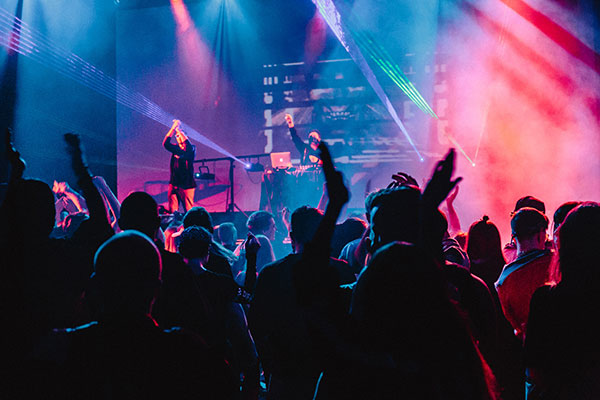 Concert event insurance (US/Canada)
Note: Front Row's event insurance program includes basic liability coverage limits for small festivals or concerts with an attendance under 500. This online program is not meant for festivals or concerts with a capacity over 500 attendees. To insure large festivals or concerts (in Canada) with an attendance over 500, please email Shephard Ashmore for a quote.
Patrons purchase tickets to a concert for many reasons: to see their favorite act, gather with friends, a night on the town and catch a new talent.
The main point is all seek a good, fun time and hearing good music. But unknown to patrons are the many details that go into producing and promoting a successful concert. When planned properly, it shows, but is not seen.
One of those details is safety for both the performers and the audience. Concert event insurance is there to protect against incidents of liability and bodily harm; such incidents have the potential to come into play more often than one may think.
First, the bad news; The Allman Brothers' unfortunate bus crash. Everyone is OK, thank goodness, but this accident is an example of the long hours artists, bands, production crews and drivers spend on getting everyone to the venue, normally traveling between 350 - 450 miles overnight to set up and perform for their fans. Insurance coverage is a must not only to cover any medical expenses, but also to make sure that property damage to a vehicle can be recovered and/or repaired/replaced in a timely fashion. Without this commitment by performers and their teams, there is no show; thus, disappointed fans.
A second example of an "unseen" detail is crowd barriers for crowd control. These type of barricades are not really thought about by patrons, but they are of utmost importance to artist and patrons alike. Proper crowd control, from security to crowd flow are key to any safe event. Concert insurance can come into play if the barriers fail to pay for injuries so that the act is not financially ruined. Having proper barricades not only enhance patron's enjoyment, but lowers the risk of someone being harmed or having an accident. It also helps greatly with the expense of a premium by lowering the cost!
Remember the goal is for patrons to enjoy their experience. Our goal as insurance brokers is to assist producers, promoters, and artists with making sure that they are covered for any liability that may occur.
From these two examples, one can see that accidents do happen. There are risks with large crowds, transportation, staging, production, etc. Risks are unseen by most patrons, but not by professional insurance brokers. Best to be properly covered, onstage and off!
About: Front Row Insurance Brokers Inc. is an independent insurance broker that works on behalf of the Canadian arts and entertainment industry to provide insurance for the lowest possible cost. Should a claim occur, Front Row ensures that clients receive the money they are owed per the insurance policy, as quickly as possible. Front Row has offices in Vancouver, Toronto, Montreal, Nashville and Los Angeles.
RELATED LINKS:
Event Insurance 101 & How to Protect Your Events
Concert Insurance
Holiday Office Party Insurance
Kid's Birthday Party Insurance