Overview of the Arca Swiss and Cambo Architectural Cameras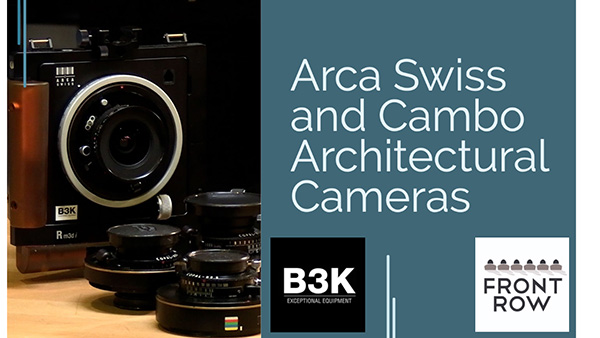 Arca Swiss Core 60 Leveler
Rotating closely through the centre of the lens and camera keeps the composition in place. This saves a lot of time when set-up is critical, or layouts need to be considered. The Core Leveler L60 & L75 now provide this in a smaller package as a stand-alone function in the same way as the C1 Cube.
Arca Swiss D4 Tripod Head
In 2010, Arca Swiss first showed the D4 series heads. The D4 combines the best of ball head design with the best of 3D pan tilt head design in a single product with manual or geared versions. With the X and Y axis unlocked, the D4 moves like a ball head.
Arca Swiss C1 Cube Geared Head | Arca Heads
The Patented C1 Cube is the crown jewel of the Arca Swiss tripod head products. The point of rotation is above the movements achieving leveling on the horizontal and vertical axis with little or no change in the composition framing.
Arca Swiss Rm3di
The Arca Swiss Rm3di is the ideal tool for photographers who want to take photos with both a digital back or a film cassette. You can use lenses from 23mm to 210mm, provided the image circles of the lenses also cover the latest backs and their sensors.
Read more here: https://b3kdigital.com/arca-swiss/
Cambo Technical Camera / Cambo ACTUS camera system
The Cambo ACTUS is a technology camera system designed for mirrorless cameras, such as the Sony Alpha 7 series & Fuji-X and also available for Canon & Nikon DSLRs, for MF mirrorless cameras, such as the Fujifilm GFX and Hasselblad X1D and even for digital backs such as Phase One.
It combines traditional view camera techniques with the latest capture technology. Using view camera movements, the photographer will be able to be more versatile and creative and will be getting more professional results much faster than before.
Read more here: https://b3kdigital.com/cambo-technical-cameras/
Front Row Insurance: Photography, DigiGear and Short Shoot Online
Short Shoot Insurance

(Canada): provides coverage for up to 15 consecutive days of shooting. The coverage is available online 24/7. Covers rented gear, rented locations, rented props, sets, wardrobes, and more. Quotes are free. The filming location/venue can be added as an additional insured.
DigiGear Insurance

(Canada): custom equipment insurance for owners of: cameras, sound and lighting gear working in the film/TV industry. Also available online. Quotes in 2 minutes. Policy available in 5 minutes. Shop from your phone.
Photography Insurance

(Canada):

insure your photo gear against theft, breakage and/or fire. You can get a quote and purchase a policy online in just a few minutes.
Related:
Overview of the Phase One IQ4 | B3K Digital Still Camera and Front Row Insurance
About: Front Row Insurance Brokers Inc. is an independent insurance broker that specializes in the entertainment industry – specifically, the film industry. Front Row works hard to provide insurance protection for a very low cost. Should a claim occur, Front Row works diligently with clients and insurers to expedite the payment. Offices in: Vancouver, Toronto, Montreal, Halifax, NY, and LA.
About: Established in 2009, B3K Digital, a division of Knowledge Integrated Inc., supports photographers, videographers, digitization specialists and archivists across Canada.