Overview of the Phase One IQ4 | B3K Digital Still Camera and Front Row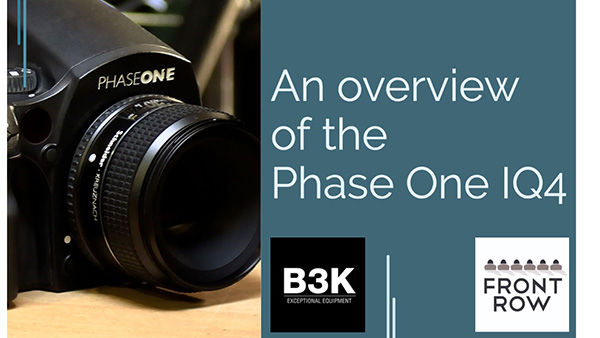 Phase One IQ4
The IQ4 150MP is the "cream of the crop" when it comes to shooting backdrops for sets or doing reproduction/copy work. It will give you the absolute most amount of detail.
The IQ4 150MP back does numerous things that other cameras cannot, such as:
Dual Exposure+ allows for unparalleled image quality improvements in dynamic range and shadow detail performance. Representing a completely new capture process, Dual Exposure+ seamlessly captures and integrates a second exposure in addition to your selected exposure values.
Automated Frame Averaging effectively enables the capture of long exposure images without the need for filters. This new type of sequencing tool automatically captures and combines a series of images into a single RAW file, which reduces noise, extends dynamic range, and protects highlights.
The full frame medium format sensors found in IQ4 Digital Backs, 1.5x the size of crop sensor mirrorless medium format and 2.5x that of full frame DSLR, allow you to capture more data, providing more detail and impressive results so that you can achieve your creative vision straight out of the camera.
Read more at: https://photography.phaseone.com/iq4-digital-backs/
Also available at B3K Digital:
Phase One IQ3 100

Phase One IQ180
Phase One Kits
Front Row Insurance: Photography, DigiGear and Short Shoot Online
Short Shoot Insurance

(Canada): provides coverage for up to 15 consecutive days of shooting. The coverage is available online 24/7. Covers rented gear, rented locations, rented props, sets, wardrobes, and more. Quotes are free. The filming location/venue can be added as an additional insured.
DigiGear Insurance

(Canada): custom equipment insurance for owners of: cameras, sound and lighting gear working in the film/TV industry. Also available online. Quotes in 2 minutes. Policy available in 5 minutes. Shop from your phone.
Photography Insurance

(Canada):

insure your photo gear against theft, breakage and/or fire. You can get a quote and purchase a policy online in just a few minutes.
Related:
Overview of the Arca Swiss and Cambo Architectural Cameras
About: Front Row Insurance Brokers Inc. is an independent insurance broker that specializes in the entertainment industry – specifically, the film industry. Front Row works hard to provide insurance protection for a very low cost. Should a claim occur, Front Row works diligently with clients and insurers to expedite the payment. Offices in: Vancouver, Toronto, Montreal, Halifax, NY, and LA.
About: Established in 2009, B3K Digital, a division of Knowledge Integrated Inc., supports photographers, videographers, digitization specialists and archivists across Canada.