The 10 Best USB Audio Interfaces for Musicians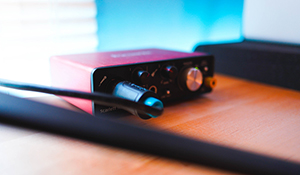 Source: Royalty-free stock photo ID: shutterstock_1431547073
A good audio interface that converts microphone and instrument signals into a format that your computer recognizes is an important piece of gear for pretty much any musician to have, so let's review Front Row's top 10 USB audio interfaces for musicians.
(In no particular order)
Scarlett 2i2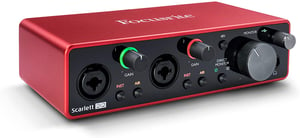 The Scarlett 2i2 [Amazon Affiliate Link] from UK-based music product manufacturer Focusrite is one of the best-reviewed USB audio interfaces out there.
This audio interface has two of the best performing mic preamps that the Scarlett range has ever seen, now with switchable "Air mode" to give your recordings a brighter and more open sound. There are two high headroom instrument inputs, for plugging a guitar or bass straight in.
This interface comes with subscriptions to software from Focusrite, Avid, Ableton, Splice and Softube.
Behringer UMC404HD

The Behringer U-Phoria UMC404HD [Amazon Affiliate Link] is a 4x4 USB 2.0 Audio/MIDI Interface for recording microphones and instruments. It is compatible with most popular recording software, including Avid Pro Tools, Ableton Live, Steinberg Cubase, etc.
This interface has four world-class MIDAS-designed mic preamps, which include +48 Volt phantom power for condenser microphones, all going through studio-grade 24-Bit/192 kHz converters for the best possible sound quality.
Comes with Tracktion software, a digital audio workstation (DAW) for composing, recording, editing, mixing and sharing your music with the world.
Lexicon Alpha

The Lexicon Alpha [Amazon Affiliate Link] is a complete hardware and software solution that turns your computer into a portable, professional 24-bit/48 kHz digital recording studio. It offers a 2x2x2 USB I/O mixer, which is powered directly from the USB bus and includes Cubase recording software.
Alpha has stereo line inputs for keyboards, drum machines or analog output of a CD/MP3 player.
Alpha has professional mixer features, such as separate mic and line level input controls, and monitor mix control for balancing an audio source between live input and playback mix level while recording.
Komplete MK2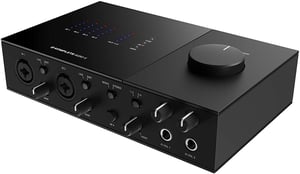 The Komplete MK2 [Amazon Affiliate Link] from German manufacturer Native Instruments has four analog and two digital inputs, including two balanced mic/line/instrument inputs (XLR/1/4" TRS, phantom powered) with individual gain controls and two balanced line inputs (1/4" TRS).
This interface has two headphone outputs with separate level controls and source switching, including zero latency with direct monitoring.
Up to 24bit recording and 192 kHz sample rates. The included software (Ableton Live Lite, Replica, Solid Bus Comp, Phasis, Choral, Flair, Monark, Maschine 2, Traktor) has everything needed to record and produce tracks, plus synths, effects and more.
Apogee One

The Apogee One [Amazon Affiliate Link] is an all-in-one portable, USB audio interface that gives you everything you need to make professional recordings on the go. Connect a microphone, guitar or use the interface's built-in omnidirectional microphone to capture music. Designed in CA.
The Apogee One has two in and two out connectors, as well as low latency and seamless compatibility with the latest macOS and Windows operating systems.
The Apogee One's stereo output delivers audiophile quality sound from your Mac/PC to your headphones or speakers.
Alesis iO2 Express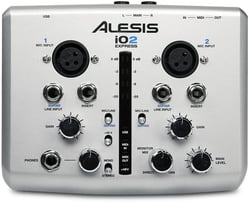 The iO2 Express [Amazon Affiliate Link] from American music product manufacturer Alesis is a compact audio recording interface for home studios and portable recording setups. This two-channel USB interface for Mac and PC-based systems allows recording at up to 24-bit resolution.
This compact recording interface is small enough to fit into a mobile recording rig, sling bag, or backpack, yet contains high-quality components and circuitry suitable for the studio.
In addition to the included Cubase LE software, the iO2 Express is compatible with virtually all audio and MIDI software.
PreSonus Audio Interface

The Audiobox96 USB audio interface [Amazon Affiliate Link] from American audio equipment manufacturer PreSonus is a great choice for mobile musicians and podcasters.
This audio interface has two dual-purpose front-panel input channels, each with high-quality mic preamplifiers and two combo mic/instrument inputs.
The Audiobox96 is ruggedly built and works with virtually any PC or Mac recording software. It boasts high-performance mic preamplifiers and professional-quality, 24-bit, 96 kHz converters. Comes with Studio One 3 Artist software for Mac and Windows.
Audient Audio Interface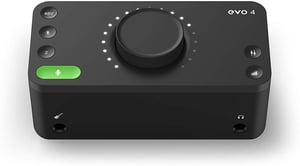 The EVO 4 [Amazon Affiliate Link] from UK-based audio product manufacturer Audient is a sleek-looking USB audio interface with two mic pre amplifiers.
The EVO 4 also has class leading converters, smart gain, smart touchpoints, speaker and headphone outputs and +48v phantom power.
This interface comes bundled with software for Mac and Windows – everything you need to get started recording high-quality audio directly into your computer.
Steinberg Audio Interface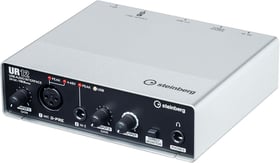 The UR12 Audio Interface [Amazon Affiliate Link] from German audio product manufacturer Steinberg captures 24-bit/192 kHz audio and has a mic preamp supporting +48v phantom power.
The interface has an XLR mic input, an instrument input and two RCA outputs. An additional USB mini socket is provided for power source connection when used with an iPad.
This interface is quite portable, weighing just ~2.8 lbs. The interface comes bundled with Cubase AI software for music production.
Universal Audio Apollo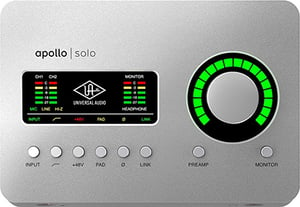 The Apollo Solo Heritage Edition [Amazon Affiliate Link] from California-based audio product manufacturer Universal Audio is a bit pricier than most other USB audio interfaces but is packed with features, including class-leading audio conversion, two mic preamps, and real-time plug-in processing.
The Apollo Solo has guitar amp emulations from Neve, API, Avalon, Manley, Marshall, Fender and more, as well as a best-in-class headphone amplifier for loud, detailed, low-noise monitoring.
This interface comes bundled with a software suite of five award-winning plug-in titles, featuring collections from Teletronix, Pultec and UA.
Get Musical Instrument Insurance | Front Row Instrument Insurance | Insurance for Musicians | Guitar Insurance | Piano Insurance
If you're researching USB audio interfaces, chances are that you own some musical instruments; perhaps you're even a musician yourself. And if you own valuable instruments, you should consider protecting them with musical instrument insurance.
Front Row's insurance for musical instruments (Canada) is a good option for insuring your musical instruments, including guitars, violins, drums, etc. You can get a quote and purchase a policy online in just a few minutes, or read more about the coverages available on the instrument insurance site.
About: Front Row Insurance Brokers Inc. is an independent insurance broker that provides musical instrument insurance for a very low cost. Should a claim occur, Front Row works diligently with clients and insurers to expedite the payment of claims.
One of Front Row's specialties is creating custom insurance packages for musicians. This can include tour liability and coverage for recording studios.
Related posts:
Disclaimer: Informational statements regarding insurance coverage are for general description purposes only. These statements do not amend, modify or supplement any insurance policy. Consult the actual policy or your broker for details regarding terms, conditions, coverage, exclusions, products, services and programs which may be available to you. Your eligibility for particular products and services is subject to the final determination of underwriting qualifications and acceptance by the insurance underwriting company providing such products or services. This website does not make any representations that coverage does or does not exist for any particular claim or loss, or type of claim or loss, under any policy. Whether coverage exists or does not exist for any particular claim or loss under any policy depends on the facts and circumstances involved in the claim or loss and all applicable policy wording.
Amazon Associates Disclosure: Front Row Insurance is a participant in the Amazon Services LLC Associates Program, an affiliate advertising program designed to provide a means for sites to earn advertising fees by advertising and linking to Amazon. This post may contain affiliate links. There is no additional cost to you.