The Best Cameras for YouTube in 2023 | Best Vlogging Cameras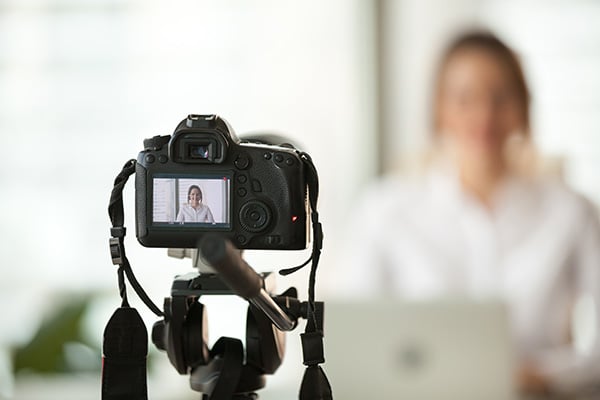 Source: Royalty-free stock photo ID: 1127191604, Shutterstock
Many of our film insurance customers are avid YouTubers, so we thought it would be useful to assemble this post about our research on the best cameras for recording YouTube videos. Let's review some of the best cameras for YouTube and vlogging (video blogging) available on the market now. We'll go from inexpensive to more expensive. We'll discuss:
Best vlogging cameras under $200 / best vlogging camera cheap / best cheap camera for YouTube / best vlogging camera for beginners
The Canon PowerShot ELPH 190 [Amazon Affiliate Link] features a wide-angle lens with 10x Optical Zoom & Image Stabilization, 720p HD video and built-in WiFi – not bad at all for a camera under $200 CAD!
The Campark 4K Action Camera [Amazon Affiliate Link] offers some cool features for such an inexpensive camera, including 4K video at 30 fps, a 2.0" LCD touchscreen. However, the reality of shooting video for YouTube is that 4K resolution is, for the moment, probably not necessary. It is nice to have that option, though.
The Sony DSC- W830 [Amazon Affiliate Link] has a 20.1 megapixel CCD image sensor with 8x zoom. It can shoot 1280 x 720 HD movies at 30 fps and it includes a neat Sweep Panorama mode, allowing you to capture panoramic shots in 360° full circle.
Best vlogging cameras under $500 / best camera for travel vlogging / budget camera for youtube
If you need a really small and compact camera that can still record amazing image quality (RAW format photos and D-Cinelike videos), check out the DJI Osmo Pocket. [Amazon Affiliate Link] It can shoot 4K/60fps video at 100 mbps. This camera is a popular choice for vloggers and travelers.
The GoPro HERO8 Black [Amazon Affiliate Link] is especially useful for YouTubers and vloggers who like to surf or otherwise film in the ocean because the camera is waterproof. It also has three levels of stabilization and some cool additional features such as Time Warp and Live Burst.
The Sony DSC-RX100 [Amazon Affiliate Link] is a nice camera under $500 CAD and suitable for vlogging. It includes an excellent F1.8 Carl Zeiss Vario-Sonnar T* lens and a useful Intelligent Auto mode, which detects the lighting of a scene and sets the camera accordingly.
Best vlogging cameras under $1000 / best canon camera for vlogging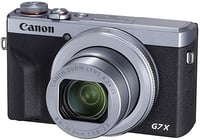 You can get the Canon Powershot G7X Mark III Digital Camera [Amazon Affiliate Link] for just under $1,000 CAD at the time of this writing. This model features a new-and-improved 20.1 Megapixel 1.0" stacked CMOS sensor. The 4.2x optical zoom lens – while modest – is generally suitable for vlogging purposes. The flip-out LCD screen even has a tilt option for better angles on your selfies.
The Canon EOS M50 [Amazon Affiliate Link] is a mirrorless camera (these cameras have the advantage of being lighter, more compact, and generally better for video). The camera's Vari-angle touchscreen LCD is perfect for vlogging; you can see what you're recording without having the screen prevent you from adding an external microphone and/or tripod. The Dual Pixel CMOS Autofocus system is quite advanced for this price level of camera.
The Panasonic LUMIX G95 [Amazon Affiliate Link] is another mirrorless camera that is less bulky than a DSLR, so also suitable for vlogging. The 20-megapixel Digital Live MOS sensor allows the camera to capture excellent quality photos and videos. It has a swing-out viewfinder, excellent ergonomics, built-in stabilization and a great menu system. The camera is also weather sealed, which is essential if you enjoy vlogging in the rain or other challenging environments.
Best vlogging cameras under $2000
The Sony Alpha A6400 [Amazon Affiliate Link] is also an excellent vlogging camera that shoots 4K video (24.2-megapixel APS-C size CMOS sensor). This camera has no record time limit!
For vloggers who prefer to use camcorders, the Canon VIXIA HF G50 [Amazon Affiliate Link] is a very good prosumer camcorder, capable of shooting 4K at 30p (although the 1080/720p options are sufficient for presenting on YouTube). It has a generous 20x optical zoom lens.
The Canon 90D [Amazon Affiliate Link] offers upgrades over the older 80D such as a higher-resolution sensor and a new electronic shutter/faster shutter speed (up to 1/16,000 second).
For reference, here is an example video shot on the 90D:
Important vlogging accessories to consider / YouTube camera accessories / vlogging camera stand / vlog lighting / microphone for vlogging
Vlogging camera stand
If you're going to be getting any of the above camera gear, you'll also want to consider getting a good tripod/camera stand such as the Joby GorillaPod 1K Kit or the INNOREL Lightweight Tripod [Amazon Affiliate Links].
Vlog lighting
A good mobile light is the Ulanzi Pro Versatile Mini LED Light Cube. [Amazon Affiliate Link] Although some might argue that they're a bit overpriced, these little cubes output clean light at 5600K, they have adjustable brightness levels, and they're waterproof!
Microphone for vlogging
When vlogging – especially outside or anywhere that isn't completely quiet – you'll want to get an on-board microphone to go with your camera. This will improve audio quality. A good one is the Rode VideoMicro Compact On-Camera Microphone. [Amazon Affiliate Link]
If you'd like to get even better audio quality for your vlogs and don't mind spending a bit more for it, consider getting a lav (lavalier) mic such as the Sennheiser EW 112P G4. [Amazon Affiliate Link] This Sennheiser lav kit will get you broadcast quality sound at up to 8 hours of operation time.
Get DigiGear Insurance | Film Equipment Insurance | Film Gear Insurance | Sound & Lighting Insurance
If you end up buying any of these above cameras (or any other gear) – you'll want to have the right insurance coverage in place to protect that valuable gear.
Front Row's DigiGear insurance policy is a good option for insuring your filmmaking gear, including your vlogging camera(s). You can get a quote online, purchase a policy online in 5 mins, or read more about the coverages available here: https://digigearinsure.frontrowinsurance.com/
If the camera is more of a photography camera or lower in value, consider Front Row's photography insurance policy instead: https://photographer.frontrowinsurance.com/
Refer a Friend to Front Row Insurance
Based on customer demand, we've setup our referral marketing program and if you refer a friend to Front Row, you could win a $15 Amazon eGift Card OR be entered into a random draw to win a $99 Amazon eGift Card! (depending on your province)
Related posts:
DISCLAIMER: Informational statements regarding insurance coverage are for general description purposes only. These statements do not amend, modify or supplement any insurance policy. Consult the actual policy or your broker for details regarding terms, conditions, coverage, exclusions, products, services and programs which may be available to you. Your eligibility for particular products and services is subject to the final determination of underwriting qualifications and acceptance by the insurance underwriting company providing such products or services. This website does not make any representations that coverage does or does not exist for any particular claim or loss, or type of claim or loss, under any policy. Whether coverage exists or does not exist for any particular claim or loss under any policy depends on the facts and circumstances involved in the claim or loss and all applicable policy wording.
Amazon Associates Disclosure: Front Row Insurance is a participant in the Amazon Services LLC Associates Program, an affiliate advertising program designed to provide a means for sites to earn advertising fees by advertising and linking to Amazon. This post may contain affiliate links. There is no additional cost to you.
Citations: