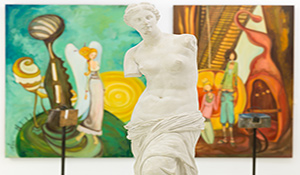 Arts Dealers & Museums Insurance Quote Form
Refer a Friend to Front Row
Based on customer demand, we've setup our referral marketing program and if you refer a friend to Front Row, you could win a $15 Amazon eGift Card OR be entered into a random draw to win a $99 Amazon eGift Card! (depending on your province)
About: Front Row Insurance Brokers Inc. is an independent insurance broker that specializes in the entertainment industry. Front Row works hard to provide insurance protection for a very low cost. Should a claim occur, Front Row works diligently with clients and insurers to expedite the payment.
Related posts:
ONLINE INSURANCE FOR ART GALLERIES
PROTÉGÉ: INSURANCE CUSTOM-MADE FOR ARTS EDUCATION
ART SCHOOL INSURANCE THAT PUTS STUDENTS' SAFETY FIRST
DISCLAIMER: Informational statements regarding insurance coverage are for general description purposes only. These statements do not amend, modify or supplement any insurance policy. Consult the actual policy or your broker for details regarding terms, conditions, coverage, exclusions, products, services and programs which may be available to you. Your eligibility for particular products and services is subject to the final determination of underwriting qualifications and acceptance by the insurance underwriting company providing such products or services. This website does not make any representations that coverage does or does not exist for any particular claim or loss, or type of claim or loss, under any policy. Whether coverage exists or does not exist for any particular claim or loss under any policy depends on the facts and circumstances involved in the claim or loss and all applicable policy wording.