DOC Report: What Are Film Festivals For?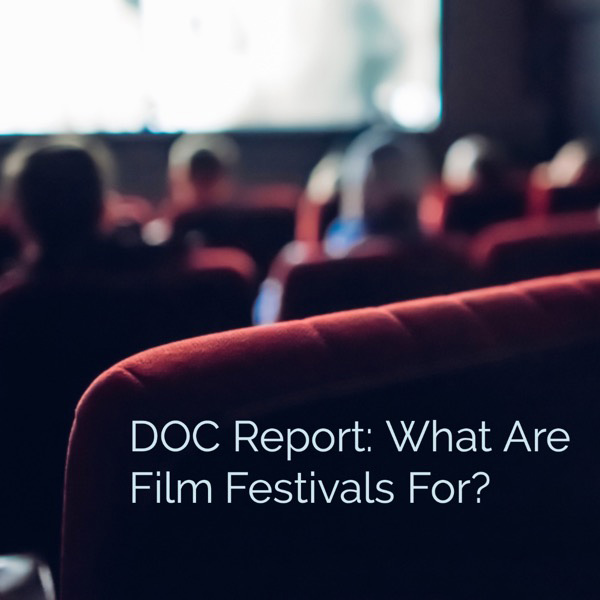 Source: Royalty-free stock photo, shutterstock_1192797694

Documentary filmmakers and producers, in case you missed it, we wanted to draw your attention to this informative report from the Documentary Organization of Canada (DOC) published in 2019: What Are Film Festivals For?
The report contains many interesting factoids, including this one: less than 10% of feature docs submitted to film festivals are selected for programming. (p. 6) The report suggests that perhaps the primary function of film festivals, then, is to focus the market's attention on a small fraction of films. Download the report and find out how to improve the odds of your film being selected.
The report contains three interesting cases studies of documentaries that benefited from the Canadian film festival circuit: Cielo (2017), Mermaids (2017) and A Better Man (2017). The report describes how the producers of these films successfully raised financing, created marketing and distribution plans and leveraged film festivals (both Canadian and international) to gain traction.
DOC's Festival Concierge Services
The rest of the report describes DOC's festival concierge, which offers a number of helpful services to Canadian documentary producers, including submission-fee waivers and discounts for DOC members, assistance with marketing of films and access to a "Discoverability Lab" to connect with mentors.
Sean Farnel, DOC's Festival Concierge Consultant, authored this report. This report relies on real world examples to give a picture of the film festival scene in Canada, while outlining how DOC's festival concierge services can assist filmmakers.
Get Film Insurance | Short-Term Film Production Insurance | Film Equipment Insurance | Video Equipment Insurance | Film Screening Insurance
Front Row provides production and producer's E&O insurance for: features, episodic television, docs, shorts and more. The next time you're working on a film production, consider Front Row's insurance policies:
Front Row's Short Shoot insurance policy (Canada) is a good option for insuring your short-term film projects. Coverage for up to 15 consecutive days of filming. The coverage is available online, 24/7. Covers rented gear, rented locations, rented props, sets, wardrobes, and more. You can get a quote in two minutes and purchase a policy 100% online. If you are in the US, please complete this form.
Front Row's DigiGear insurance policy (Canada) is a good option for insuring your filmmaking gear, including your film camera(s). Also available online. Quotes in 2 minutes; policies available in 5 minutes. Shop from your phone. If you are in the US, please complete this form.
In addition, film festivals should consider insuring their film screening events; movie theatre insurance can be purchased online in Canada.
About: Front Row Insurance Brokers Inc. is an independent insurance broker that specializes in the entertainment industry – specifically, the film industry. Front Row works hard to provide insurance protection for the lowest possible cost. Should a claim occur, Front Row works diligently with clients and insurers to expedite the payment of claims. Offices in: Toronto, Vancouver, Montreal, Halifax, NY, Nashville and LA.
About: The Documentary Organization of Canada (DOC) is a non-profit organization representing the interests of independent documentary filmmakers in Canada. Founded in 1983.
Related posts: