Why are certain questions asked on an E&O application?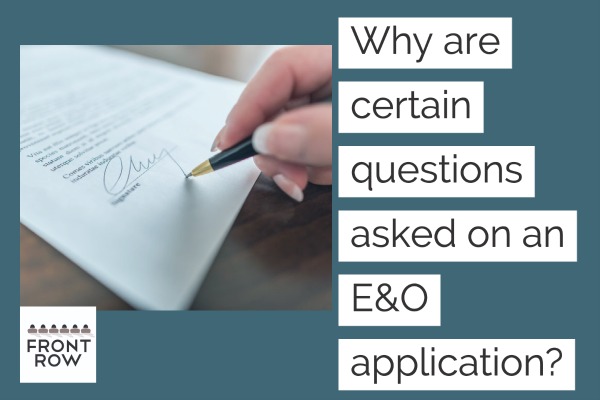 What are lawyers looking for in the responses?
E&O INSURANCE FILM | ERRORS AND OMISSIONS INSURANCE FILM:

Steve Fraser (Lawyer): Certain questions are asked on an E&O insurance application to help the insurance company or their counsel to gauge whether the production may be riskier than others.
On the one hand, it's a risk assessment but on the other hand, it's also a way to check to make sure that the way that they've answered the question reflects that they're aware of what the clearance procedures are and that they will follow them.
Sometimes, the entertainment lawyer who is clearance counsel for the production also signs the application or there's a place where that lawyer has to acknowledge that they've seen the application. But, no surprise, it's just a way to figure out who might think that they don't need to comply with some of the clearance questions.
So, one of the E&O application questions is: "Is there a possibility that a living person could claim (without regard to the merits of such claim) to be identifiable in the Insured Production, whether or not that person's name or likeness is used in it or whether or not the Insured purports it to be fictional? If "yes" has a release been obtained from such person?"
Well, if there is a possibility of something like that, we want to know about it upfront but also, that question tends to segue into: "are you getting releases? Is production doing what it needs to do to make sure that the folks who are appearing on screen (usually documentary, but also for dramas where you need performer agreements) are following what production says they will follow?"

Related:
About: Stephen "Steve" Fraser is an international entertainment business and legal affairs lawyer in the film and television industries with co-production, financing and distribution experience.