20 Effective Ways to Protect Your Saxophone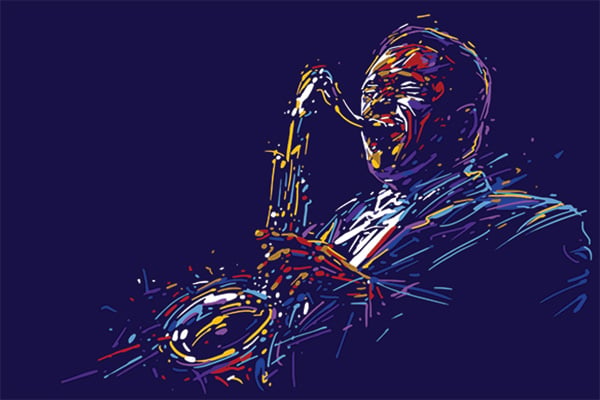 As an entertainment insurance brokerage with a specialty in creating custom insurance packages for musicians, we have seen enough music gear-related insurance claims to be able to speak with some authority on what musicians can do to protect their gear. As it's one of the most popular instruments, let's focus on the saxophone in this article:
Protecting your Saxophone | Saxophone Maintenance
Where to keep your saxophone? Never store the saxophone in a very hot or very cold area. Store the saxophone in a dry place at room temperature – a closet would likely be a good candidate, but not an attic, basement or garage.
Always hold your saxophone by the bell because that is the sturdiest part of a sax and holding it in this manner should reduce the chances of a drop.
Tighten the lyre screw enough so that the lyre doesn't wiggle around. A loose lyre can gnaw away the brass of your lyre holder.
Use a tooth patch bite cushion

on your saxophone mouthpiece. This will help protect your saxophone and – perhaps even more importantly – your teeth.

Use a neck strap

to move the sax's weight from your neck onto your shoulders. This will provide extra stability, reducing chances of falling or dropping the saxophone.

Do NOT clamp the sax keys closed for any length of time. Clamping a used saxophone closed is a bad idea for storage because the pads have already been exposed to bacteria, yeast and fungus that encourage rot.
Apply a drop of sewing machine oil

to keep the sax keys lubricated. If you notice that any of the keys are becoming stiff, add a drop to the key(s).

Apply pad dope

to the sax pads to keep them from drying out and protect them from any moisture carried through the instrument.

Brush your teeth before playing your sax. Sugar + saliva makes for a nasty solution that accumulates on sax pads and can cause them to stick – so get that mouth as clean as possible before playing.
Check the saxophone's instruction manual/manufacturer's notes for specific and acceptable cleaning methods.
Swab your sax after playing. Silk swabs, in particular, can be effective.
Always lean toward using a special saxophone solution

for cleaning, rather than some generic furniture polish or other cleaner that may damage your saxophone's finish.

Don't forget to clean the saxophone's key tone hole after playing. A tone hole cleaner set

with cleaning rods would be ideal for this job.

Open the closed keys to dry after you play. The G#, Eb, and Low C# key pads of the sax are the worst for sticking and trapping bacteria. There are certain products on the market that can assist with this, including

Key Leaves

.

If you're touring, always use a high-quality carrying case

such as a hard-bodied, foam-lined, locking Pelican case that protects against impact & moisture.

Put some desiccant

in the case to absorb moisture before it can damage the sax.

Get a saxophone case cover

, ideally waterproof, to put over your saxophone when not in use to protect it from dust and water.

Hiding a

Tile

or similar tracker in your cases results in a good recovery rate for stolen saxophones and other music gear.

At least once a year, take your saxophone to your local instrument technician for a once-over. This annual investment in expert service will no doubt pay for itself over the long run by keeping your saxophone in good shape.
Try to get into the habit of washing your hands before picking up and using your saxophone. You may not realize it, but your fingers and palms contain moisture and oils that can damage your saxophone.
Downloadable Checklist – Effective Ways to Protect Your Saxophone
Take the tips in this article with you by filling out this form. We'll email you a PDF copy of Effective Ways to Protect Your Saxophone.
Consider Front Row for Saxophone Insurance | Sax Insurance
Front Row Insurance is a brokerage specializing in entertainment-related risks. We have a simple online instrument insurance program available 24/7. Custom packages for musicians include tour liability and coverage for recording studios. We have offices in Toronto, Montreal, Vancouver, Halifax, LA, NYC & Nashville and our staff of 50+ have a combined 510 years insurance experience.
Front Row provides fast, affordable musical instrument insurance for Canada's music professionals who are Canadian resident members of SOCAN (and other music associations). Get a quote and buy online here: https://musicians.frontrowinsurance.com/
Related:
Musical Instrument Insurance 101: How to Protect Your Instruments
Tips & tricks to guard your gear
Protecting instruments at home
Protecting instruments at airports
Protecting instruments on tour
Musical tour insurance
Band on the run
Tribute bands and liability
Protecting your guitar
Protecting your drums
Protecting your keyboard
Protecting your violin
Protecting your saxophone
How to make a claim
What is my gear worth in event of claim?
You may not be covered under homeowners
Front Row's musical instrument policy
Insurance for SOCAN members
How to compare musical instrument insurance cos.
Blurring the lines of music infringement law
Citations:
https://keyleaves.com/blogs/news/tips-for-marching-band-sax-care
http://nikitei.com/2016/01/22/maintain-and-store-your-saxophone-properly/
https://www.bestsaxophonewebsiteever.com/8-saxophone-care-tips-you-may-have-never-heard/