6 WAYS TO PROTECT YOUR INSTRUMENTS AT AIRPORTS AND ON PLANES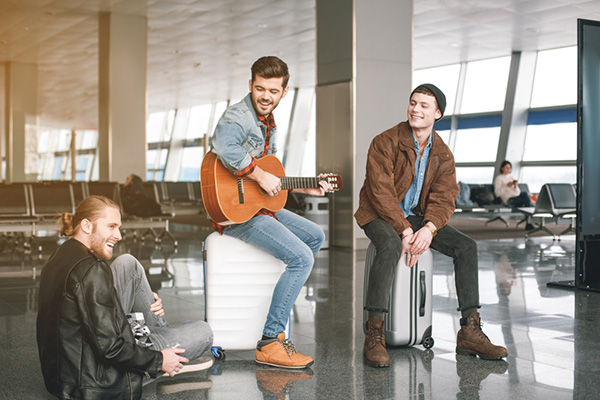 Insuring your instruments is one way to protect your instruments and gear when flying: what follows are some risk management ideas.
If possible, keep the musical instrument with you as hand luggage when flying. This will prevent damage by airport baggage handlers. The cabin temperature is also more stable than the hold. Some delicate instruments can be damaged by fluctuating hold temperatures.

Arrive at the airport early so that the musical instrument can be searched and then properly re-packed.
Use proper traveling cases such as a hard bodied, foam lined, locking Pelican case or other brands designed for the road. Let your insurance broker know the type of traveling case so that they can advise the insurance company and secure the lowest premium due to the lowered risk.
If you did have to check it as luggage: inspect your musical instrument carefully after pulling it from the airport baggage carousel. If damaged, be sure to report it right away to the airline while you are still at the airport and get a copy of the damage report. This will be helpful in the event that you need to make an insurance claim as it will have all the details needed to set up a claim.
Lastly, keep watch on your musical instrument while in the airport terminal. Consider using a Velcro strap to attach it to your trolley to prevent a snatch and grab.
Insure your gear with a specialized music insurance broker.
Related:
Musical Instrument Insurance 101: How to Protect Your Instruments
Tips & tricks to guard your gear
Protecting instruments at home
Protecting instruments at airports
Protecting instruments on tour
Musical tour insurance
Band on the run
Tribute bands and liability
Protecting your guitar
Protecting your drums
Protecting your keyboard
Protecting your violin
Protecting your saxophone
How to make a claim
What is my gear worth in event of claim?
You may not be covered under homeowners
Front Row's musical instrument policy
Insurance for SOCAN members
How to compare musical instrument insurance cos.
Blurring the lines of music infringement law